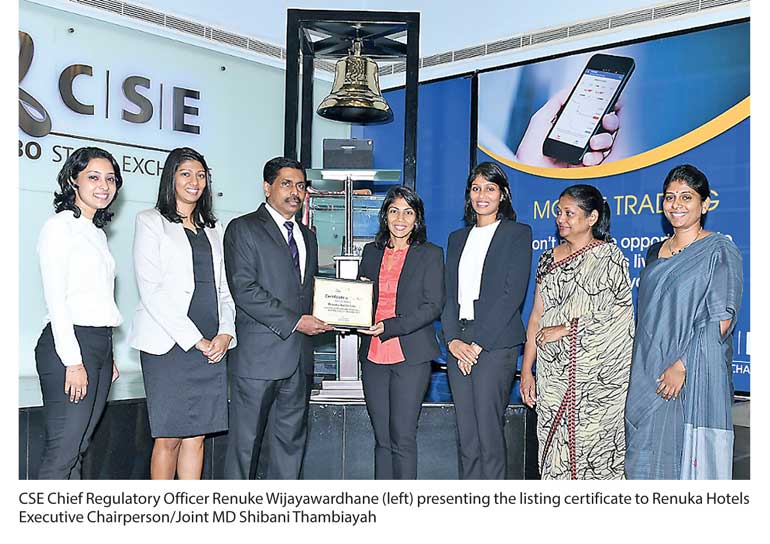 The shares of Renuka Hotels Ltd. (CODE: RCH) commenced trading on the Colombo Stock Exchange (CSE) yesterday. The shares, which were listed by introduction on the Diri Savi Board of the CSE, have been classified under the 'Hotels and Travels' sector. The occasion was marked through a bell ringing ceremony hosted by the CSE.

Executive Chairperson/Joint MD Shibani Thambiayah, Executive Joint MD Arnila Thambiayah, Executive Director Niruja Thambiayah and Executive Director/Company Secretary Maya Jayawardena from Renuka Hotels were present at the ceremony and were also joined by Amani Ranaweera Vice President – Corporate Finance at Acuity Partners (Financial Advisors & Managers to the Introduction) and Nirusha Ranjitkumar Ranatunge, Senior Associate at Nithya Partners (Legal Advisors to the Introduction). Chief Regulatory Officer Renuke Wijayawardhane and the senior management of the CSE were also present at the ceremony.

Shibani Thambiayah commenting on the development stated: "As a Group we are proud to have another company listed on the CSE. It marks yet another remarkable milestone in the history of our business which has spanned for more than four decades. We endeavored to list the company on the CSE supported by the request made by our shareholders to do so and also with the expectation that it will strengthen the image and the identity of the company through broadened ownership."

"Renuka Hotels will continue to contribute to the tourism industry and the economy as a whole with much more dynamism derived through the strengthened corporate image and identity of being a listed company," Thambiayah added.

Renuka Hotels Ltd. and Renuka City Hotels PLC which form the Renuka Hotels Group own and manage two separate city hotels in the heart of Colombo. The Group also owns and manages an extensive share portfolio, consisting of mainly listed equities and further investments in listed debentures.

The sectors covered include hospitality, plantations, manufacturing, financial services, telecommunication, construction and engineering, healthcare and more.