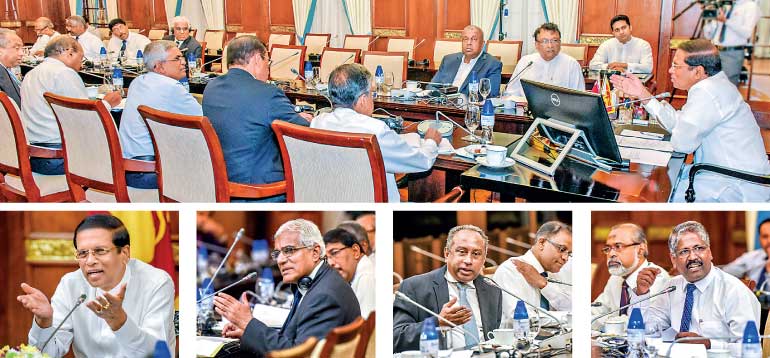 President Maithripala Sirisena has instructed the Ministry of Finance, Central Bank and heads of state banks to implement a comprehensive program of 100 types of joint loan schemes within the next few months to provide assistance to local small and medium-sized entrepreneurs and businessmen to uplift their businesses.

The National Economic Council (NEC) has presented a program of 100 types of loan schemes for the economic revival of the country. The President issued these instructions during a meeting held with the heads of state banks at the Presidential Secretariat last week.

The objective of this program is to encourage local small and medium-sized entrepreneurs and businessmen to revive local industries. The President also instructed the Ministry of Finance to provide a report to him within the next two weeks regarding this task, which is to be implemented within the next few months.

The President stressed the importance of paying attention to the proportion of the profits earned by state banks which flows to the public. President Sirisena added that it was very important in the economic processes of the country that the relevant benefits flow towards the general public as well as to entrepreneurs.

The President also highlighted the need for a broader publicity campaign to educate the public on these loan schemes and the President pointed out that one of the main problems that many entrepreneurs faced were issues related to the terms and conditions and documents required of guarantors when obtaining loans. He also stressed the importance of creating an environment to grant loans for entrepreneurs without any inconvenience.

President Sirisena advised the bank chiefs to implement special programs targeting unemployed graduates to develop them as entrepreneurs. He said that these benefits should be provided to the people without any political interference and advised officials to gain assistance from village officers while implementing these initiatives.

State banks should be public-friendly and courteous with people looking forward to obtaining loans and services, the President said, going on to advise the chairpersons of state banks to instruct office-bearers to provide a proper service to the public.

Sirisena outlined that Sri Lankan banks were the victims of commercialisation which had adversely affected identifying social problems and giving loans for the development of the country in a positive manner.

He inquired about the loan schemes which were currently conducted for local small-scale and medium-scale entrepreneurs by the Central Bank, People's Bank, State Mortgage and Investment Bank, including state banks under the Ministry of Finance and stressed the importance of considering the proposals made by entrepreneurs in implementing such loan schemes.

Ministers Mangala Samaraweera and Lakshman Kiriella, Secretary to the Ministry of Finance Dr. R.H.S. Samaratunga, Secretary to the Ministry of Public Enterprise Development Ravindra Hewavithrana, Central Bank Governor Dr. Indrajit Coomaraswamy, National Economic Council Secretary General and Chief Economist Prof. Lalith Samarakoon and other members, including chairpersons of state banks, directors and officers, were present at the event.