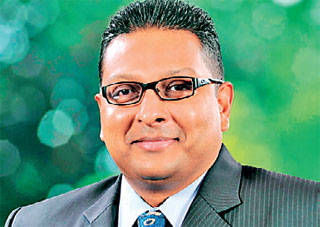 Priyantha Talwatte
---
The SANASA Development Bank (SDB) said it has appointed ex-NTB's Priyantha Talwatte as CEO to transform it to a new age development bank.

The appointment was announced following the approval of the Central Bank on 22 November.

"His vast experience in dealing with Corporate, SME and Retail clients and involvement in all aspects of banking services, building, and developing highly engaged work teams will support the SDB bank's transformation to a new age development bank," a statement said.

It said Talwatte is a transformational business leader with 30 years of senior leadership experience with a track record of delivering sustainable stakeholder value.

He was a pioneering senior leader shaping the ascend of Nations Trust Bank PLC in Sri Lanka from a small size lender to a top banking powerhouse. He spent the last 20 years at NTB joining them as corporate manager in 2002 and was the CEO/Director for the last two years.

Prior to joining NTB He was a pioneer business leader who assisted in setting up and scaling several state-of-the-art start-up businesses in the telecommunications industry in Sri Lanka and abroad.

He set up the American Express Cards franchise for NTB from the initial phase of conducting feasibility studies to setting up and growing the business to become the market leader in Sri Lanka's credit card issuing and acquiring business space.

He developed segmented banking propositions and established a sales and service culture of the bank and expanded the NTB brand to become a top of the mind brand name in its effective target markets. He also, set up the bank's 24x7 best in class contact centre, and a centre of excellence for collections and recovery.

He led the banks analytics initiative and digital initiative to become one of the strongest digital banks in Sri Lanka and has extensive experience in developing credit underwriting and behaviour scorecard models and implementing risk ratings for effective risk management of diverse portfolios.

During his tenure as CEO/Director at NTB, the bank transitioned to a fully in-house digital banking development environment providing a full stack of digital banking services on a micro services platform.

Priyantha is an alumnus of Harvard Business School (AMP) Boston, USA and is a renowned speaker and trainer of leadership and management development.