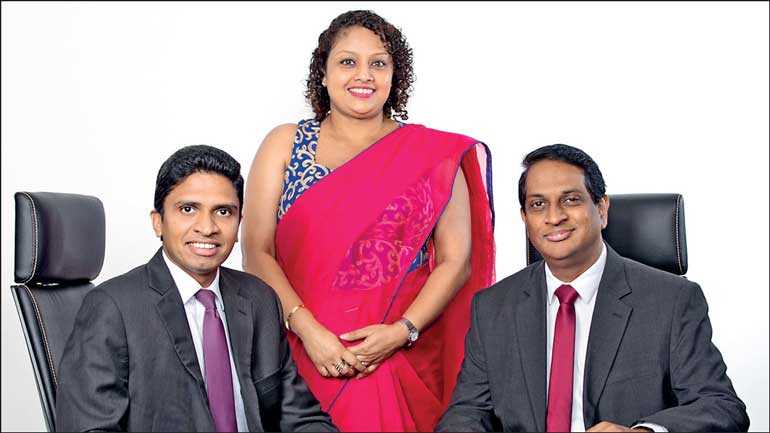 From left: Chief Corporate Advisory Officer Nilendra Weerasinghe, Chief Operating Officer Kaushini Laksumanage and Director and CEO Darshan Perera 
---
NDB Investment Bank (NDBIB) has yet again been adjudged the 'Best Corporate & Investment Bank in Sri Lanka' at the recently concluded Asiamoney Awards program. 

NDBIB secured this prestigious award for the fifth consecutive year in recognition of its market leadership in capital raising, M&A and advisory transactions in the country. 

NDBIB CEO Darshan Perera stated: "The consistent performance of NDBIB being recognized by Asiamoney motivates our team to stay strongly committed to the goal of creating value to our clients. Achieving this goal whilst being innovative and strictly abiding to the highest professional and ethical standards and successfully facing all challenges posed due to the COVID-19 pandemic is how we differentiate ourselves."

Despite the challenging business environment, NDBIB advised on a mammoth Rs. 37.4 billion worth capital raising transactions in the form of equity, debt and hybrid capital transactions and numerous strategic M&A transactions during the financial year ended 31 December 2020. NDBIB advised on four M&A transactions during the said period in food and beverage, and travel and leisure sectors. 

Notable M&A transactions included the divestiture of the market leading confectionery company, Daintee Limited to Sunshine Holdings PLC, where NDBIB was the exclusive adviser to the divesting shareholders. This was also the first transaction to be executed after Sri Lanka's country-wide lockdown.

Furthermore, NDBIB was the sole financial adviser and manager on SDB Bank's Rs. 1.5 billion capital raise which was executed as the first stage of a three-year capital augmentation plan. The transaction was launched and concluded solely via a fully digitalised platform at the height of the pandemic, the first time ever for a transaction on the CSE. 

NDBIB has been responsible for executing a record volume of equity and debt transactions which resulted in dollar flows into Sri Lanka at this crucial juncture for the country's economy. This includes a $ 15 million commitment from Norfund to invest in NDB Bank's capital raise, a $ 35 million foreign fund raising for a State-owned bank and several other ongoing transaction which would attract dollar inflows into Sri Lanka in the form of both debt, equity and hybrid forms of capital.

In addition to NDBIB being named 'Best Corporate and Investment Bank in Sri Lanka' for the fifth consecutive year, it has also been the first and only Sri Lankan investment bank to secure the 'Best Investment Bank in Sri Lanka' award by Euromoney for nine consecutive years. Even in the face of considerable 2021 obstacles, NDBIB is strategizing and poised for further success with plans to serve the needs of its clientele in Sri Lanka.

NDBIB maintains an unrivalled market position in capital raising and M&A activity in Sri Lanka and Maldives, whilst witnessing heightened levels of activity in its investment banking operation in Bangladesh as well. NDBIB expects 2021 to be a year where record levels of activity could be witnessed both on the equity and capital raising fronts, thereby assisting clients to achieve growth and deliver value to their shareholders.