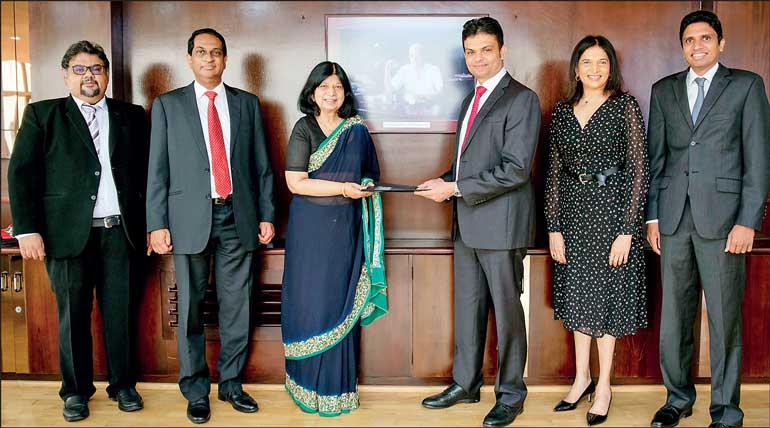 From left: CT CLSA Holdings Group COO and Investment Banking Head Zakir Mohamedally, NDB Investment Bank CEO Darshan Perera, CT CLSA Holdings Group Chairman Cecilia Page Muttukumaru, NDB Capital Holdings CEO Senaka Kakiriwaragodage, CT CLSA Holdings Group Consultant Marianne Page, NDB Investment Bank Chief Corporate Advisory Officer Nilendra Weerasinghe
---
NDB Investment Bank Ltd. (NDBIB) and CT CLSA Capital Ltd. (CT CLSA) have entered into a Collaboration Agreement to work together in raising capital for Sri Lankan corporates via Equity Initial Public Offerings (IPOs) on the Colombo Stock Exchange.

A Collaboration Agreement setting out the framework for cooperation under this strategic alliance was signed on Wednesday, 16 March. The combination of the strengths of both NDBIB and CT CLSA will bring together decades of capital market expertise to offer clients an unrivalled proposition in raising equity capital to meet their funding requirements.

NDBIB has been awarded as the "Best Investment Bank in Sri Lanka" by the prestigious Euromoney Magazine for 10 consecutive years and commands a leading market share across debt and equity raising, mergers and acquisitions, and corporate advisory transactions.

NDBIB takes pride in having advised many innovative and landmark transactions to have taken place in the country's capital markets. In addition to its presence in Sri Lanka, NDBIB maintains presence in Bangladesh via its subsidiary in Dhaka and is also very active in raising capital for Maldivian clients.

CT CLSA is a leading investment bank in Sri Lanka offering equity capital market, debt capital market, mergers and acquisition and corporate advisory services and has participated in some of the landmark transactions to take place on the Colombo Stock Exchange. CT CLSA has unparallel access to a pool of global investors and has participated in transactions in South Asian region through the CLSA network

NDB Capital Holdings CEO Senaka Kakiriwaragodage stated that: "Corporates in Sri Lanka will be required to utilise the capital markets more than ever to source the capital requirements arising from challenging macro environmental conditions and internal growth plans.

NDBIB and CT CLSA possess decades of capital market experience spanning across local, regional and global markets which can be tapped to meet the diverse needs of our clients. Teams' superior intellectual credentials and distribution capabilities will enable us to offer an unmatched offering to our clients."

Chairman Cecilia Page Muttukumaru and CT CLSA Holdings Group Consultant Marianne Page stated that: "The strategic alliance will bring together the best of both investment banks in execution and delivery to the corporate sector as well as the investors both domestic and foreign."

The two Investment Banks offer a superior proposition to potential clients in terms of structuring IPOs, managing all workstreams from valuations to regulatory approvals and documentation, and the all-important distribution and placements with a particular focus on institutional investors both local and foreign.

Additionally, both Investment Banks intend to use their securities and wealth management arms to bring together unmatched distribution capabilities in retail and high net worth individual investor access providing an all-encompassing distribution strategy for potential IPO candidates.

NDBIB CEO Darshan Perera mentioned that: "Our two organisations have been working together very closely on multiple transactions in the recent past. The formalisation of our strategic alliance will increase this cooperation and bring out the better market access for our clients."

CT CLSA Holdings Group COO and Investment Banking Head Zakir Mohamedally stated that: "the complementary skills of the two investment banks will offer a unique proposition to prospective clients and the strategic alliance between NDBIB and CT CLSA will further strengthen relationship the two groups has shared for over two decades."

Both NDBIB and CT CLSA are currently working on multiple transactions on a joint basis and intend to leverage this strategic alliance to provide Sri Lankan corporates the opportunity to meet their equity capital raising opportunities with best-in-class go-to market strategies.