NDB Head of Privilege Banking and Privilege Select Banking/Assistant Vice President Shera Hassen was recently felicitated as the 'Female Private Banker of the Year' by 'Global Private Banking Innovation Awards 2020' of The Digital Banker.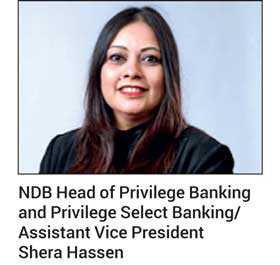 With over 25 years of all-round experience in private banking, Shera Hassen also possesses exposures in multi-national banks prior to joining NDB. Along with her Portfolio Wealth Management qualification, Shera Hassen also carries a wealth of knowledge and expertise in exclusive private banking services and driving product innovations and solutions.

High net worth and ultra-high net worth sub-segments are distinct from any other client segment in financial services, given the unique expectations and needs of customers of this segment, the intricacy of products involved in serving such needs and the exclusivity of relationships to be maintained with them. Shera Hassen has excelled in each such aspect, thereby garnering the respect and reputation as a versatile private banker in the country.

Shera Hassen has, over the years, been instrumental in grooming and developing skilled and competent private banking relationship managers through guidance and mentoring. The calibre and professionalism of such relationship managers have helped elevate the level of services rendered to this segment across the industry.

NDB Privilege Banking is consistently innovating their offerings and enhancing service levels to ensure timely, relevant and winning solutions to their customers. The solutions are seamless and services frictionless to customers seeking NDB's support from any corner of the world.

NDB's Privilege Banking was also recognised as the Best Private Bank in Sri Lanka by The Digital Banker's 'Global Private Banking Innovation Awards 2020'. The Digital Banker awards ceremony honours the world's best-in-class private banks that demonstrate unrivalled drive and innovation to meet the sophisticated need of their high net worth clients. The Bank, which is the fourth largest listed commercial bank in Sri Lanka, is one of the fastest growing banks, having had a cumulative average growth rate (CAGR) in advances by 21% and in deposits by 25% in the last four years. From its inception, NDB Bank, along with the NDB Group has been a catalyst in the development of the nation, strengthening and empowering entrepreneurs, corporates and individuals from all strata of the economy.