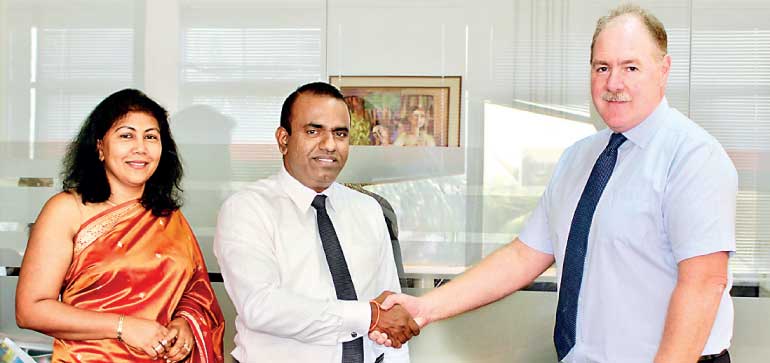 From left: AVP (Group Risk Management) Anushca Saranapala, NDB Operational Risk Head Priyantha Gamage, RiskBusiness CEO Mike Finlay
NDB, a leading Sri Lankan commercial bank, recently announced the successful conclusion of its implementation of the RiskBusiness RiskIntelliSet, the award-winning operational risk, compliance, audit and governance solution. Implementation started at the end of May 2017 and ran over three phases, each of which included end-user training and deployment of specific risk management tools directly to end-users across the entire Bank.

"Our objective of implementing RiskIntelliSet was to enhance operational risk management capabilities of the Bank by way of automating manual processes while establishing a sound framework. The global expertise brought in by RiskBusiness and its CEO, Mike Finlay, certainly helped the Bank in achieving that objective," said NDB Operational Risk Head Priyantha Gamage. "While the system provides comprehensive, user-friendly screens and features, it has been a pleasure in working with RiskBusiness in implementation given the quality delivery, outstanding technical and product support service levels," he added.

"The collection of various modules built into RiskIntelliSet allowed the Bank not only to enhance its risk management capabilities by way of automation but exposing the risk management team to world best practices," said Vice President (Group Risk Management) Nirmala Rayen. "Working with NDB has been an exciting opportunity, as it allowed us not only to really get to know the staff and management at the bank, but also to gain a thorough understanding of the Sri Lankan financial services industry," said RiskBusiness CEO Mike Finlay, who had an ongoing involvement in the project. "NDB has long been using the traditional operational risk management tools – risk assessments, incident and event recording, KRI collection and reporting to senior management – and had started to work with scenarios. The RiskIntelliSet allows the Bank to automate and expand all these tools, reducing individual workload and speeding up the entire process. It has also laid the foundation to overlay new tools, such as real-time risk appetite exposure monitoring, and to incorporate business continuity and outsourcing into the risk management process. We at RiskBusiness look forward to a long and mutually beneficial relationship with NDB."

RiskBusiness is an international operational risk, compliance, governance and enterprise-wide risk management solution provider, delivering risk content, risk intelligence, risk tools and risk advisory services to its clients. It is an association of like-minded industry professionals, who have the aim of furthering the risk management discipline to enable better risk-reward decision making.