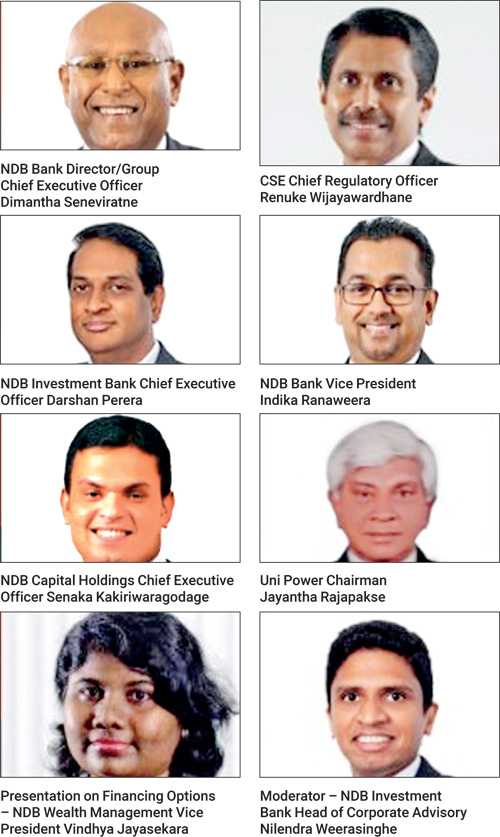 With the positive sentiments and growth opportunities in the Capital Market, NDB Investment Bank Ltd. has joined hands with National Development Bank PLC to host a live Zoom webinar to financially mentor and facilitate the transformation of business enterprises towards the next phase of growth.

The webinar will enable the business enterprises to understand pertinent gaps and challenges and identify appropriate banking and investment banking products/services such as forms of debt financing, private equity, mergers and acquisitions and Initial Public Offerings.

The webinar which is to be held on 6 April from 5:30 p.m. to 6:30 p.m. comprises a panel discussion followed by a Q & A session where participants can post questions on various financing options.

The panellists include NDB Bank Director/Group Chief Executive Officer Dimantha Seneviratne, CSE Chief Regulatory Officer Renuke Wijayawardhane, NDB Capital Holdings Chief Executive Officer Senaka Kakiriwaragodage, NDB Investment Bank Chief Executive Officer Darshan Perera, NDB Bank Vice President Indika Ranaweera and Uni Power Chairman Jayantha Rajapakse.

The presentation on financing options is to be conducted by NDB Wealth Management Vice President Vindhya Jayasekara with the discussion being moderated by NDB Investment Bank Ltd. Head of Corporate Advisory Nilendra Weerasinghe.

With the necessity for diverse strategies around innovation, marketing and digital banking becoming a pivotal segment in overcoming the prevailing pandemic, both NDB Bank PLC and NDB Investment Bank Ltd. are set to play an important role in fulfilling their responsibility in supporting entrepreneurs and other corporate businesses during this challenging times.

Throughout this webinar, NDB Bank PLC and NDB Investment Bank Ltd. would aim to uplift business enterprises by expanding their innovative thinking and capitalising on available opportunities and providing clarity on how their institutions could leverage and benefit from the business enterprise solutions and the focus of the NDB Group to support business entrepreneurs during the next phase of growth.