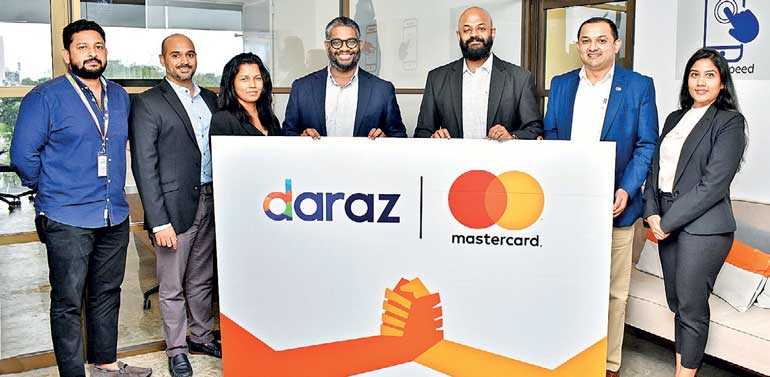 From left: Head of Marketing Heshan Perera, Head of Partnerships Dulika Jayamanne, Chief Commercial Officer Muditha Premarathne and Managing Director Rakhil Fernando of Daraz with Country Manager – Sri Lanka and Maldives Rajesh Mani, Head – Digital Payments Sandun Hapugoda and Senior Specialist – Account Management Sheranga Perera of Mastercard at the agreement signing ceremony
Signs exclusive agreement to offer greatest value when paying with Mastercard cards
Mastercard and Daraz recently announced the formation of a strategic alliance to encourage and reward the use of e-commerce platforms and digital payments in Sri Lanka. The partnership is part of their efforts to support the Government's plans to expand the adoption of digital transactions in the country.

The first stage of the partnership will see shoppers being entitled to additional discounts and privileges on Daraz when paying with their Mastercard credit or debit cards issued in Sri Lanka. This will be over and above the discounts and promotions already on offer on Daraz.

This will also apply to all discounts offered at its recurring weekly campaigns, signature campaigns such as Avurudu Waasi campaign, its fourth year anniversary sale titled 10.10, the Alibaba Group anniversary sale titled 11.11, which is the world's biggest sale in November and its Grand Christmas Sale titled 12.12. These sales can offer discounts of up to 80%, with Mastercard cardholders being offered further discounts.

The second stage will see the issuance of co-branded cards which will earn shoppers several exciting benefits such as year-round discounts on Daraz, rewards points, exclusive flagship device unveiling and free shipping. Furthermore, Mastercard will utilise its full suite of digital enablement tools to provide the foundation for a frictionless customer experience while shopping online, thus eliminating the frustration of managing card information and reducing shopping cart abandonment. This partnership truly brings together two global technology giants Mastercard and Daraz and is expected to lead to an unparalleled shopping experience for online buyers.

"We are very pleased to have found a likeminded partner in Daraz and I strongly believe forming strategic partnerships such as this will go a long way in not only offering cardholders greater value when transacting online but also help drive the adoption of digital payments," said Mastercard Country Manager, Sri Lanka and Maldives Rajesh Mani.

"The Central Bank of Sri Lanka has developed a comprehensive roadmap on how it aims to make the country a 'less-cash' society and I firmly believe the private sector has a pivotal role to play in driving customer awareness and understanding, on how to transact online safely and responsibly."

Speaking on the partnership Daraz Sri Lanka Managing Director Rakhil Fernando stated, "As the leading e-commerce platform in Sri Lanka we have a responsibility to ensure that this market sees consistent growth through the on-boarding of new customers so this partnership with Mastercard comes at a most opportune moment. We encourage Mastercard cardholders to avail themselves of this exclusive offer which will offer them the greatest possible discounts from our portfolio of over two million products."

With this partnership, a previously untapped segment of debit cardholders will have an opportunity to avail themselves of exclusive benefits, while new and exciting FinTech products are also expected to be launched.