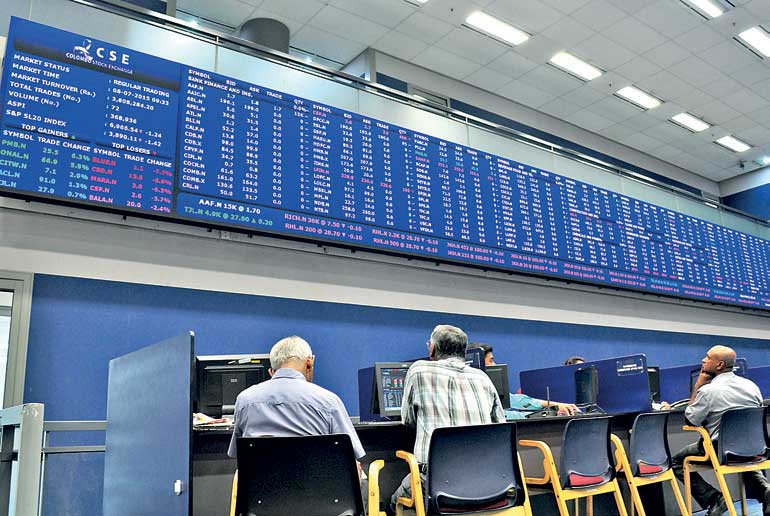 The Colombo stock market began a new week on a mixed note amidst weak investor interest and sharp gains by illiquid stocks boosting the benchmark index.

The All Share Index gained by 68 points or 0.88%, whilst S&P SL20 shed five points or 0.16%. Turnover was Rs. 1.56 billion involving 50.8 million shares.

First Capital said the bourse continued to see strength as the ASPI remained in the green zone for the second consecutive day while hovering an index high of 19-weeks due to the "pump of illiquid shares."

"Stocks ramped up within the first 45 minutes of trading, reaching as high as 7,903, reflecting noteworthy market participation with a surge in illiquid shares. However, the bourse gave up some of its early gains in a mid-day pull back and displayed a sideways movement, thereafter, finally ending the session at 7,878," First Capital said.

It said turnover was driven by gains in the Banks sector followed by the Diversified Financials sector accounting for a joint contribution of 46%.

Asia Securities said the indices showcased mixed performance during the session with the ASPI continuing its positive momentum and closing in green, driven by price gains in index-heavy counters such as NIFL and NEST, while the more liquid S&P SL20 index ended the session marginally lower. Turnover topped in COMB, boosted by block trades while overall activity remained at moderate levels.

It said Banks, Diversified Financials, Capital Goods and Materials sectors led activity, collectively accounting for 68.9% of turnover.

Asia said foreigners recorded a net outflow of Rs. 15 million while their participation remained flat at 2.2% of turnover (previous day 5.5%). Estimated net foreign buying topped in HNB.N at Rs. 12.9 million and net foreign selling topped in PLC.N at Rs. 19.5 million.

NDB Securities said the ASPI closed in green as a result of price gains in counters such as LOLC Development Finance, Nestle Lanka and LOLC Holdings.

It said high net worth and institutional investor participation was noted in Commercial Bank and Cargills. Mixed interest was observed in LOLC Holdings, John Keells Holdings and Colombo Land & Development Company, whilst retail interest was noted in Industrial Asphalts, Browns Investments and SMB Leasing. The Banking sector was the top contributor to the market turnover (due to Commercial Bank), whilst the sector index edged down by 0.12%. The share price of Commercial Bank increased by Rs. 0.20 (0.22%) to close at Rs. 90.10.

The Diversified Financials sector was the second highest contributor to the market turnover (due to LOLC Holdings), whilst the sector index increased by 4.24%. The share price of LOLC Holdings gained Rs. 7 (1.70%) to close at Rs. 418.

John Keells Holdings, Colombo Land & Development Company and Expolanka Holdings were also included amongst the top turnover contributors. The share price of John Keells Holdings moved down by Rs. 0.25 (0.18%) to close at Rs. 138.00. The share price of Colombo Land & Development Company recorded a gain of Rs. 1.70 (6.07%) to close at Rs. 29.70. The share price of Expolanka Holdings declined by Rs. 0.50 (0.98%) to close at Rs. 50.30.

Separately, Lion Brewery announced an interim dividend of Rs. 14.40 per share.