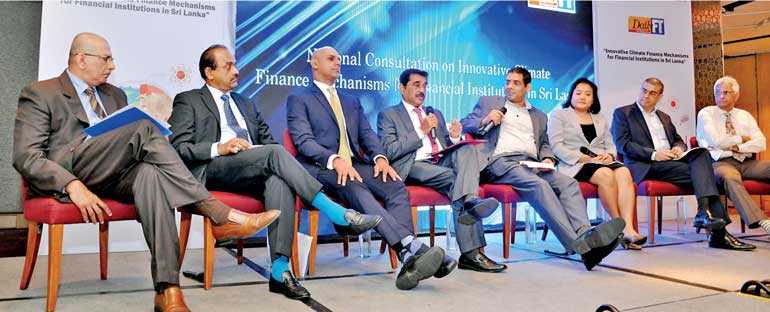 ICC Sri Lanka Chairman Dinesh Weerakkody moderated the panel discussion. Others from left: Colombo Stock Exchange Chairman Ray Abeywardena, BDO Partners Managing Director Sujeewa Rajapaksha, Securities Exchange Commission (SEC) Director General Vajira Wijegunawardane, Central Bank Senior Deputy Governor Nandalal Weerasinghe, UNESCAP Financing for Development Section, Macroeconomic Policy and Financing for Development Division Chief Dr. Tientip Subhanij, AIA Insurance Lanka Plc CEO Nikhil Advani and Aitken Spence Holdings Director Dr. Rohan Fernando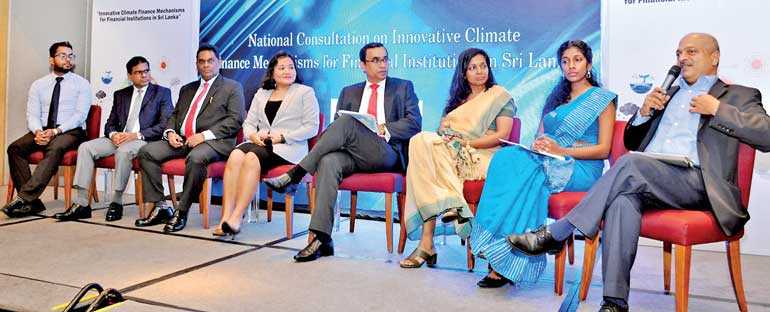 Daily FT Editor Nisthar Cassim moderated the second panel discussion. Others from left: Nations Trust Bank Plc Sustainability Manager Adheesha Perera, DFCC Bank Vice President Nalin Karunatileka, ICC Sri Lanka Secretary Shanil Fernando, Macroeconomic Policy and Financing for Development Division Chief Dr. Tientip Subhanij, Colombo Stock Exchange Research and New Products Head Nishantha Hewawitharana, Commercial Bank of Ceylon Investment Banking Chief Manager Sushara Vidyasagara and Dilmah Conservation Head Shamodie Nanayakkara
---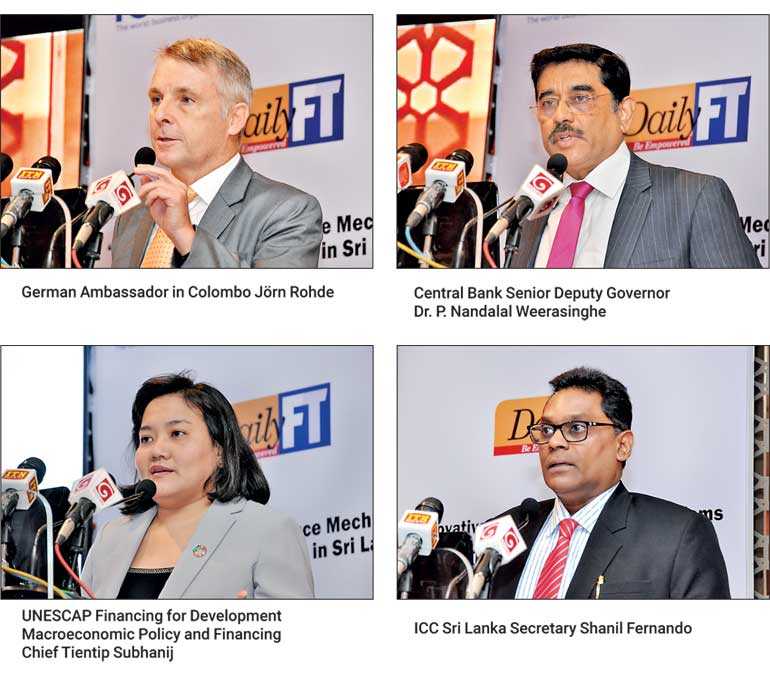 ---
The National Consultation on Innovative Climate Finance Mechanisms for Financial Institutions in Sri Lanka brought together over 100 policymakers, private business and financial sectors, international organisations and other relevant stakeholders to discuss pressing issues in promoting climate-resilient investment from the private sector.

The national consultation was a platform to gather feedback on the project driven by ICC Sri Lanka together with UNESCAP to establish the next modalities in fostering climate finance for a sustainable future. The full-day workshop was held on 21 November at the Hilton Colombo Residences.
The key objective of the regional event is to strengthen implementation of the 2030 Agenda for the Sustainable Development Goals in Sri Lanka. The morning panel discussion was on establishing a clear and detailed taxonomy for sustainable activities for lending purposes. The lack of a clear definition of green and social projects makes it difficult for banks, institutional investors and other key stakeholders to identify eligible sustainable projects and then allocate capital towards these projects while measuring sustainable stocks, flows and performance.

The discussion was moderated by ICC Sri Lanka Chairman Dinesh Weerakkody and included Sri Lanka Central Bank Senior Deputy Governor Nandalal Weerasinghe; UNESCAP Financing for Development Section, Macroeconomic Policy and Financing for Development Division Chief Dr. Tientip Subhanij; Securities and Exchange Commission (SEC) Director General Vajira Wijegunawardane; Colombo Stock Exchange Chairman Ray Abeywardena; Aitken Spence Holdings Plc Director Dr. Rohan Fernando; AIA Insurance Lanka Plc CEO Nikhil Advani and BDO Partners Managing Director Sujeewa Rajapaksha.

The panel discussion was followed by an interactive session involving the workshop's participants.

One of the topics discussed at the workshop was for there to be a minimum threshold of 5% for green projects, similar to the threshold of 3% financial insitutions maintain when lending to the agriculture sector.

The workshop also included a panel discussion on increasing access to climate financing for Sri Lankan organisations, the need to scale up climate financing with urgent collaboration through public-private partnerships, increasing capacity-building for climate financing and improving awareness of the availability of green funds.

Moderated by Daily FT Editor Nisthar Cassim, the panel consisted of ICC Sri Lanka Secretary Shanil Fernando; Dilmah Conservation Head Shamodie Nanayakkara; Colombo Stock Exchange Research and New Products Head Nishantha Hewawitharana, DFCC Bank Plc Vice President Nalin Karunatileka, Commercial Bank of Ceylon Plc Investment Banking Chief Manager Sushara Vidyasagara and Nations Trust Bank Plc Sustainability Manager Adheesha Perera.
The International Chamber of Commerce (ICC) is the world's largest business organisation representing more than 45 million companies in over 100 countries. The ICC's core mission is to make business work for everyone, every day and everywhere. Through a unique mix of advocacy, solutions and standard-setting, the ICC promotes international trade, responsible business conduct and a global approach to regulation, in addition to providing market-leading dispute resolution services. Its members include many of the world's leading companies, SMEs, business associations and local chambers of commerce. The ICC was founded in 1919. The ICC has a permanent seat as an observer of the UN, the only private sector organisation to receive such an honour. The International Chamber of Commerce Sri Lanka (ICCSL) is the domestic chapter of the Paris-based ICC.

ICCSL was incorporated in 1955 and has been engaged in a wide area of support for business for member companies. They are the only licensed authority to issue ATA Carnet, which forms an integral part of its operations, and also issue certificates of origin as well as conducting professional training.

Pix by Lasantha Kumara