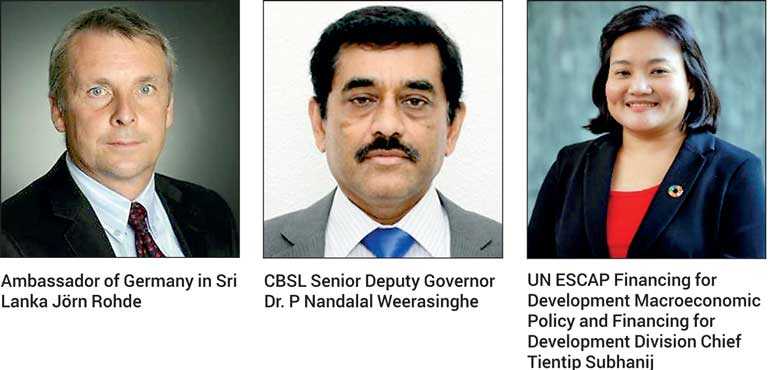 The National Consultation on Innovative Climate Finance Mechanisms for Financial Institutions in Sri Lanka will attempt to bring together policymakers, private business and financial sectors, international organisations and other relevant stakeholders to discuss pressing issues in promoting climate-resilient investment from the private sector.

The national consultation will be a platform to gather feedback on the project champion driven by ICC Sri Lanka together with UN ESCAP to establish the next modalities in fostering climate finance for a sustainable future.

The key objective of the regional event is to strengthen implementation of the 2030 Agenda for SDGs in Sri Lanka by bringing together national and subnational governmental, multilateral, bilateral and civil society partners to firstly develop a common understanding of the latest trends, successes and challenges with mainstreaming and integrating climate change in governance processes, secondly, to identify best practice for mainstreaming, accessing and leveraging finance for climate change and delivering on the SDGs with a focus on gender equality (SDG 5) and poverty (SDG 1); Thirdly, to raise awareness about climate and sustainable finance and strengthen the capacity of stakeholders to develop an enabling policy environment that promotes private investment in climate change mitigation and adaptation projects and lastly, to promote the project champion on climate finance and gathering feedback from stakeholders on fostering climate finance for a sustainable future.

The full day workshop will be held on 21 November at the Hilton Colombo Residences. The workshop will be attended by Ambassador of Germany in Sri Lanka Jörn Rohde as the Chief Guest along with CBSL Senior Deputy Governor Dr. P Nandalal Weerasinghe as the Guest of Honour. UN ESCAP Financing for Development Macroeconomic Policy and Financing for Development Division Chief Tientip Subhanij will represent UN ESCAP at the national consultative workshop. The workshop will host two discussion panels with leading professionals and advocates of sustainable growth. The two panel discussions will be moderated by ICCSL Chairman Dinesh Weerakkody, and Daily FT Editor-in-Chief Nisthar Cassim.

The International Chamber of Commerce (ICC) is the world's largest business organisation representing more than 45 million companies in over 100 countries. ICC's core mission is to make business work for everyone, every day, everywhere. Through a unique mix of advocacy, solutions and standard setting, we promote international trade, responsible business conduct and a global approach to regulation, in addition to providing market-leading dispute resolution services. Our members include many of the world's leading companies, SMEs, business associations and local chambers of commerce. ICC was founded in 1919. ICC has a permanent seat as an observer of the UN, the only private sector organisation to receive such an honour. The International Chamber of Commerce Sri Lanka (ICCSL) is the domestic chapter of Paris based international world business organisation, the International Chamber of Commerce (ICC). ICCSL was incorporated in 1955 and has been engaged in a wide area of support for business for member companies. They are the only licensed authority to issue ATA Carnet which forms an integral part of its operations, issues certificates of origin and conducts professional training.