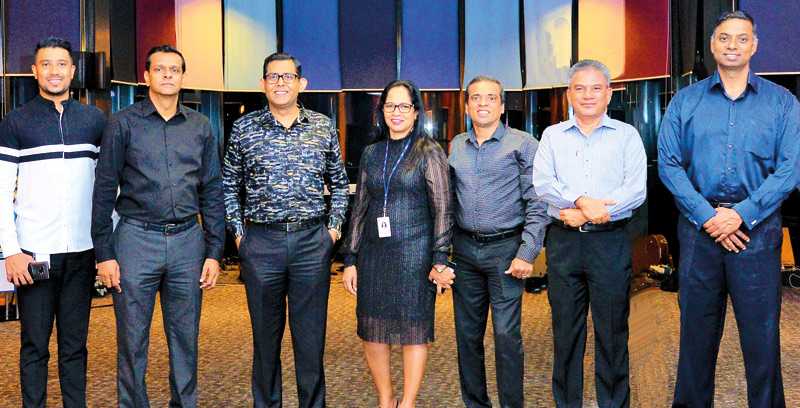 From Left: HNB Head of Payments and Cash Management, Pasindu Dharmasiri, HNB Deputy General Manager – Treasury and Markets, Arjuna Abeygunasekara, HNB Deputy General Manager – Wholesale Banking Group, Damith Pallewatte, HNB Head of Trade and Financial Institutions, Rozanne De Almeida, HNB Assistant General Manager / Head of Islamic Banking, Hisham Ally, HNB Head of Custody and Trustee Services, Tyronne Hannan and HNB Assistant General Manager – Corporate Banking, Majella Rodrigo
---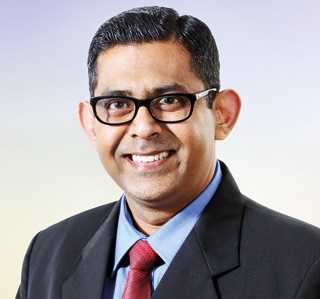 HNB Deputy General Manager – Wholesale Banking Group, DamithPallewatte
---
HNB has always been at the forefront of altering the dynamics of the banking industry and leveraging technology to meet the changing needs of an increasingly sophisticated, digitally savvy customer. At the beginning of 2020, HNB revamped the organizational structure to support its on-going transformation programme - its main business lines were integrated into two broad verticals, Retail and Wholesale Banking, with the express goal of enabling greater agility and innovation and also living up to its brand promise of providing customer convenience by being a partner in progress. At the leading edge of these transformations is HNB's efforts to better serve Large and Emerging Corporates and Institutional Clients through, its Wholesale Banking Group(WBG).

HNB now aims to provide an unmatched value proposition delivered via a one-stop service concept specifically catered to top tier wholesale banking clients via a model that is practiced by the world's leading international banks, but adapted with a local flavor that identifies with the pulse of the Sri Lankan market. HNB DGM – Wholesale Banking Group, Damith Pallewatte, shared some insights from the bank's ongoing transformation, the implications of current economic conditions and foresights on embracing a wholesale banking proposition. Following are excerpts:


Q: What are some of the challenges associated with driving transformational banking initiatives during a pandemic?
Transformation has been the central theme emerging from the pandemic. COVID19 is the most disruptive global pandemic I have seen in my career so I don't believe that any bank will be able to emerge from this period unscathed – given that ours is an industry which is integrally connected to all parts of the economy. During the pandemic, the industry was battered by high costs of unanticipated changes to business and operating models apart from other escalating routine costs. Low interest rates are also likely to add further pressure to yields and margins.

Customers demanded banks to offer more personalized advice in the prevailing VUCA environment while a fast-growing array of FinTechs continue to raise the baseline for digital service and delivery. So it was no easy task to drive transformation whilst this shift was on. Nevertheless, we took it as a blessing in disguise to optimize our operating model.

We have seen almost 45-50% of corporate & Institutional clientele amounting to over Rs. 150 billion undergoing moratoriums and at times getting a life line through relief packages. This support was primarily extended to customers to help them recommence business operations just a few weeks into the pandemic by providing working capital facilities and deferring repayment plans through moratoriums. Our employees, also had to change their usual relationship management strategy and sharpen their skills including adopting "Working from Home" (WFH) practices and spending higher than usual time with customers to help them ride through this pandemic.

As a result of these efforts, many of our customers have been able to strengthen their position and continue business, albeit at 60-70% of pre-COVID levels within a short period since the lock- down was lifted. We will continue to work with these businesses to help them to stay resilient during challenging times. We have gone beyond CBSL mandated credit relief schemes to support our businesses through post-lockdown economic recovery. HNB on its own has launched a Rs. 5 billion subsidized loan scheme targeted especially towards HNB's SMEs and Micro businesses. Moving forward, we will continue to engage with businesses more intimately to guide them through this 'new normal'.

While HNB is predominantly seen as a Retail and SME player in the market, the creation of the Wholesale Banking Group is part of a more aggressive strategy to capture market segments which had previously been the domain of international banking players.

Given HNB's status as a Domestic Systemically Important Bank (D-SIB) we always strive to be an example and lead from the front. HNB now offers a more viable Sri Lankan alternative to large corporates, MNCs, and institutional clients given that we can offer a full spectrum, value proposition through Wholesale Banking covering Conventional financing, Corporate banking, Trade Finance, Forex and other Treasury related services, together with Transactional Banking, Custody & Trustee Services, Fund Management, alternate investment products and Islamic Banking as progressive products/services. In fact, HNB is the strongest financial powerhouse in the industry, having a group and segment structure with a presence in investment banking, insurance and commercial banking to provide a complete range of solutions.


Q: What potential do you see for Sri Lanka's economic recovery?
Despite unprecedented challenges brought about by the COVID19 pandemic that pushed the economy towards a contraction, Sri Lanka was very successful in containing the first wave of infections and post lifting lockdown we have been on a broadly V-shaped economic recovery trajectory. Through many of the measures described previously, the banking community played an immeasurable role in facilitating such resilience by aligning them with that of the country's requirements, even at significant costs to the industry.

In view of the recent developments of a second wave, which to a certain extent disrupted the upward momentum of economic activities, recovery has become more elusive. We anticipate a modest credit growth during the year. The end of the moratorium period this September will put lots of businesses under tremendous pressure and the banking industry is likely to witness a spike in NPLs towards the end of 2020, if such instances are not managed clinically.

Coupled with increased impairment provisions for credit losses under SLFRS9 and a low interest rate regime in operation that place margins under severe pressure, the profitability of the banking sector will undoubtedly be adversely affected. However, capital buffers built over the last few years with CBSLs prudent introduction of adequate capital buffer requirements through advanced

BASEL guidelines, will still ensure that banks remain strongly capitalized to absorb shocks and support the country's course towards accelerated economic growth.

Certain industries such as Travel & Tourism are unlikely to bounce back any time before the second half of 2021, which will severely impact industries dependent upon tourism too. Whilst this stands against a swift recovery, on the brighter side, there is enormous potential on the sectors such as Agriculture and manufacturing for both local and export markets. The economic recovery will, to a larger extent, dependent on how we focus on these potential growth sectors.


Q: How has HNB's business model evolved to face these challenges?
Given the profound changes sweeping the banking landscape, we must question traditional assumptions to derive a greater competitive advantage at every level of the business. This was very much the rationale underlying HNB's ongoing transformation, which began prior to the pandemic.

Our goal was to simplify processes in order to deliver superior value through product, service, and geographic leadership – and in the process, open up powerful new avenues of growth. We also focused extensively on identifying high-value opportunities leveraged from our existing client relationships, competitive standing, and healthy balance sheet so that we could defend every differentiation we create while rationalizing our business in a focused manner to respond to client needs.

Relationship managers, investment bankers, salespeople, and traders have long served as the primary owners of the wholesale banking client relationship — and the conduit for all other banking services. While this talent remains crucial, we believe client service will no longer be a commercial activity that is confined to the front office. With personalization at scale becoming increasingly important, we combined the strengths of our product, marketing, and back-office resources in crafting HNBs philosophy to launch the Wholesale Banking Group.

Accordingly, our strong international trade franchise – which supports a notable share of the nation's international trade together with our robust treasury operations with active presence in forex market operations and fixed income securities - are managed within the consolidated structure of the WBG. This revised structure will also create entirely new synergistic opportunities for the bank and its clients.

We have also built up a progressive Transactional Banking proposition within the wholesale Banking Group which will serve as a formidable game changer moving forward. Similarly, HNB has also been nurturing home grown Custodian Services for the last 5 years to such an extent that today, we have captured well in excess of 50% of the market share. All these units have won international accolades proving their efficacy, value proposition and positive impact on clients' businesses. We have also built an internationally acclaimed Islamic Banking Proposition for corporates that seek Sharia compliant Islamic Banking products.

HNB's illustrious track record in project financing has earned a reputation for being lead financier for mega projects, delivering on the promise of responsible and sustainable banking through a well governed Environmental and Social Management framework (ESMS). . We have disbursed in excess of LKR 150 Bn as project funding powering the nations development agenda over the last decade which signify HNBs contribution. Recognizing the greater opportunities for risk sharing in the market, we are also keen to step up our presence in the arena of syndications banking over the trust we have built through our project finance capabilities. Further, leveraging capabilities of our full service investment bank, Acuity Partners, we will actively facilitate our WBG clients to raise debt and equity, an option we will offer beyond conventional banking.

With the creation of WBG, we are providing an opportunity for large corporate and institutional clients to get on board through multiple channels and still enjoy a seamless service to meet their every financial need. For clients, this translates into unprecedented flexibility in choosing the services they require.

Here too, the human element is critical for success, and we have invested significantly in training Corporate Relationship Managers to indulge in deeper and more productive conversations with clients and actively advise them on business and financial offerings beyond the traditional Corporate Credit Facility Package. Through WBG proposition, we are also fully aligned to support envisaged government growth plans for capital market activities as well.

A new and exciting aspect of the WBG is our revamped ability to serve mature SMEs who can be guided to become Sri Lanka's next corporate powerhouses. To this end, we created the "Emerging Corporates" vertical within WBG to serve their immediate financial needs and facilitate collaboration with larger counterparts locally and overseas. Currently we nurture 300+ such Emerging Corporate relationships mainly in and around Western Province with plans underway to expand into key locations across Sri Lanka in 2021.


Q: Digitization and customer expectations are raising the stakes. What are HNB's plans on this specially with in WBG?
We at HNB understand that Wholesale Banking customers are also feeling the effects of a fast- changing marketplace. Whilst individuals within those corporates can adopt innovative retail technologies mainly on smart phones, corporates need solutions that are different to that of retail banking. Effectively managing liquidity and risk requires treasurers and finance teams of corporate and institutional clients to look across the banking book; anticipate the impact of rates, currencies, and other variables; and take preemptive action. Treasurers want a digital and frictionless experience to manage day-to-day transactions, cash flow, and liquidity as well as a trusted business advisor that can advise them on long-term strategic business and financial issues.

Giving due recognition for this reality, HNB has already invested to migrate its existing Payment and Cash Management system on to a fully-fledged state of the art Transaction Banking system which would enable collections, payments, management of liquidity etc. It would also automate payment of staff salaries, supply chain and statutory payments such as EPF/Customs Duty etc… giving corporates the complete peace of mind to focus on business growth. This new system will be rolled out during the 2H of 2021.

We have also planned to implement an interactive Trade Platform where our corporates will be provided the comfort of carrying out their international trade transactions securely from the comfort of their offices. We believe our on-line treasury trading platform too will help our corporates. This is the next two year digital journey we have planned out for WBG clients.


Q: What is your outlook for future and HNB's readiness?

The outlook will profoundly depend on how soon the pandemic can be contained and full scale economic activities resumed in the "new normal". The IMF has predicted an economic contraction of 4.6% during 2020 in its latest prediction. While this scenario is more challenging than those Sri Lanka has experienced in the past, especially given the fact that most of the countries are globally affected and are in a less likely position to offer support, we are confident that we will come out of this stronger.

At the same time, HNB has always been a strong supporter of local industries and a forerunner in the SME space over the last few decades. We understand the different needs of different businesses and fully acknowledge that some businesses may take longer than others to revive. Hence our support to businesses too will be customized accordingly. We believe, that with the range of new opportunities and services offered by HNB, prospective customers will benefit taking their business to the next level.

As a bank with a 132 year old history fully aligned with the Sri Lankan economy and its development and one that has partnered the progress of several generations of Sri Lankans, we look forward to the opportunities in post COVID Sri Lanka with confidence. The transformation journey we embrace will no doubt help to re-energize ourselves and help HNB become future ready to become the beacon in Sri Lanka's financial services industry.