HNB PLC announced yesterday the launch of its e-auction website 'Bid N Buy' (BNB) - the first of its kind in Sri Lanka.

This ground-breaking facility gives users a new and exciting avenue for purchasing vehicles, real estate and industrial equipment with the utmost convenience. The bank licensed Affno e-Auction to provide the service.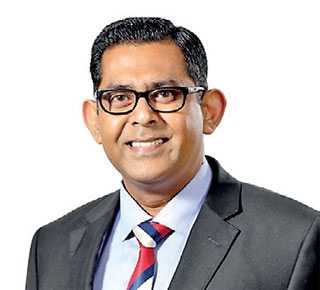 HNB Chief Risk Officer/Deputy General Manager Damith Pallewatte
Accessible at bnb.hnb.lk, Bid N Buy allows interested customers to register and receive alerts when items they like become available, bid on the desired items from their mobile or laptop, and buy in a secure and convenient manner. Customers no longer need to travel to participate in auctions – they can bid from the comfort of their home and from any part of the country or world. From expatriates making purchases for their parents, to local entrepreneurs bidding from outside Colombo, all participants are empowered to engage in reliable, safe and secure bidding. Users further benefit from valuation and integrity-checks carried out by independent third-party organisations, ensuring that listed items are in good condition.

"As a bank, we pride ourselves in always listening to the heartbeat of our customers – and always being the first to give them the service offerings they asked for. In this case, what we learnt is that Sri Lankan customers deserve a strong, secure and convenient auctioning process," said HNB Managing Director / Chief Executive Officer Jonathan Alles.

HNB Chief Risk Officer Damith Pallewatte added, "Our bank has a long and storied history as among the most innovative and digitally-savvy banks in Sri Lanka - this e-auction site underscores HNB's continuing commitment to making digital banking, and inter-related services, as digital-friendly as possible."

Affno Chief Executive Officer Suren Kannangara added, "In simplifying and digitising the auctioning process, we've paid utmost attention to security and ease of use. The Bid N Buy site was the logical next step in our decade long partnership with HNB."

Operating through 251 customer centres across the country, HNB was recognised by the prestigious Banker Magazine as one of the Top 1000 banks in the world and is also the highest ranked local bank in this listing. HNB has also been adjudged Best Retail Bank 2018 by The Asian Banker Magazine in addition to being declared Best SME Bank, Best Digital Bank and the Best Cash Management Bank in Sri Lanka at the Asiamoney Awards 2018.

Over the recent past HNB was also named by Euromoney as the Best Corporate Cash Management Bank in Sri Lanka for 2018, in addition to being awarded Best Retail Bank and Best Micro Finance Bank at the International Finance Awards 2018 and being ranked among the Most Admired Companies in Sri Lanka by the International Chamber of Commerce and Chartered Institute of Management Accountants (CIMA)

With a history of over 18 years, Affno has licensed its software products to leading organisations in Sri Lanka and overseas to provide innovative services. Affno's unique strength in product development, plus the full gamut of online marketing services, have enabled its clients to build innovative and valuable product, service and business offerings.