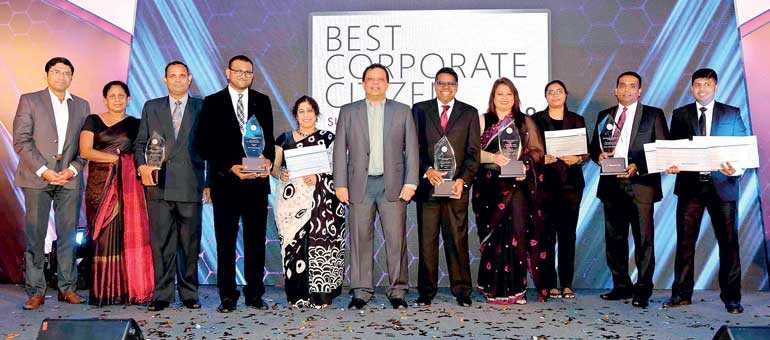 From left: Deloitte Touche Tohmatsu, India Senior Director Human Capital Consulting Peeyush Arya, Chief Manager – Legal Niroshini Wettasinha, Assistant Manager – Sustainable Business Hemantha Seneviratne, Assistant Manager – Strategic Planning Rajiv Mel, Chief Financial Officer Anusha Gallage, Managing Director/CEO Jonathan Alles, Chief Operating Officer Dilshan Rodrigo, Chief Human Resource Officer/DGM – HR Chiranthi Cooray, Senior Manager – Talent Development and Sustainability Gayathri Ganeshan, Officer in Charge – Sustainable Business Shanel Perera and HNB Sustainability Unit's V. Disharatnam
---
Declared First Runner Up – Best Corporate Citizen Sustainability Award
Ranked among Top Ten Corporate Citizens in Sri Lanka
Winners in the Finance Sector Sustainability Award
Category Award Winner – Economic Contribution
Triple Bottom Line Award Winner – Economic Sustainability (Profit)
Consistent commitment and continuous improvement – Environment Beyond The Business
Merit Certificate Winner – Best Projects Sustainability
Sri Lanka's premier retail bank, Hatton National Bank PLC, (HNB) set new benchmarks across the Sri Lankan corporate sector having been presented with a total of seven awards at the recently concluded Ceylon Chamber of Commerce (CCC) Best Corporate Citizen Sustainability Awards 2018 (BCCSA).
This year, HNB was once again declared First Runner Up in the event's flagship category, the Best Corporate Citizen Sustainability Award in addition to being declared among the Top Ten Corporate Citizens in Sri Lanka.

Additionally, HNB was also declared the Sector Award Winner in the Finance sector in addition to being declared the Category Award Winner for Economic Contribution and Triple Bottom Line Award Winner in Economic Sustainability (Profit).

The bank was also presented with the award for consistent commitment and continuous improvement – Environment Beyond the Business while also receiving a Merit Certificate Award in the Best Projects Sustainability category.

Commenting on the significance of the bank's performance at this year's awards, HNB Chief Human Resource Officer/ Deputy General Manager – Human Resources Chiranthi Cooray commented on the importance of sustainability and responsible corporate citizenship to the bank's business model.

"HNB's position as one of Sri Lanka's largest and most profitable private sector banking groups comes with a great deal of responsibility. As a leader, we are determined to ensure that all of HNB's operations are not only geared towards ensuring a strong top and bottom line performance, but are also aligned with the needs of Sri Lankan society and its economy.

"Consequently, HNB has continuously channelled investment into projects, products and services that are designed to empower customers, spark opportunities for job and wealth creation, while facilitating the development of infrastructure and other projects vital to placing the Sri Lankan economy on a more sustainable trajectory. Our resounding performance at the CCC Best Corporate Citizen Awards 2018 is emblematic of our commitment to value creation – socially, environmentally and economically."

HNB has long been involved in the process of shared value creation at every level of the Sri Lankan economy. The bank places a particular emphasis on the MSME sector – both in terms of financial and advisory services. In this manner, we have been able to promote financial empowerment for a substantial segment of the Sri Lankan society.

Over the past year, these efforts have resulted in the disbursement of Rs. 137 billion towards a sizeable and growing SME customer base. During the course of 2017, HNB continued to deliver some of the strongest financial performances in the industry with total group assets expanding by 11.8% Year-on-Year (YoY) up to Rs. 1 trillion while group profits rose by 6.9% YoY up to Rs. 16.7 billion. The group's scale and reach are coupled with extensive advisory and financial awareness and capacity building programs designed to financially empower entrepreneurs. These efforts have resulted in an average increase in ticket size of loans to the SME and micro-finance sectors within the three to five year period with a substantial proportion of lending being channelled towards female entrepreneurs who comprise approximately 29% of the bank's portfolio.

The bank has also diligently channelled investment into projects of national significance including the funding two of Sri Lanka's largest solar power plants, and its first ever waste- to-energy power plant. HNB has also initiated multiple sustainability projects as part of the HNB Green Pledge including: tree planting, and e-waste reduction campaigns in addition to investments into green buildings, energy efficient buildings – including Sri Lanka's largest rooftop solar initiative. At present, HNB has funded over 30 large scale renewable power projects both locally and overseas amounting to a total capacity of over 140 MW.

HNB also stands as a trailblazing pioneer in the fields of SME and Microfinance, working with entrepreneurs across Sri Lanka to facilitate funding for these vital sectors that in turn are capable of providing mass-employment and generating fresh export opportunity.

Utilising its extensive network of Gami Pubuduwa officers stationed across Sri Lanka, HNB works to cultivate trusting and long-lasting relationships with these industries, while supporting them with additional capacity building in the form of education and training programs designed to improve financial literacy.

Operating across 251 customer centres across the country, HNB stands as Sri Lanka's leading bank, having been recognized by several renowned international and local institutions for excellence in diverse fields. In 2018 HNB was recognised by the prestigious 'Asian Banker Magazine' as the 'Best Retail Bank in Sri Lanka' for the tenth time.