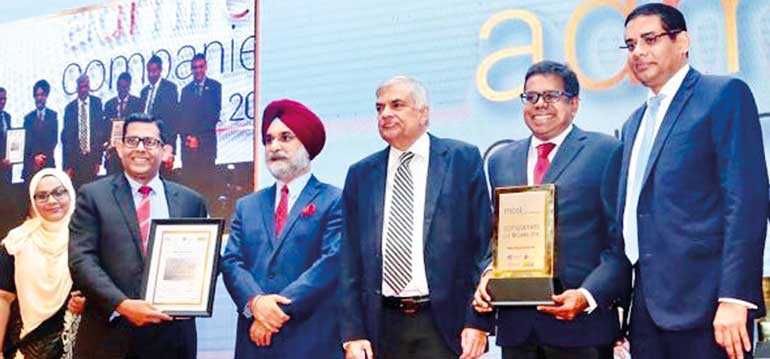 HNB Chief Operating Officer Dilshan Rodrigo (second from right) and Deputy General Manager - Risk/Chief Risk Officer/Chief Information Security Officer Damith Pallewatte (extreme left) with the award presented by Prime Minister Ranil Wickremesinghe together with Indian High Commissioner Taranjit Singh Sandhu, and HNB Chairman and ICCSL Chairman Dinesh Weerakkody
Sri Lanka's leading private sector bank, HNB PLC was once again recognised as one of the country's 'Top 10 Most Admired Companies' at a gala ceremony last week.

Organised by the International Chamber of Commerce, Sri Lanka (ICCSL) and the Chartered Institute of Management Accountants (CIMA) Sri Lanka, the event was attended by Sri Lanka's most successful listed and non-listed corporates as well as Prime Minister Ranil Wickremesinghe as Chief Guest with Indian High Commissioner Taranjit Singh Sandhu serving as Guest of Honour.

The award is the only one of its kind to recognise Sri Lankan companies that create sustainable value ethically for their employees, customers, investors and the community at large.

"We are honoured to have been recognised as one of the top 10 most admired companies in Sri Lanka once again. This is an excellent achievement which showcases our commitment to excellence, service, and the community," HNB Managing Director and Chief Executive Officer Jonathan Alles said.

Companies were ranked to a qualitative and quantitative criteria which included financial soundness, long-term investment value creation, earnings growth, and dividend pay-out in addition to quality of management, products and services, competitiveness, ability to attract, develop and keep talent, innovation, and environmental, social and corporate responsibility, including a track record of integrity and business ethics.

The awards were presented following a lengthy and rigorous evaluation based on globally accepted quantitative and qualitative criteria, overseen by an eminent panel of judges, which included Ravi Abeysuriya (Chairman), Dr. Harsha Cabral, Deepal Sooriyaarachchi, Sujeewa Rajapakse, and Aroshi Nanayakkara.

Over the past year, the Bank has received continuous praise for its pioneering initiatives across the entire spectrum of its operations. Notably, over the recent past, HNB was also adjudged 'Best Managed Bank in Sri Lanka' by the prestigious Asian Banker Magazine while the Bank's Managing Director/CEO Jonathan Alles was also conferred with Asian Banker' CEO Leadership Achievement' award – both of which are only given out every three years.

Similarly, HNB was also declared 'Sri Lanka's Best Bank' for 2019 by Euromoney Magazine for the third time, in addition to being ranked among the Global Top 1,000 Banks by the prestigious UK-based Banker magazine, further strengthening its status as Sri Lanka's pre-eminent private sector bank. HNB's remarkable track record of excellence secured it the first place ranking ahead of all Sri Lankan banks included in the LMD Top 100 Club – a position which was evaluated based on its performance over the past 25 years.