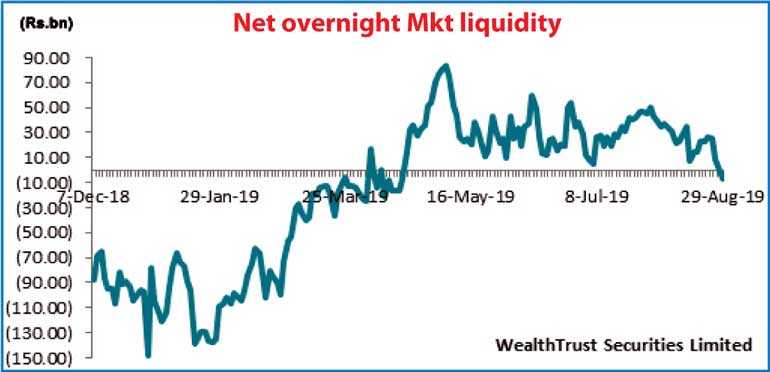 ---
Overnight liquidity turns negative
By Wealth Trust Securities

The yields of the market favorite five year maturities of 15.03.24 and 15.06.24 were seen hitting the 10.00% psychological level once again yesterday as selling interest continued for a fourth consecutive day.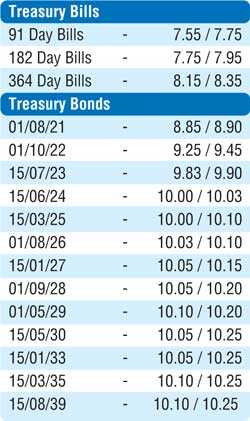 The said maturities recorded intraday highs of 10% and 10.05% respectively while the four year maturity of 15.07.23 hit a high of 9.90%. However, buying interest at these levels curtailed any further upward movement.

In addition, maturities of 01.08.21 15.03.22, 01.08.26 and two 2027s (i.e. 15.01.27 and 15.06.27) were seen changing hands at levels of 8.87%, 9.20%. 10.10% and 10.11% each respectively as activity remained rather dull across the rest of the yield curve.

The total secondary market Treasury bond/bill transacted volumes for 28 August was Rs. 5.79 billion.

In money markets, the overnight call money and repo rates averaged at 7.35% and 7.44% respectively as the OMO Department of the Central Bank infused liquidity for the first time in four days, by way of an overnight reverse repo auction for a successful amount of Rs. 5 billion at a weighted average yield of 7.35%.

Furthermore, it injected in total an amount of Rs. 2.26 billion by way of outright auctions to purchase Treasury bills for durations of 315 and 322 days at weighted average of 7.94% and 7.90%, valued today. The overnight net liquidity in the system turned negative for the first time since 17 April to record a deficit of Rs. 6.97 billion yesterday.
Rupee hits low of Rs. 181
The Interbank USD/LKR rate on spot contracts was seen hitting an intraday low of Rs. 181.30 yesterday on the back continued buying interest by banks before bouncing back to close the day at Rs. 180.30/60 against its previous day's closing levels of Rs. 180.20/60.

The total USD/LKR traded volume for 28 August was $ 69.19 million.

Some of the forward USD/LKR rates that prevailed in the market were: one month – 181.00/10; three months – 182.00/30; and six months – 183.40/80.