---
First Capital Research is "cautiously bullish" over the prospects of investments into listed stocks in 2019 though the Colombo Bourse experienced a 5% dip last year.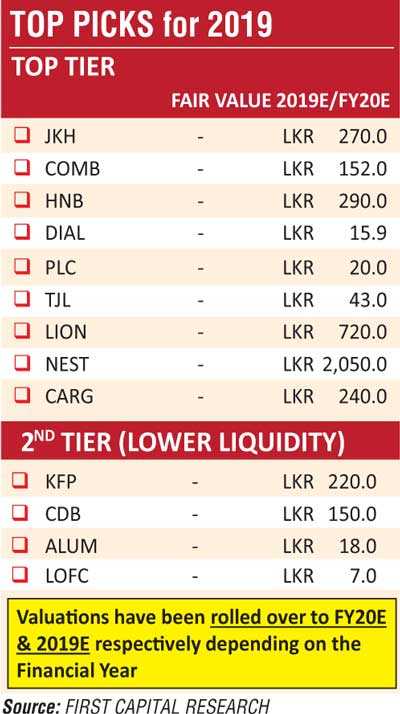 In its latest equity strategy report, First Capital said that it was positive on equities hence recommending "buy" but reduce "cash exposure."

As per the strategy done by analysts Dimantha Mathew, though political uncertainty has settled the battle for policy certainty may continue. It also said that external sector has turned positive favouring the Asian region.

Noting that stock markets usually pass through many phases, First Capital said it rarely reaches fair value and as a result markets either overshoot or over-correct.

"The ASPI we believe has over-corrected and is currently passing through a depression phase and potentially on its way to disbelief stage," First Capital said.

"Valuations suggest to be attractive relative to CSE's peer countries, strongly suggesting a healthy range of undervalued stocks," it added. Most banks, which account for 40% of the equity market, are trading below their book value.

"When the market enters such a phase, it would be a matter of time before an unforeseen event or best known as a black swan even may lead to the market cycle to get converted to phase of "Hope", which begins a strong bull run," First Capital Research opined.

It also said that over the past three months (25 September to 24 December 2018), First Capital maintained exposure at 50%, considering earnings hit via depreciation and political unrest affecting sentiment of the market. However during the period the market gained by about 100-120 index points.

"As we step into 2019, we are witnessing the global fund flow reversing towards Asia and commodity prices crashing, with the dip in oil prices benefitting the Balance of Payments position of Sri Lanka and positively affecting Cost of Living," First Capital said.

"We believe the events that have unfolded may benefit Sri Lanka and the equity market over the next few months, positively impacting earnings and possibly leading to net foreign inflows," it said. "In view of this outlook, First Capital Research has upgraded its equity exposure to 60% from 50% previously and upgraded ASPI volatility expectations to 6,000-6,500 (from the previous 5,800-6,200) assuming Market Price Earnings Ratio to be 8.5x-9.5x.

In its equity strategy report, First Capital also said that following the re-appointment of "pre-October 26 Government" and passing of the Vote of Account in Parliament, the political uncertainty that prevailed eased off providing financial capability for the Government and its institutions to function beyond 31 December 2018.

"However stability created, is likely to be temporary, as suggested by the differences that were prevalent in the process of appointing the new Cabinet. We expect the divergent views between the President and UNF Government will continue to affect key policy decisions within the Cabinet throughout 2019, up until the Presidential elections due in January 2020," it added.

In terms of external sector turning positive for Asia, First Capital said that global growth is expected to slow down during 2019, primarily led by the possible impacts arising out of the trade war between the US and China coupled with the downgrade in growth expected in the US economy. The slowdown in the US economy is also likely to result in decelerating the Federal Reserves' interest rate normalisation process, which may provide some breathing space for most weaker Asian economies. "Global fund flow has already started to reverse towards Asia and emerging markets providing reasonable level of stability to Asian and other emerging markets," First Capital Research noted.