---
Top professional Anura Perera, formerly of Chevron, has been appointed as the Protem Chairman and Non-Executive Independent Director at the Merchant Bank and Finance of Sri Lanka (MBSL).

Anura counts over 27 years of Senior Managerial experience in accounting and Finance.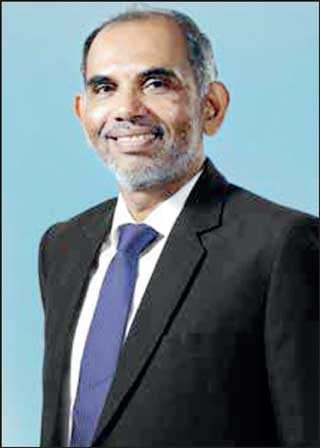 Anura Perera


The new appointment follows the resignation of Chairman Dr. S.L. Lokugewa and directors S.N. Dayaratne, S. Arsakularatne, K.B.S. Bandara and G.A. Jayashantha (as alternate to Bandara).

MBSL also announced the appointment of two Non-Executive/Independent Director – Dr. N. Sampath Punchihewa and W.N.P. Surawimala.

Anura joined Chevron Lubricants Lanka PLC, a subsidiary of Chevron Corporation, USA in 1996 as Manager Finance and Administration (designate) and rose to the position of Chief Financial Officer.

He was admitted to the Board in 2002 and continued in this position until June 2019. He was also a Director of Chevron Ceylon Ltd., during the same period and functioned as the Company Secretary of both Companies.

Anura graduated from University of Kelaniya with a Bachelor of Commerce (Hons). He holds Post Graduate certificates in Human Resources Management and Business Administration from Post Graduate Institute of Management (PIM) of Sri Lanka and University of Leicester, UK respectively.

He is a fellow member of the Institute of Chartered Accountants of Sri Lanka and a member of the Chartered Institute of Management Accountants (UK).

Dr. Nishantha Sampath Punchihewa is currently the Director of the University Business Linkage (UBL) Cell, University of Colombo and a Senior Lecturer in Law at the Faculty of Law. He is also an Attorney-at-Law of the Supreme Court of Sri Lanka.

Dr. Punchihewa is a former Member of the Intellectual Property Advisory Commission of Sri Lanka and the Coordinator MPhil/PhD Program of the Faculty of Law, University of Colombo. He serves as a Consultant to the World Intellectual Property Organization on the project 'Intellectual Property Rights in Tourism and Culture'.

He teaches both graduate and undergraduate courses including Intellectual Property (IP) Law at the Faculty of Law. He is also a visiting lecturer in several postgraduate and undergraduate programs in leading academic institutions in Sri Lanka.

His research interests cover IP law with particular reference to patent and utility models, copyright, competition/antitrust law, human rights, and information technology law. He has authored the books titled 'Promoting a Second-Tier Protection Regime for Innovation of Small and Medium Enterprises in South Asia: The Case of Sri Lanka' published by NOMOS, Baden-Baden, Germany and 'Intellectual Property in Tourism and Culture in Sri Lanka' published by the WIPO and the SLTDA.

Dr. Punchihewa has presented papers at conferences (both local and international) and published articles on intellectual property issues. Dr. Punchihewa was the Managing Editor of the Colombo Law Review and is a member of the Editorial Board of the Sri Lanka Journal of International Law.

Dr. Punchihewa holds an LLB (Hons.) degree from the University of Colombo, an LLM in Intellectual Property and Competition Law from the University of Augsburg/Munich Intellectual Property Law Center (MIPLC) and a doctoral degree in Law with honours magna cum Laude from the Ludwig Maximilians University of Munich.

Surawimala had an illustrious career spanning over 29 years in Bank of Ceylon where he commenced career in 1991 as a Management Trainee and has worked in various operational segments of the bank, including retail banking, corporate banking, offshore banking and recovery.

Prior to elevation as the Deputy General Manager (Recovery Corporate), he has performed duties as the Country Manager, Chennai – India during the period 2014 – 2017 was spearheading the Offshore Banking activities of the Bank of Ceylon as an Assistant General Manager.

Aligning with bank's endeavouring aspiration of maintaining a healthy Balance Sheet, as the Deputy General Manager (Recovery Corporate), has taken pioneering initiatives for managing of Non-Performing Loan portfolio of the Bank of Ceylon and is striving for future achievements as well with the sustained focus on bank's interests.

He holds Bachelor's (special) Degree in Public Administration and Master of Science (M.Sc) in Management specializing in Banking and Finance, both from the University of Sri Jayewardenepura, Sri Lanka. An Associate Member of the Institute of Bankers of Sri Lanka and has also successfully completed the Management Development Program for Key Management Personnel conducted by the Post Graduate Institute of Management (PIM), University of Sri Jayewardenepura, Sri Lanka.

He serves on the Board Transnational Lanka Records Solutions Ltd. and Transnational Ltd.