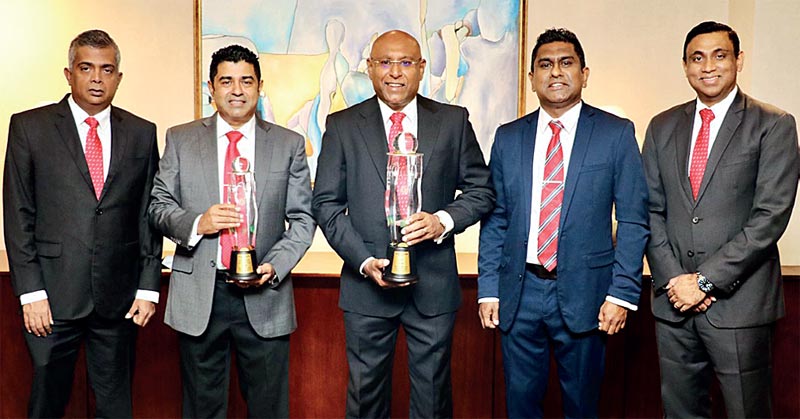 From left: NDB Bank Chief Operating Officer Deepal Akuretiyagama, Epic Technology Group Executive Chairman Dr. Nayana Dehigama, NDB Bank Director/CEO Dimantha Seneviratne, Epic Lanka Managing Director/CEO Viraj Mudalige, NDB Bank Assistant Vice President of Digital Financial Services Damitha Silva
---
Epic Lanka Ltd., the pioneer in fintech and payment solutions in Sri Lanka, recently won the prestigious Overall Gold Award for its revolutionary NDB NEOS Digital Banking and Payments Suite which was developed for NDB Bank at the recently concluded National ICT Awards NBQSA 2021.

This is the highest honour bestowed upon an organisation at the National ICT Awards where Epic became the recipient of it for the fourth time. The NEOS Digital Banking and Payments Suite also won the gold award in the Business Services category under Fintech to make it a memorable night for both Epic and NDB Bank while enhancing the brand image of NDB NEOS in the Sri Lankan digital banking sphere.

The NEOS Digital Banking and Payments Suite is NDB's flagship digital banking platform and mobile app. It was developed by Epic at its own RandD facility in Battaramulla and has become the most recognised and leading digital banking app in the country. With the pandemic forcing customers to shift their banking practices to online and mobile banking, NDB took a lead role in facilitating this shift through its revolutionary mobile and online banking platform.

The quality of the design, implementation and maintenance services provided by Epic resulted in creating a notable digital impact in the Sri Lankan banking industry. More than 50% of NDB Bank's customers became digitally active and since the first COVID-19 wave in 2020, the bank has seen a 400% increase in digital transaction volumes and a 150% growth in total transaction value.

In 2020 alone, NDB NEOS recorded a 311% increase in total value of transactions. In 2021, it surpassed the milestone of Rs. 100 billion in transaction value with over 100,000 users around the island. The NDB NEOS app has more than 100,000 downloads, signifying the importance of a holistic digital presence in the banking sector.

Epic Technology Group Executive Chairman Dr. Nayana Dehigama said: "It is truly encouraging to see NDB lead from the front in the digital banking landscape. NDB NEOS has added a new dimension to the banking sector and enabled many customers to seamlessly shift to experience digital banking and reap the benefits of digitalisation. We at Epic as a pioneer and technology leader in payment solutions are privileged to be part of this digital disruption. We wish NEOS and NDB all the best and look forward to offering more innovative solutions and doing our part in the digital transformation of the banking sector."

NDB Bank Director and CEO Dimantha Seneviratne said: "NDB Bank is on a journey of limitless opportunities, where we strive to provide our customers with the most advanced digital innovations. As a forerunner in the digital transformation of the banking industry in Sri Lanka we constantly explore the latest technology and market trends in order to deliver the best experience for its customers, and this award is yet another testament to this fact."

Epic Lanka Managing Director and CEO Viraj Mudalige said: "The Epic brand stands for innovation and excellence. When we design solutions for clients, we want that solution to transform the client's business and make it a market leader in its industry. NDB NEOS is the first app in Sri Lanka that enabled banking and merchant transactions in one single app. We also embedded a unique feature which is the first-ever AI-driven video KYC for account opening. In the time of the pandemic, this App has made it possible for customers to open accounts from the comfort of their homes without visiting a branch. We are grateful to the Board of NDB Bank for the opportunity given to develop such a ground-breaking solution. The accolades we won are a testament to the bank's trust and confidence in us."

The NEOS Digital Banking and Payment Suite developed by Epic offers the best digital-first proposition by laying the foundation to improve customer experience through digital transformation across different facets including mobile banking, online banking, Bank2U branchless/agency banking, SMS banking, corporate SME banking, integration with NDB Securities for share trading, wealth management integrations, etc. while delivering omni-channel versatile transactional capabilities and lifestyle solutions. The convenience factor of NEOS was strengthened with the introduction of fixed deposit opening via NEOS, and integration with CRIB.

The CRIB integration enables customers to register online for receiving their CRIB reports, and to request for CRIB reports from the safety and comfort of home. The vKYC based account opening which was introduced on the NEOS platform, is a first-in-the-industry innovation enabling customers to open NDB accounts online. This initiative has given a significant competitive advantage to NDB Bank in the digital banking arena. With the app also available for non-NDB customers, it serves as a one-stop payment solution for everyone.

NEOS Pay was introduced to the market as a QR code payment method in which customers can make payments to merchants, pay bills, and perform a host of other transactions via the same platform. Adding further convenience, other bank customers have also been given the ability to register for NEOS using their other bank account details, thus becoming Sri Lanka's first bank-agnostic application to enable JustPay/LANKAQR.