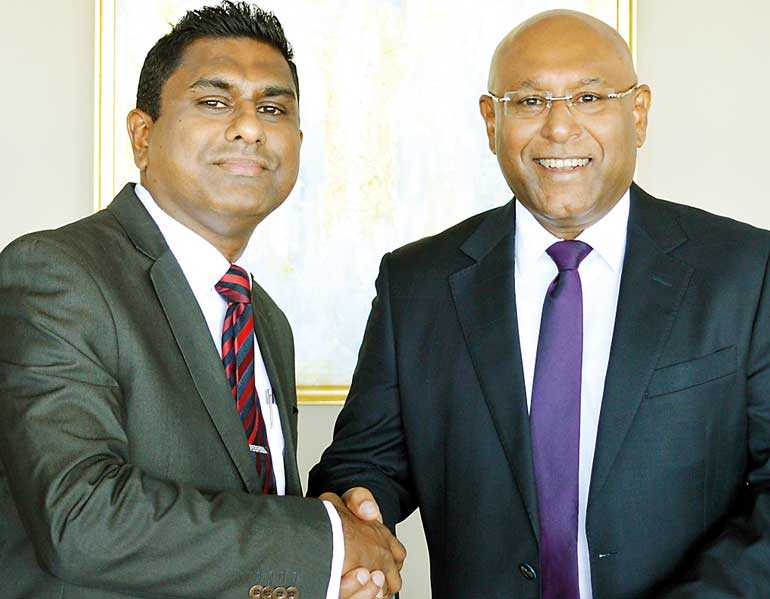 Epic Lanka Managing Director/Chief Executive Officer Viraj Mudalige (left) and National Development Bank Director/Group Chief Executive Officer Dimantha Seneviratne at the agreement signing ceremony
Epic Lanka Ltd., Sri Lanka's premier fintech conglomerate, recently partnered with National Development Bank PLC (NDB) to introduce 'NDB NEOS,' a state-of-the-art mobile banking app which aims to revolutionise the mobile payment sphere in Sri Lanka.
The domain expertise of the Epic team and the experience in customer service of NDB have come together to create a synergistic partnership that will enable the bank to deliver services over and above the industry standards.
In the current fast-paced economy, the ability to provide speedier processing of transactions has become a critical success factor for the banking industry. This trend is further fueled by the ever-growing shift from branch banking to 'on-the-go' banking, where customers are increasingly moving towards mobile device-based banking instead of waiting in queues at bank branches. Providing mobile phone-based payment systems has now become an essential requirement for any bank—be it state or private—to cater to the banking needs of customers.
According to the latest payment bulletins issued by the Central Bank of Sri Lanka, the volume of transactions processed through mobile phones has increased by 165% from Q2 of 2018 to Q2 of 2019. Out of these transactions, a significant 86.3% of transactions (volume-wise) are utility bill payments. Customers are no longer willing to wait at the supermarket or bank branch queues to pay their monthly bills.
In such a context, the NDB NEOS mobile banking platform, which was conceptualised by the customer-centric NDB team and designed and developed by the skilled and experienced Epic development team, carries a multitude of innovative banking facilities that brings convenience and security right to the fingertips of the customer.
The key driver behind the design of NDB NEOS was to enable customers to experience a frictionless banking journey via a user-friendly interface that leverages the latest in mobile technology. Compared to other similar apps in the market, NDB NEOS delivers a unique, personalised user experience in banking through a single mobile app.
Commenting on their latest innovation with NDB, the Epic Lanka Managing Director/Chief Executive Officer Viraj Mudalige stated: "As the pioneer fintech company in Sri Lanka, we at Epic identified NDB's aspiration to serve their customers better, while also recognising the pain points from the perspective of customers. The subtle balance between speed and security of transactions needs to be taken into great consideration when building mobile payment systems. Epic Lanka was able to successfully enable NDB to deliver a mobile banking app that goes above and beyond the expectations of their customers while ensuring that the mobile app is in adherence to the security guidelines and regulations issued by the Central Bank of Sri Lanka."
National Development Bank Director/Group CEO Dimantha Seneviratne said: "NDB NEOS has industry-first features in banking apps such as face ID and fingerprint identification for login, and management of the customers' entire financial portfolio. The app has been successfully integrated with NDB Wealth and NDB Stockbrokers to enable customers to view details of his/her private wealth holdings and shareholding information. This is a unique feature that places the NDB NEOS app far above the competition. The new app further delivers a redesigned customer journey with an upgraded user interface to enhance ease-of-use."
"The self-onboarding facility is one of the most user-oriented features of this app, which enables customers to register for NDB NEOS Mobile Banking without the hassle of having to visit a bank branch. Customers can register for NDB NEOS using their account or credit/debit card details," he added.
The NDB NEOS app encompasses several essential banking functions such as online real-time other bank transfers and other bank card payments through CEFT (Common Electronic Fund Transfers), OTP (One-Time Password) delivery via email and SMS for both local and foreign mobile numbers, and notifications via push messages and email for transaction receipts.
Once registered to the NDB NEOS app, customers can view not only their account information but also their NDB credit card details, loans, lease and deposit details as well. For within-the-bank fund transfers, customers can choose to transfer funds through the conventional method by entering a recipient account number or use the Pay-to-Mobile option where the transfer can be made to the beneficiary account by merely entering the beneficiary's mobile number.
The NDB NEOS mobile app is available in both the App Store and the Google Play Store. It also provides additional security for the customer cards via a feature that allows them to switch off credit/debit cards. Once switched off, the cards cannot be used over any channel for transactions. Customers can pay bills, set thresholds for different transaction types, register beneficiaries, view statements, view card offers, view cheque statuses, register credit cards for settlement and view the nearest branch and ATM locations with the mobile app.
The NDB NEOS mobile banking platform continues to be enhanced to provide further convenience factors. The introduction of a revamped online banking platform for NDB is in the pipeline for Epic, where it is intended to drive the Omnichannel banking concept within the Sri Lankan banking industry. With this partnership, Epic becomes one of the key enablers of NDB's journey towards becoming the most digitally-enabled bank in Sri Lanka.