Fiserv Asia Pacific Managing Director and Senior Vice President Marc Mathenz shares key insights to how digital transformation and technology innovation can empower businesses and consumers. Here are excerpts of the interview:
Q: Can you share with us more on Fiserv's presence in Sri Lanka, its activities, clients and future plan in the region over the next few years?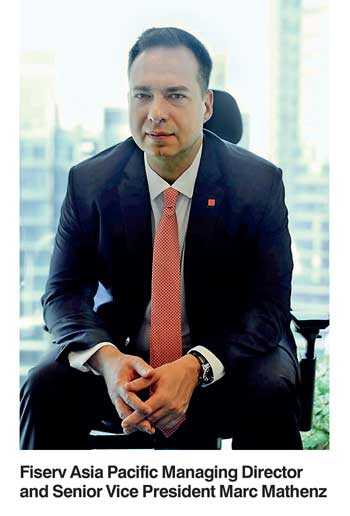 A: For over 30 years, Fiserv has been at the forefront of delivering solutions that match the way people interact with financial institutions. We currently hold trusted partnerships with several of Sri Lanka's leading financial institutions, such as the Bank of Ceylon (BOC), Commercial Bank of Ceylon (COMBANK), Merchant Bank of Sri Lanka & Finance PLC (MBSL) and Sanasa Bank. We've worked with our clients to accelerate the delivery of new capabilities that match the demands of corporate and retail customers.

According to the Right to Information Commission of Sri Lanka (RTI), Sri Lanka has a high active mobile phone subscription ratio per person (124 per 100 persons by early 2017), with smartphones being the main device through which over 75% of its six million internet users get online. Our goal is to engage in ongoing digital transformation efforts – working with our clients to provide the architecture for delivering world-class digital banking platforms to both new and existing customers.

There are still significant opportunities for the digital economy to develop, improving the lives of consumers and businesses as digital solutions provide a gateway to greater customer engagement and access to products and services. This is where we at Fiserv come in, collaborating with Sri Lanka's leading financial institutions in their digital journey to deliver products and services that increase financial inclusion, help ensure secure transactions and provide seamless customer experiences.

In line with the recent move by Sri Lanka's Central Bank to create a 'regulatory sandbox' for fintech innovations, Fiserv will work with financial institutions in developing solutions that leverage on innovative technologies to push the envelope on digital initiatives that increase access and efficiency of financial products and services. Fiserv remains committed to enabling people to move and manage money intelligently, with ease, speed and convenience, thereby ensuring that financial services fit seamlessly and beneficially into people's lives.

Q: What are some of Fiserv's perspectives as a thought leader in providing financial technology solutions and services?

A: The growth of mobile devices and digital technology has forced financial institutions to rethink their business models and adjust to this new reality of digital transformation. Under this new pace of change, customers demand services and products that support and complement their increasingly digital lifestyles.

Customers seek tailored experiences, from access to data across different devices to seamless transactions and services. As such, banks need to examine how best to meet customer needs in terms of their digital offerings, evaluating factors such as innovation and perception within the market to determine their strategy ahead.

As digital disruption becomes the norm, banks should also seek the creation of a partnership ecosystem that leverages offerings of fintech providers to create unique services. The development of digital banking platforms that offer customer-centric solutions will deliver a multidimensional customer experience across all channels and devices. Banks no longer compete as single entities, but rather as ecosystems including their services in collaboration with various fintechs. It is no longer the biggest bank who wins, but the one who can provide the best seamless experiences to customers, having built the most comprehensive and effective ecosystem.

Q: What are the current global trends in financial technology – particularly with regards to digital security and online safety?

A: The growth of fintech has accelerated the adoption of digital channels among customers, with services and offerings becoming increasingly integrated, providing customers with convenience and ease of access. Even as customer expectations are heightened due to the increasing diversity and speed to market of products and offerings, security remains a priority for financial institutions to ensure that potential risks are minimised.

As banks undergo digital transformation, business models, products and services are steadily being disrupted, with the increasing pace of change exposing companies to risks. Alongside increasing demand for real-time transactions and access to financial services, there is a need for innovative technologies to enhance the efficiency and reach of monitoring for potential cybersecurity threats.

Despite the speed of technology disruption and growth, customers have zero tolerance for security lapses. Solutions derived from new technologies can provide customers with the ability to conduct secure real-time transactions without security processes that are overly obtrusive. This is where technology such as AI and machine-learning come in, giving financial institutions the ability to monitor for out-of-the-ordinary customer behaviour, delivering enhanced protection while simultaneously pinpointing how customers engage with their products through analysis of data. By doing so, the ability to authenticate customers can be gained without inhibiting ease of access, removing the need to resort to overly disruptive and cumbersome security processes that result in negative experiences.

Q: Can you tell us about the growth in tech-based solutions from the perspective of the banking and financial sector in Sri Lanka and throughout Asia?

A: Various sectors across Sri Lanka and Asia are embracing digitalisation – banks and financial institutions are no exception. As bandwidth and mobile devices become more affordable, consumers' adoption of digital channels is increasing at rapid speeds. Digital transformation will not only change the way financial institutions engage with their customers, but also how customers access and interact with the financial services and products. In line with this, the focus for financial institutions will be on creating seamless customer experiences as they increasingly demand access to such services and products regardless of time and location.

The growth of the digital economy also opens opportunities to businesses and consumers in accessing products and services globally. Financial institutions can take advantage of this increased connectivity to establish digital banking platforms that facilitate the integration of compelling capabilities from fintech solution providers. Doing so allows financial institutions to leverage on the expertise and knowledge of fintech companies, building ecosystems that support seamless, modular product offerings that allow for the development of tailored services according to individual customer needs.

Asia leads the charge in the adoption of mobile technology – having the world's largest base of mobile internet users, social media accounts and online marketplaces. Omni-channel strategies have expanded accordingly with this trend, as services are no longer confined to brick-and-mortar outlets, but instead are always accessible regardless of the location and channel used by customers. Internet banking and mobile banking have become mainstays of all financial institutions, with the merging of both physical and digital channels to facilitate a truly seamless experience across all access points.

Q: Any other additional comments on this?

A: At Fiserv, we are very focused on innovation, not for the sake of innovation, but to solve real-world problems for real people. Innovation can come in many forms – it is not only new products – it can also be about improving functionality or enhancing an experience. Our innovation is purposeful and done with a view toward what will benefit the people that use our services, whether they are working in a financial institution or are a consumer end user.

Our strong culture of innovation is one of the reasons we were named to the FORTUNE Magazine list of World's Most Admired Companies for the fifth consecutive year in 2018 and ranked No. 1 in our industry for innovation for two years running.