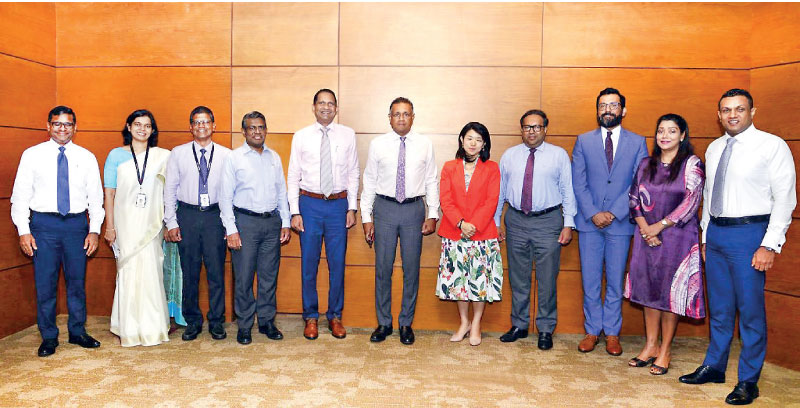 From left: VP -Sustainability & Consulting Nalin Karunatileka, Manager, Offshore Banking & Trade Business Development Kushani Jayasinghe, VP - Treasury & Investment Banking Channa Dayarathne, SVP - Treasury & Investment Banking Prins Perera, SVP - Offshore Banking, Remittance and Business Development Anton Arumugam, Director/CEO Thimal Perera, UNDP Resident Representative Azusa Kubota, Ceylon Chamber CEO & Secretary General Buwanekabahu Perera, USAid Catalyze Private Sector Development Activity Team Lead Uan Forero, DFCC VP/Head of Marketing & Sustainability Nilmini Gunaratne, and AVP - Offshore Banking, Remittance and Business Development Iranga Amilana
---
Move aimed at championing sustainability and climate adaptation
---
DFCC Bank, has launched the country's first Green Fixed Deposit aimed at supporting environmental protection, climate adaptation and other sustainability initiatives.

Fuelling yet another revolution in Sri Lanka, DFCC Bank's Green Fixed Deposits are specifically designed to support and promote environmentally sustainable initiatives. These deposits are aimed at directing funds towards projects and activities that positively impact the environment and contribute to sustainability.

The new DFCC Green Fixed Deposit was launched at a special ceremony held at the DFCC Bank Head Office with the participation of officials of the UNDP in Sri Lanka, USAID Catalyse Private Sector Development Activity and Ceylon Chamber of Commerce.

DFCC Bank PLC CEO Thimal Perera said: "We recognise the urgent need to address the threats to our planet's sustainability and survival. Therefore, we are dedicated to contributing to social and environmental well-being through a range of sustainability initiatives. We are promoting energy efficiency and conservation, encouraging renewable energy sources, reducing greenhouse gas emissions, and minimising other pollutants and more through our financing activities and internal and external awareness campaigns. With DFCC Green Fixed Deposits, we are leading the way towards fostering a greener and more sustainable future, and we invite all Sri Lankans to join the green revolution whilst growing their savings and investments."

With its low carbon footprint and yet vulnerable status, Sri Lanka has demonstrated remarkable determination to combat climate change. The country has set ambitious targets to increase its forest cover to 32% by 2030 and reduce greenhouse gas emissions by 14.5%. Furthermore, Sri Lanka has established a goal of achieving 70% renewable energy in electricity generation by 2030. His Excellency President Ranil Wickremesinghe's visionary plan to establish the Climate Change University in Sri Lanka in 2024 underscores the nation's dedication to addressing climate-related challenges. Thus, the launch of DFCC Green Fixed Deposits aligns with this national drive towards a more sustainable future.

DFCC Bank has long been at the forefront of sustainability efforts in Sri Lanka, including being the first Bank to launch a formal sustainability strategy in 2020. Since 1988, the Bank has spearheaded the financing of renewable energy projects, playing a catalytic role in driving sustainable transformation across the country. From solar PV assembly plants to, hydro, wind, solar, bio-mass and waste-to-energy power generation projects, DFCC Bank has always played a pioneering role and supported a diverse range of sustainable initiatives.

DFCC Bank's dedication to sustainability recently also received global recognition, as it became the first Sri Lankan organisation accredited by the Green Climate Fund (GCF). This prestigious accreditation empowers DFCC Bank to access GCF concessionary funding for projects of up to USD 250 million in value, enabling the financing of climate mitigation and adaptation projects across Sri Lanka. Thus, with the launch of DFCC Green Fixed Deposits, the Bank has taken another pioneering step towards realising the greener future that all Sri Lankans yearn for.