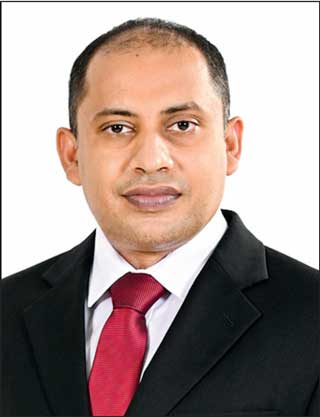 Sidantha Karunaratne
Sidantha Karunarathne (Chartered Insurer, ACII, B.Sc, EMBA (PIM)) has been appointed as the Deputy Chief Executive Officer of Continental Insurance Lanka Ltd.

Sidantha counts more than 18 years of experience in the insurance industry, specialising in non-motor technical and reinsurance. He joined Continental Insurance in 2010 and had been involved as one of the key personnel instrumental in Continental Insurance's journey to become one of the leading insurers of Sri Lanka. Prior to his appointment as Deputy CEO, he was heading Non-motor Underwriting, Claims and Reinsurance departments in the capacity of Chief Underwriting Officer.

A product of Royal College Colombo, Sidantha holds a B.Sc. (Special) Degree specialising in Mathematics from the University of Kelaniya, and an Executive MBA from Postgraduate Institute of Management. He also is a Chartered Insurer (ACII), and an Associate of the Chartered Insurance Institute of London.

Sidantha is on the Working Committee of the National Insurance Trust Fund (NITF) and also represents the company at the General Insurance Forum (GIF) of the Insurance Association of Sri Lanka.