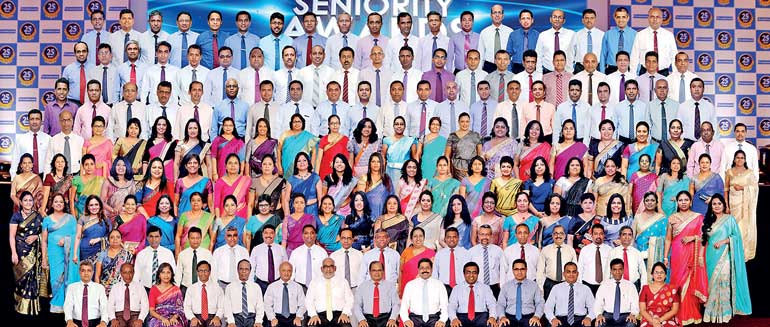 The Commercial Bank of Ceylon felicitated 136 of its staff members in recognition of 25 years of loyal service at the bank's annual Seniority Awards ceremony for 2017.

The ceremony themed 'Celebrating 25 years of shared prosperity and achievement' was attended by Commercial Bank Chairman Dharma Dheerasinghe, the bank's Managing Director/CEO Jegan Durairatnam, several members of the Board of Directors and the Deputy General Manager Human Resources Management Isuru Tillakawardana, who jointly presented awards and gold coins to the honoured employees for their long service. The event was also attended by members of the Bank's corporate and senior management.

Many of the recipients of these long service awards were school leavers when they joined the bank in 1992, and now hold key positions in various departments and branches and are an integral part of the growth engine of the bank. Members of the families of felicitated staff were invited to the celebrations that followed the ceremony.

The only Sri Lankan bank to be ranked among the Top 1000 banks of the world for seven years consecutively, Commercial Bank operates a network of 258 branches and 702 ATMs in Sri Lanka. The Bank has won more than 25 international and local awards in 2016 and 2017 and has over the years received multiple awards as Sri Lanka's Best Bank, Best Trade Bank, Strongest Bank and Most Respected Bank from a number of local and international institutions and publications.