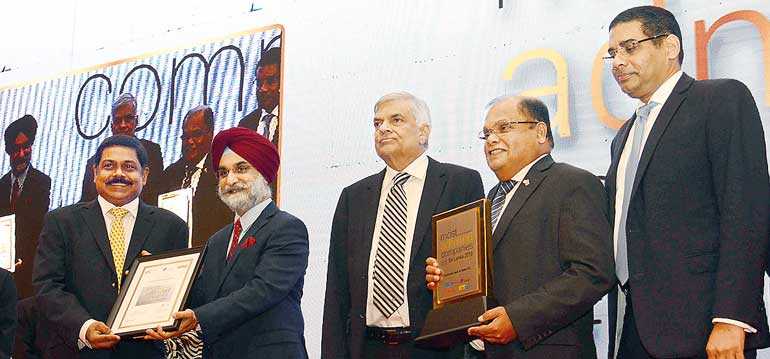 Commercial Bank Chairman Dharma Dheerasinghe (second from right) and Managing Director S. Renganathan (second from left) with the award presented by Prime Minister Ranil Wickremesinghe
The Commercial Bank of Ceylon has received the honour of being named among the '10 Most Admired Companies' in Sri Lanka – an award presented by the International Chamber of Commerce, Sri Lanka (ICCSL) and the Chartered Institute of Management Accountants (CIMA) – for the second consecutive year.

The Bank was presented this award by Prime Minister Ranil Wickremesinghe at an event held at the BMICH on 25 September. Companies in the Top 10 included diversified conglomerates, leading banks, and household brand names in the food and beverage sector.

The awards recognised companies that are a cut above the rest in terms of not just their financial performance but also the value they create for their shareholders, customers, employees, and the wider community in general.

The nomination of companies for this award was based on a public survey conducted by the organisers requesting participants to vote for companies that they admire on selected criteria. The companies shortlisted through the survey were asked to submit an application followed by a presentation. The companies honoured with a Top 10 ranking were those that enjoy the strongest reputations, inspire other organisations and entrepreneurs, and have proven their mettle with consistency, authority, and sustainable growth, creating excellent business performance.

Companies were ranked against a set of quantitative and qualitative criteria. The quantitative criteria included financial soundness, long-term investment value creation, earnings growth and dividend pay-out. The qualitative assessment covered quality of management, quality of products and services, competitiveness, ability to attract, develop, and keep talent, innovation, and environmental, social and corporate responsibility, including the track record of integrity and business ethics.

Commenting on this prestigious accolade, Commercial Bank Managing Director S. Renganathan said: "This award reflects the trust that Commercial Bank has earned through its unwavering commitment to honesty, ethics, and best practices, and its passion not just for business excellence but to being an exceptional corporate citizen. While it is an honour to be listed among the Most Admired Companies for the second time, the Bank is also humbled by the consistent support shown by its customers and shareholders, and deeply appreciative of the dedicated service rendered by the staff."

The largest private sector commercial bank and third largest bank in Sri Lanka, Commercial Bank's assets value stood at Rs. 1.303 trillion ($ 7.123 billion) at the end of 2018, and the Bank accounted for approximately 11% of sector assets. With a legacy of 100 years, it serves over three million customers with a staff strength of 5,027 in Sri Lanka and overseas.

The only Sri Lankan Bank to be ranked among the world's top 1,000 banks for nine years consecutively, Commercial Bank operates a network of 266 branches and 846 ATMs in Sri Lanka. The Bank has multiple international and local awards in 2016 and 2017, and over 40 international and local awards in 2018.

Commercial Bank's overseas operations encompass Bangladesh, where the Bank operates 19 outlets; Myanmar, where it has a Representative Office in Yangon and a Microfinance company in Nay Pyi Taw; and the Maldives, where the Bank has a fully-fledged Tier I Bank with a majority stake.