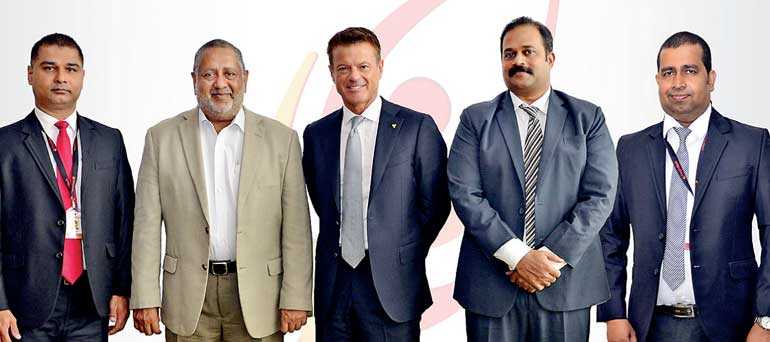 From left: Cargills Bank Manager Remittances Kithmini Kumaranayake, Cargills Bank MD/CEO Rajendra Theagarajah, Ripple Senior Vice President Global Sales John Mitchell, Ripple Sales Director South Asia Ravi Subramanyam, and Cargills Bank Senior Manager IT Application Development Indika Fernando
Cargills Bank Ltd. announced it is joining RippleNet to facilitate cross-border inward remittances to Sri Lanka. Cargills Bank will use xCurrent, Ripple's blockchain based enterprise software solution, to enable safe and secure cross-border transactions. Payment settlement by remittance agents to Cargills Bank will be through existing methods.

By joining RippleNet, Cargills Bank sees an irresistible reason for remittance agencies and banks to also join Ripple and link with Cargills Bank to leverage a country-wide payout network.

Cargills Bank Chief Operating Officer Rohan Muttiah said, "We use technology to make banking and payments simple, convenient, and accessible. Joining RippleNet allows remittance agents and banks to leap frog sources of friction and complexity in inward remittances, while offering beneficiaries unparalleled access to their funds through Cargills Food City supermarkets. With our practical use of blockchain from a globally recognised brand such as Ripple, we have once again demonstrated judicious use of technology to underpin a strong business case," added Muttiah.

Ripple Managing Director South Asia and MENA Navin Gupta said, "We understand how important remittance payments are to families that rely on them for necessities. Working with Cargills Bank will allow us to connect Sri Lanka to a financial system where remittance payments get to people faster and at a lower cost than ever before."

'Cargills' is a brand that has been faithfully serving Sri Lankans for 174 years, built on a foundation of values and ethics. True to this heritage and the ethos of 'Banking on the Human Spirit', Cargills Bank is taking banking to the masses by being inclusive and accessible. The amazing Cargills Cash Savings Account is available at over 360 Cargills Food City outlets – allowing you to do grocery shopping and banking at the same place at your convenience. The Cargills Bank Credit Card with special offers is now a 'must have' for discerning customers.

Cargills Bank's Head Office is in Colpetty with branches at Maitland Crescent, Maharagama, Old Moor Street, Wattala, Rajagiriya, Kandy, Peradeniya, Nuwara Eliya, Ratnapura, Thanamalwila, Matara, Galle, Kurunegala, Chilaw, Kaduruwela, Vavuniya, Chunnakam, and Jaffna.