By Wealth Trust Securities

Activity in the secondary bond market slowed down yesterday with yields increasing marginally, as most market participants was seen on the sidelines.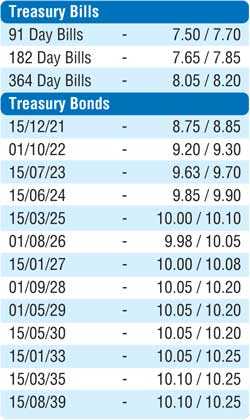 Limited trading was witnessed consisting of the 01.05.20, 01.08.21, 01.10.22, 15.03.23, 15.06.24, 15.03.25, two 2026 (i.e. 01.06.26 & 01.08.26) and 15.01.27 maturities at levels of 8.00%, 8.75%, 9.20% to 9.25%, 9.55% to 9.63%, 9.85%, 10.04%, 10.07% to 10.12%, 10.02% to 10.05% and 10.00% respectively.

The total secondary market Treasury bond/bill transacted volumes for 23 August was Rs.18.61 billion.

In money markets, the OMO (Open Market Operations) Department of the Central Bank of Sri Lanka refrained from conducting any auctions, as the overnight net liquidity surplus stood at Rs.25.66 billion. The overnight call money and repo rates averaged 7.29% and 7.36% respectively.
Rupee appreciates marginally

In the Forex market, the USD/LKR rate on spot contracts appreciated marginally yesterday to close the day at levels of Rs.179.60/75 against its previous day's closing levels of Rs.179.70/00 on the back of selling interest by banks.

The total USD/LKR traded volume for 23 August was $ 58.83 million

Given are some forward USD/LKR rates that prevailed in the market: one month – 180.15/35; three months – 181.00/30; six months – 182.40/70.