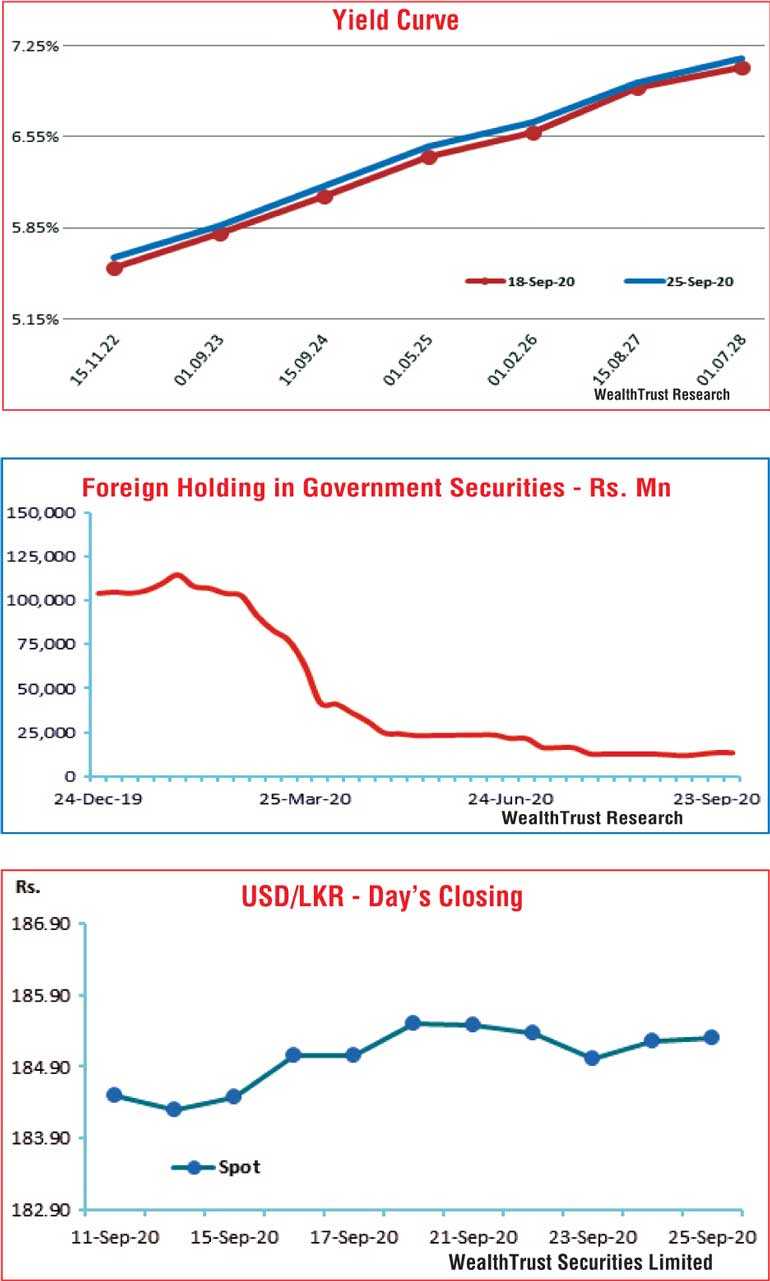 ---
Money market liquidity drops marginally
Rupee appreciates
By Wealth Trust Securities

The secondary bond market yields increased further during the week ending 25 September, with the weekly Treasury bill auction being undersubscribed for a second consecutive week and a bond auction initially scheduled for 13 October now being brought forward to Monday 28 September.

Today's (28 September) auction will have on offer a total amount of Rs. 75 billion, consisting of Rs. 45 billion of 15.11.2022 and Rs. 30 billion of 01.03.2026. Stipulated cut off rates for the said maturities as published are 5.65% and 6.60% respectively. The weighted average yields at the bond auction conducted on 11 September were 5.72%, 6.57% and 7.07% respectively for the maturities of 01.10.2023, 01.02.26 and 01.07.2028.

In the meantime, the overall yield curve witnessed a shift upward for a second consecutive week with the liquid maturities of 2022's (i.e. 15.11.22 and 15.12.22), 2023's (i.e. 15.01.23, 15.07.23 and 01.09.23), 2024's (i.e. 15.06.24 and 15.09.24), 01.05.25, 01.02.26 and 15.10.27 increasing to hit weekly highs of 5.65%, 5.63%, 5.65%, 5.85% each, 6.12%, 6.15%, 6.43%, 6.65% and 7.03% respectively against its previous weeks closing levels of 5.52/56, 5.53/58, 5.55/62, 5.70/80, 5.78/83, 6.05/10, 6.07/10, 6.35/45, 6.56/60 and 6.90/00. In addition, the 2021's (i.e. 01.08.21 and 15.10.21) and 2024's (i.e. 15.03.24 and 01.08.2024) traded at levels of 4.81% to 4.90% and 6.10% to 6.20% respectively.

Meanwhile, the foreign holding in Rupee bonds recorded an outflow Rs. 100 million for the first time in three weeks.

The daily secondary market Treasury bond/bill transacted volumes for the first four trading days of the week averaged Rs. 6.63 billion.

Money market liquidity drops marginally

In the money market, the average net overnight surplus liquidity stood at Rs. 166.12 billion during the week when compared against the previous week's amount of Rs. 172.24 billion, with overnight call money and repos remaining broadly steady at 4.52% and 4.62% respectively.
Rupee appreciates marginally
In the Forex market, the Rupee on spot contacts was seen trading within the range of Rs. 184.87 to Rs.185.60 before closing the week at Rs. 185.25/35 against its previous weeks closing level of Rs. 185.45/55.

The daily USD/LKR average traded volume for the first four days of the week stood at $ 77.09 million.

(References: Central Bank of Sri Lanka, Bloomberg E-Bond trading platform, Money broking companies)