Amana Bank recently concluded its Education Finance promotion by rewarding four lucky students with Laptops to help them excel in their education. All winners were chosen from a pool of customers who had obtained an Education Finance facility through Amana Bank during the promotional period, from 1 May to 30 June.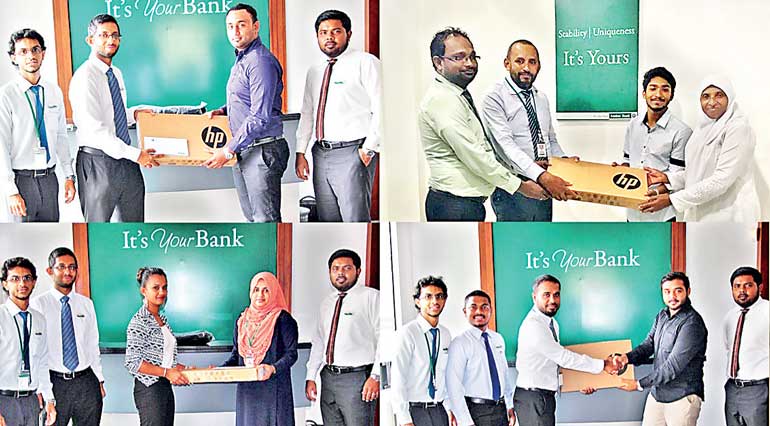 Education Finance Winners receiving their laptops from Amana Bank officials
Commenting on this promotion, the Bank's Vice President – Retail Banking and Marketing Siddeeque Akbar said: "Our Education Finance solution was launched with the objective of helping young aspirants to follow their educational ambitions which will prepare them for a better future. Rewarding them with laptops is something we are very happy to do, which encourages them towards this objective."

Amãna Bank's Education Finance facility is available for diplomas, degrees, masters and other postgraduate programs offered by recognised universities and institutions accepted by the Bank. The facility is also provided for professional qualifications such as CIMA, ICASL, ACCA, CIM, CFA, CMA, ABE and Banking.

Financing will be provided to cover tuition fee, registration fee and examination fee from a minimum of Rs.50,000 to a maximum of Rs.5,000,000. Through this facility students can benefit from competitive and flexible instalment plans. The product also facilitates students who are yet to be employed to apply jointly with their parents. Further details of the product can be obtained by either visiting www.amanabank.lk, calling the bank's hotline 0117 756756 or visiting any of its 28 branches located island wide.