Secondary market two-way quotes reduce
Rupee steady
---
By Wealth Trust Securities
---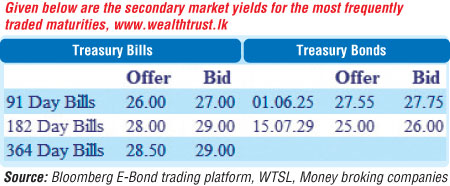 All bids received for the Rs. 15 billion three-year maturity of 01.06.2025 were rejected at its auction held on Wednesday, the first such instance since April 2022 where bids on a three-year maturity of 15.03.2025 were rejected. Only the seven-year maturity of 15.07.2029 drew successful bids of Rs. 16.96 billion from its 1st and 2nd phases of the auction out of an offered amount of Rs. 20 billion. The weighted average rate on 15.07.29 maturity registered at 26.91%. Given in Table 1 are the details of the auction.

Meanwhile, activity in the secondary bond market remained at a standstill for a third consecutive day on Wednesday while two-way quotes were seen reducing subsequent to the auction outcomes. 

The total secondary market Treasury bond/bill transacted volume for 9 August 2022 was Rs. 54.18 billion.   

In money markets, the weighted average rate on overnight REPO stood at 15.50% while the net liquidity deficit stood at Rs. 454.17 billion on Wednesday. An amount of Rs. 297.63 billion was deposited at Central Bank's SDFR (Standard Deposit Facility Rate) of 14.50% while an amount of Rs. 751.81 billion was withdrawn from Central Bank's SLFR (Standard Deposit Facility Rate) of 15.50%.


Forex market 

In the forex market, the middle rate for USD/LKR spot contracts remained steady at Rs. 360.94 on Wednesday.

The total USD/LKR traded volume for 9 August 2022 was $ 19.17 million.  

(References: Central Bank of Sri Lanka, Bloomberg E-Bond trading platform, Money broking companies)