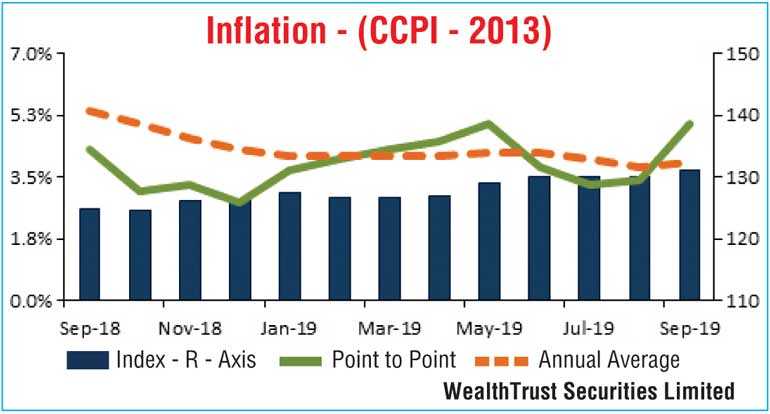 Inflation increases
Rupee dips to Rs. 182
By Wealth Trust Securities

The secondary bond market started the new week at a slow pace, continuing from its previous week's dull mood, with limited trades seen across the yield curve.

On the short end of the yield curve, the 2021 maturities (i.e. 15.10.21 and 15.12.21) and the 15.09.24 maturity were seen changing hands at levels of 8.75%, 8.77% and 10.25% respectively. However, on the long end of the curve, continuous buying interest on the 15.09.34 maturity saw it change hands at levels of 10.80% to 10.81% while the 15.06.27 maturity changed hands at 10.58% to 10.59%.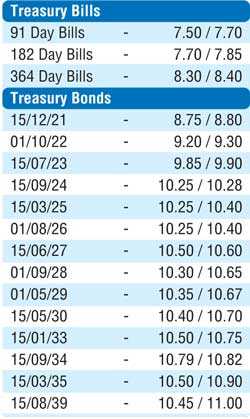 The Colombo Consumer Price Index (CCPI) or inflation for September increased for a second consecutive month to 5.0% on its point to point, when compared against its previous month's figures of 3.4% while its annual average increased as well to 3.9% from 3.8%.

The total secondary market Treasury bond/bill transacted volume for 27 September 2019 was Rs. 5.76 billion.

In the money market, the Open Market Operations (OMO) Department of the Central Bank refrained from conducting any auctions yesterday as the overnight net liquidity surplus increased to Rs. 23.37 billion. The overnight call money and repo rates averaged 7.45% and 7.50% respectively.
Rupee loses
The USD/LKR rate on spot depreciated yesterday to close the day at levels of Rs. 182.00/15 against its previous day's closing levels of Rs. 181.85/95 on the back of continued buying interest by banks. The total USD/LKR traded volume for 27 September 2019 was $ 84.05 million.

Some of the forward USD/LKR rates that prevailed in the market were one month - 182.55/75; three months - 183.55/70 and six months - 185.35/65.