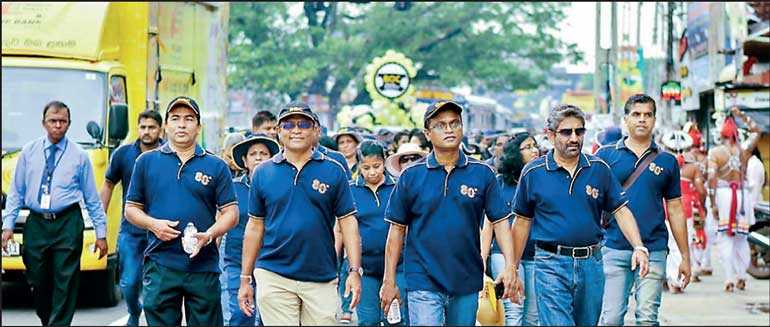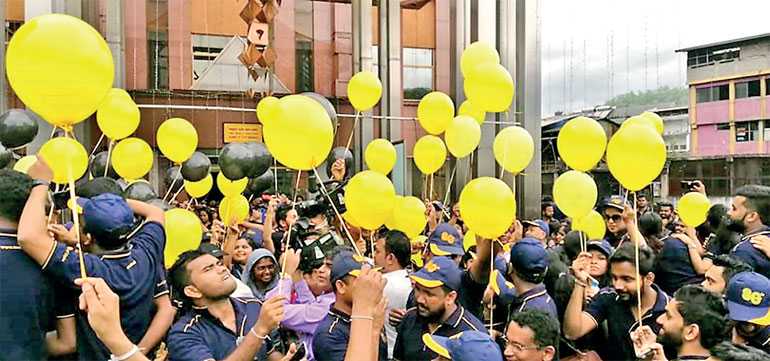 ---
The staff of the Bank of Ceylon commemorated the bank's 80-year-long journey by organising an island-wide walk on 10 August. 'BOC Walk' was conducted in each province at selected locations with the participation of all members of staff employed in each province. It was considered as a walk to remember the journey of the Bank of Ceylon over these 80 years providing a yeoman service to the nation.

Thousands of members united clad in the special anniversary, commemorative t-shirt, paraded in the designated route of each province in a show of team spirit. These parades were headed by western music bands of selected schools followed by members of the corporate and executive management who were in turn followed by other staff members. The walk was also joined by the bank's 'Branch on wheels – mobile branch', other decorated vehicles and musical bands for added enthusiasm. The bank's General Manager/CEO Senarath Bandara joined the Western Province South team in the walk that began from Maharagama and went up to Nugegoda Town. It has to be noted that many customers also joined the 'BOC walk' in several areas as a gesture of appreciation towards the bank. This project was spearheaded by the Deputy General Manager Sales and Channel Management C. Amarasinghe.

BOC Walk was one of the main events that gathered the entire staff strength of the bank on one particular day in a specific location at a given time to represent BOC's presence in all provinces to commemorate the Bank of Ceylon's long standing commitment to the nation. The objective of this event was to encourage and motivate the entire staff and bring the bank closer to the community by building trust and confidence. It was a moment of rejoicing and an expression of gratitude towards the bank and its retired staff shown by all staff members.

Bank of Ceylon is one of the largest employers in the country, with over 8,000 staff employed and contributing towards the sustainable development of the country. It was evident that all members took it as being very important for themselves personally to have been a part of the 80th anniversary celebrations of the bank. The bank, believes it owns its success to the strength of its like-minded, dedicated and knowledgeable staff. The Bank of Ceylon celebrated its eight decades of dominance in the Sri Lankan banking and finance industry on 1 August. It is a bank that involves in uplifting every socio-economic stratum in Sri Lanka by comprehensively penetrating into the everyday life of Sri Lankans and one which currently owns over 630 branches across the country.