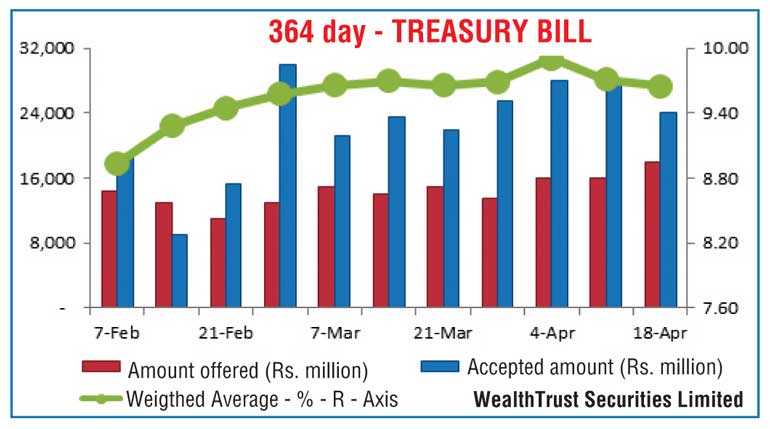 Activity in secondary bond market remains moderate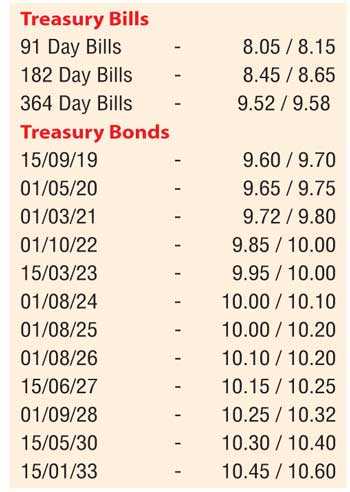 By Wealth Trust Securities

The 364-day bill weighted average yield decreased further at yesterday's weekly bill auction, registering a drop of six basis points to 9.65%.

Bids on the 91-day bill which were accepted after a lapse of three weeks, recorded a weighted average yield of 8.15% in comparison to its previous weighted average yield of 8.17%.

In the meantime, the 182-day bill was rejected for the eighth consecutive week. The total offered amount of Rs. 28 billion was fully accepted with the bids to offer ratio standing at 3.07:1.In the secondary bond market, activity continued at a moderate pace yesterday, with limited trades of the 15 March 2023 and 15 May 2030 maturities taking place at levels of 9.96% and 10.31% to 10.34% respectively.

In addition the two 2018 maturities (i.e. 15 July 2018 and 15 August 2018) changed hands within the range of 8.08% to 8.35%. In the secondary bill market, April 2019 maturities were traded at levels of 9.50% to 9.55%. The total secondary market Treasury bond/bill transacted volumes for 17 April was Rs.13.79 billion.

In money markets, the net surplus liquidity stood at Rs.19.46 billion, with no OMO (Open Market Operations) auctions being conducted. Overnight call money and repo remained steady to average 7.89% and 7.91% respectively.

Rupee appreciates marginally

The USD/LKR rate on spot contracts appreciated to close the day at levels of Rs.156.35/40 against the previous day's closing levels of Rs.Rs.156.40/50 on the back of export conversions and dollar selling by banks.

The total USD/LKR traded volume for 17 April was $ 142.40 million. Given are some forward USD/LKR rates that prevailed in the market: one month – 157.05/15; three months – 158.50/60; six months – 160.75/85.