Bond market yields continue to free fall


By Wealth Trust Securities

The benchmark 364-day bill weighted average was seen dropping below the psychological level of 9% for the first time since 5 September 2018 at its weekly auction held yesterday. The drop of 28 basis points saw it registering a 64-week or over a 15-month low weighted average of 8.90% which was closely followed by the 182-day bill dipping by 17 basis points to 8.71%.

Nevertheless, all bids received on the 91-day bill were rejected. The total offered amount of Rs. 20 billion was fully accepted as the bid to offer ratio stood at 4.05:1.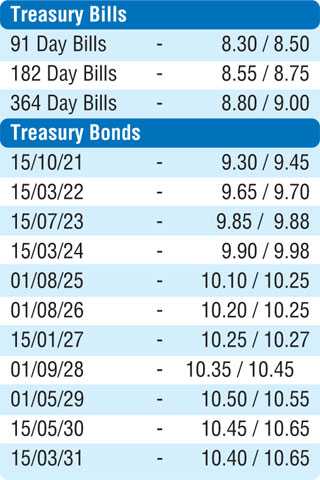 The expectations of the weekly Treasury bill auction outcome saw the secondary bond market yields continue its downward rally in morning hours of trading yesterday.

The market remained active across the curve as yields on the liquid maturities of four 2023's (i.e. 15.03.23, 15.05.23, 15.07.23 and 15.12.23), 15.03.24, 01.08.25, 01.08.26, 15.01.27 and 01.05.29 were seen dipping to lows of 9.75%, 9.80%, 9.85%, 9.90%, 9.95%, 10.25%, 10.25%, 10.25% and 10.50% respectively against their previous day's closing levels of 10.00/10, 10.05/15, 10.10/15, 10.10/20, 10.10/15, 10.30/45, 10.35/40, 10.40/45 and 10.60/70.
In addition, the 01.08.24 and 15.06.27 maturities dipped to an intraday low of 10.00% and 10.40% respectively against its previous day's closing levels of 10.15/25 and 10.43/53 while on the short end of the curve 2021's (i.e. 01.03.21, 01.05.21, 01.08.21, 15.10.21 and 15.12.21) and 2022's (i.e. 15.03.22 and 01.10.22) maturities were seen changing hands at lows of 9.30%, 9.32%, 9.35%, 9.35%, 9.40%, 9.70% and 9.80% respectively as well.
The total secondary market Treasury bond/bill transacted volumes for 21 May was Rs. 7.45 billion.
In money markets, the overnight call money and repo rates increased marginally to average 8.48% and 8.55% respectively as the overnight net surplus liquidity in the system decreased to Rs. 19.75 billion. The Open Market Operations (OMO) Department of the Central Bank drained out liquidity by way of five days and eight days repo auctions at weighted averages of 8.60% and 8.64% respectively.
Rupee loses further

In Forex markets, the USD/LKR rate on spot contracts were seen losing further yesterday, to close the day at Rs. 176.65/80 against its previous day's closing levels of Rs. 176.30/45, on the back of continued buying interest by banks.

The total USD/LKR traded volume for 21 May was $ 76.30 million.

Some of the forward USD/LKR rates that prevailed in the market were 1 Month – 177.60/80; 3 Months – 179.35/55 and 6 Months – 182.00/40.