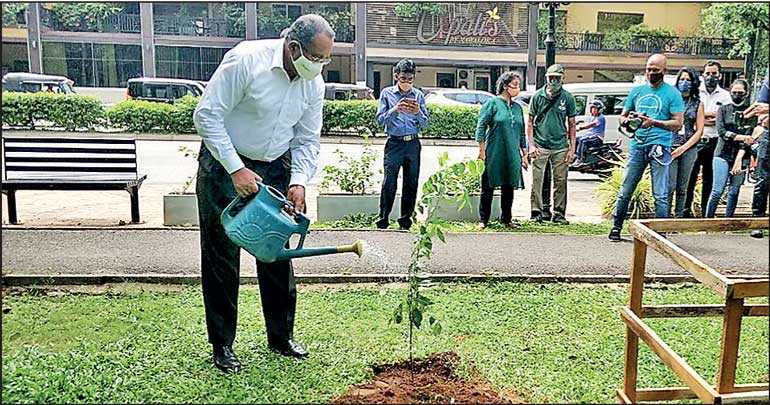 Puritas/Haycarb Managing Director Rajitha Kariyawasan

participating in a tree planting campaign

Puritas/Haycarb Managing Director Rajitha Kariyawasan with Puritas senior

management participating in a tree planting campaign
---
Puritas, a wholly owned subsidiary of Haycarb PLC and a member of the Hayleys Group of companies, announced the launch of 25 sustainability-focused initiatives in celebration of its silver jubilee.

Each of the initiatives will focus on advancing a variety of social and environmental causes including biodiversity protection, animal rights and welfare, water purification, the distribution of face masks to combat COVID-19, as well as concerted community and employee outreach and awareness building programs; focused on the protection and conservation of natural resources.

"Puritas was founded in the knowledge that environmental, social and economic prosperity are all interlinked. One goal cannot be achieved in the absence of the others."

"Hence, for the past 25 years, our business model has been focused on deriving economic value from measures aimed squarely at protecting our environment. Combining global scientific expertise with local knowledge, Puritas is consistently striving to support a cleaner, greener Sri Lanka.

"Each day, Puritas is directly responsible for purifying 5 million litres of raw water, 9.2 million litres of industrial wastewater and 18 million litres of domestic wastewater. However, we are acutely aware that much more needs to be done."

"Our nation continues to face existential threats from the scarcity of clean drinking water, climate change and environmental pollution. In our 25th year, we re-commit ourselves to solving these challenges, in order to create a sustainable future for generations of Sri Lankans to come," Hayleys Group Chairman and Chief Executive Mohan Pandithage stated.

Initiatives on environmental protection and conservation launched by the Company for its Silver Jubilee include, an indigenous tree planting initiative in collaboration with the Colombo Municipality, and a knowledge sharing session by veteran Puritas employees on environmental protection. Additionally, Puritas will also launch a packaged domestic wastewater treatment plant initiative.

Meanwhile, in an effort to prevent waste plastic from entering the oceans, Puritas will also be launching its 'Net-to-Net Floating Hazards' initiative which will install systems of purpose-built floating nets at estuaries in the capital.

The Company will continue to support the health authorities and the tri-forces by providing Oxypura Care masks to aid in their courageous battle against the COVID-19 pandemic. Similarly, Puritas will be establishing special disposal bins at selected locations in Colombo to raise awareness on the safe disposal of used masks.

The 'Breathe out Love' initiative will distribute face masks to tourists and returning expatriates at the Bandaranaike International Airport. The Company will also introduce a range of innovative face masks during this period.

"Puritas is no stranger to working with communities and businesses in order to ensure a sustainable environment for future generations. An excellent example of this commitment in practice is the Puritas Sathdiyawara initiative. Through this initiative, we have been able to provide over 33,000 people in the North and North Central Provinces with clean drinking water."

"The 25 new initiatives driven by the Company in celebration of its Silver Jubilee have been designed to have lasting positive impacts on the environment and communities," Haycarb PLC Managing Director Rajitha Kariyawasan said.

Animal welfare is another new area in which Puritas aims to be a catalyst for progress. Through its 'Be Pawsitive' initiative, the Company hopes to vaccinate and feed stray animals, while its 'Behold the Turtle' initiative is another act of goodness which will work towards protecting turtles native to the Kumana region.

Meanwhile, the 'Be with the Bee/ One Bee at a Time' initiative will take measures to protect indigenous species of bees, butterflies, and birds in Sri Lanka. Additionally, the Company will be initiating 'A Passive Barrier for Our Pachyderms' project which aims to supplement existing elephant fences with lime plants which tend to repulse elephants, thereby providing an environmentally friendly method for mitigating the human-elephant conflict.

Other initiatives of the Silver Jubilee initiative include the 'Water Your Mind to Grow Your Soul' project, which will provide water filters to schools in remote areas to ensure all children have access to clean drinking water.

The 'No One is Left Behind' initiative will support the Eastern Vedda community with the provision of agricultural seeds and guidance. 'A Basic Right/ Not to Be Left Without the Basic Right' initiative assists children born during the 30 year conflict in Sri Lanka who have no proof of legal identity with access to obtaining birth certificates and other documentation.

Meanwhile, Puritas employees will also push several initiatives amongst themselves such as 'Seeking/Moment of Inner Peace' to bring together employees in prayer each day, and a 'Drop of Goodness' to promote employees to spend at least an hour each month making a difference in someone's life.

'Be the Change You Want to See in the World' initiative will push employees to practice greener lifestyles, to create a positive impact on the environment while also engaging in a 25-day challenge, where employees have to take on a challenge while nominating a colleague each day.

These 25 initiatives will enhance the positive impact created by the Company's flagship Puritas Sathdiyawara initiative. Since commencing six years ago, the initiative has established 16 Reverse Osmosis (RO) plants across the North and North Central Provinces catering to the demand for clean drinking water in areas battling the Chronic Kidney Disease (CKDu).

Since then, the program has evolved to include community outreach initiatives which have provided school children with academic essentials for the school year.