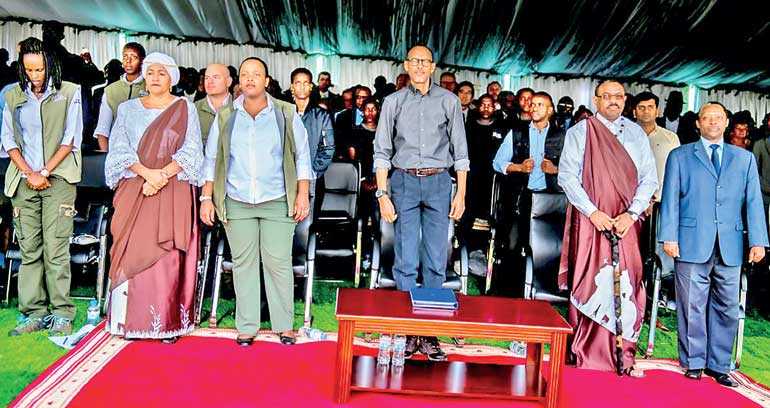 Animal welfare activist Otara Gunewardene was recently selected alongside Naomi Campbell and several other global celebrities, world leaders and sport stars to attend the Rwandan Gorilla Naming Ceremony and to name a baby gorilla.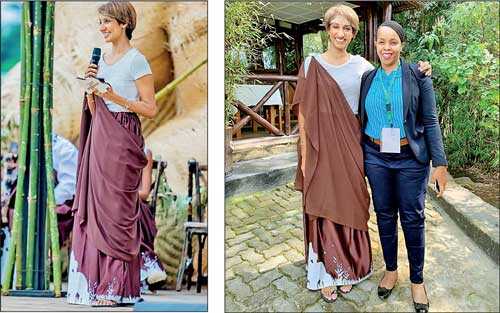 KwitaIzina is a time-honoured tradition in which Rwandan families hold a ceremony to name new-born babies. For three decades, prior to the first official gorilla naming ceremony, Volcanoes National Park rangers and researchers named Rwanda's mountain gorilla babies as a key part of the on-going program in monitoring each individual gorilla in their family and habitat. The Government of Rwanda, through the Rwanda Development Board, and in collaboration with conservation partners, private sector stakeholders and local communities, has achieved remarkable success in protecting and growing the endangered Mountain Gorilla population and its habitat. Rwanda's naming ceremony tradition has been adapted as a celebration of this success in the national flagship event known as KwitaIzina.

KwitaIzina was introduced in 2005 with the aim of creating awareness of conservation efforts and of thanking communities for their on-going valuable support of these initiatives; now the most important annual event on Rwanda's calendar, it is attended by around 30,000 community members and 3,000 international, regional and local participants each year.

To date, 281 mountain gorilla babies have been named in the past 14 ceremonies. KwitaIzina is fast becoming known as Africa's leading dialogue on conservation and tourism. Alongside the naming ceremony, a week-long celebration of activities are hosted; the Business on Conservation Conference in collaboration with African Leadership Group and its conservation exhibition in Kigali, a fundraising dinner in Rubavu and hosted familiarisation trips for international tour operators and media comprise an important part of the event activities. The 15th KwitaIzina will take place in Kinigi, at the base of the Volcanoes on Friday 6 September.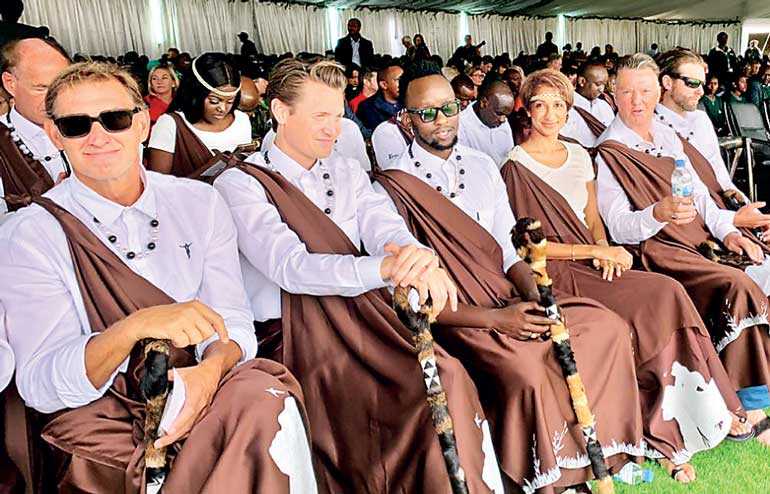 How namers are selected

It is considered an immense honour to be selected to name a mountain gorilla baby. Namers are most often selected based on their contribution to biodiversity and conservation anywhere in the world and/or if they have a connection to Rwanda.

Outlined below is a further breakdown of the different groups that are eligible for naming:
Conservationists whose main work contributes to the preservation of wildlife and biodiversity.
Private Sector role-players who have contributed in one-way or another to conservation and sustainable tourism.
High profile celebrities and philanthropists with a passion or conservation.
Public Officials or community members who have worked towards an enabling environment for wildlife to thrive.
The Rwanda Development Board formally invites each honoured guest to name a mountain gorilla baby.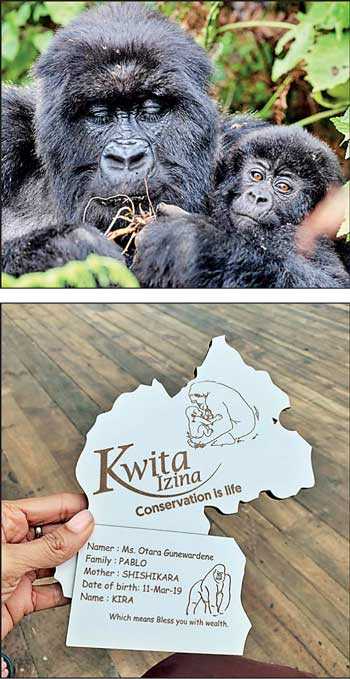 How names are chosen

The Rwanda conservation team chooses names for each mountain gorilla baby according to how the baby behaves and the circumstances under which it is born. In order to keep this tradition, three Kinyarwanda names, from which you can choose one, along with their meanings, will be suggested to you, prior the ceremony.

Furthermore, they invite you to visit the baby gorilla you are naming, a day prior or a day after the Naming Ceremony, so that you have the opportunity to meet this baby and its family. During this 'meet and greet' they would like to take the opportunity to film your visit and interview you afterwards about your experience visiting the mountain gorilla family. Film clips will be used for the promotion of conservation and sustainable tourism through RDB's media channels. It is widely recognised as a unique privilege to be invited to name a mountain gorilla baby.