The World Oceans Day Symposium panel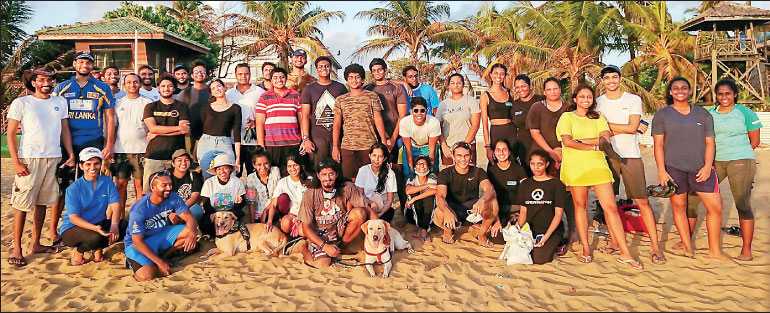 Volunteers at the Mount Lavinia Beach Cleanup​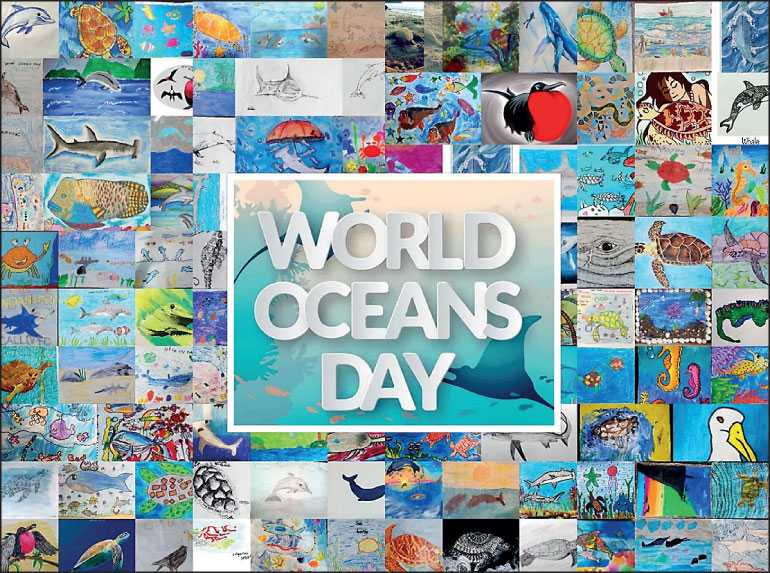 Oceans are the lifeblood of the earth's ecosystems and humankind; providing over half of the world's oxygen, holding 97% of earth's water, regulating global climate, supplying medicinal products and delivering economic benefits. Nonetheless, anthropogenic activities in terms of increased pollution, acidity and temperature continue to jeopardise invaluable marine life.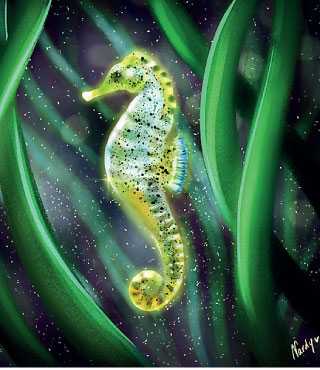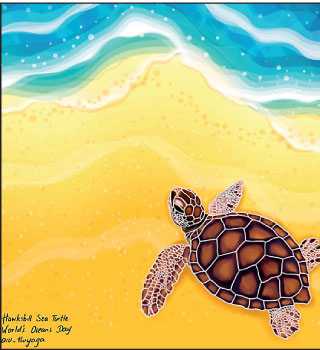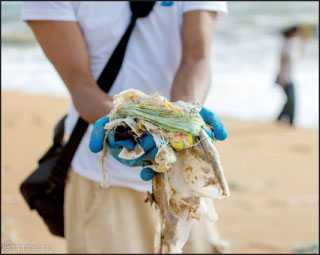 Volunteer at the Mount Lavinia Beach Cleanup
---
World Oceans Day that falls on 8 June every year is celebrated around the world, to inspire action by emphasizing the need of conservation for oceans in peril. Consequently, the conservation focus of 2020 lies on calling world leaders to safeguard 30% of the blue planet through a network of highly protected areas by 2030 and this critical requirement is called 30x30.

Amidst the COVID-19 pandemic restrictions, this year's events took place online or in a socially-distanced manner. The Pearl Protectors, a volunteer-based organisation that creates awareness and advocates towards the protection of Sri Lanka's marine environment while fostering volunteerism, participated in the global movement with multiple events to inspire ocean action. Since its inception in 2018, The Pearl Protectors have initiated numerous activities and projects that are focused on combatting marine pollution.

Some of the most significant projects entail the launching of the 'Pearl Protector Approved' certificate which promotes restaurants that commit to a plastic-free dining culture by refusing single-use plastic items and shifting to reusable alternatives, the PET bottle Christmas trees created out of discarded plastic bottles to create a conversation about the severity of plastic pollution and eco-bricks workshops that educate and encourage children to prevent plastic waste from ending up in landfills.


An online art exhibition

The celebrations started off with a call for artwork leading up to World Oceans Day. Submissions were open for all ages and could be of any technique or style of the artist's choosing. The aim of this exhibition was drawing attention to 10 vulnerable, endangered and critically endangered marine life that either visit or are resident in the Sri Lankan waters.

Artists were requested to draw one of the marine species among; hawksbill sea turtle, scalloped hammerhead, blue whale, Indian-Ocean humpback dolphin, dugongs, leaf-scaled sea snake, large-tooth sawfish, Christmas Island frigatebird, hippocampus kuda seahorse and humphead wrasse.

On 8 June, The Pearl Protectors showcased more than 600 submissions of artwork on Facebook, Instagram and Behance (www.behance.net/worldoceanday); it is noteworthy that this is the only online artwork exhibition held in light of World Oceans Day in Sri Lanka.


Online symposium on marine conservation

In addition, The Pearl Protectors hosted an online symposium on 7 June that was broadcasted live via Facebook and YouTube with a panel of notable marine conservation experts including Dr Terney Pradeep Kumara (General Manager of the Marine Environment Protection Authority), Nishan Perera (Co-founder of the Blue Resources Trust), Chathurika Munasinghe (Lecturer - Department of Zoology, University of Peradeniya) and Ranil Nanayakkara (Co-founder of Biodiversity and Research and the University of Kelaniya).

The symposium commenced on the prevailing situations of the marine environment, fishing practices, corals and the threats faced by marine species in the Sri Lankan waters. Points for discussion incorporated recommendations on what can be done to conserve the marine environment of Sri Lanka at a macro level, particularly with regards to marine and coastal pollution.

All panellists highlighted the need for youth and the general public to engage in preserving the marine environment by educating themselves on activities that cause harm, breaking habits that contribute to plastic pollution and raising awareness among others to take action.


'Plastic Seabeds of Sri Lanka' documentary

According to research findings by the National Aquatic Research Agency (NARA), 80% of the seabed in the Western Province of Sri Lanka is polluted. The Pearl Protectors team took a lead in documenting the pollution in the Palagala reef area, off the coast of Colombo. The footage was captured in partnership with Island Scuba, a PADI Dive Center based in Colombo and Trincomalee.

The eye-opening video, which is now published on The Pearl Protectors Facebook page and on YouTube, reveals how generally used single-use plastic items such as sachets, polythene bags, food packaging have deposited on the seabed.

The Palagala coral reef was not spared being contaminated with such plastic waste. Coral reefs being the 'rainforests of the sea', provide an array of benefits varying from habitats to a diversity of marine organisms, spawning grounds for economically important fish species and income from fishing, recreation and tourism. Plastic can block sunlight from reaching corals and once entangled in plastic, abrasions could leave them vulnerable to infection.

Further, due to microplastics which are fragments of plastic items that have broken down over time, humans are no longer immune to this problem underwater. Hence, the documentary acts a wake-up call to inspire action in reducing, refusing and reusing plastics that are detrimental to life below water.


Beach cleanup at Mount Lavinia

Following the beach nourishment project in Mount Lavinia, there was an unprecedented amount of plastic waste piling up on the coastal area leaving residents deeply concerned. Cleanup activities with the participation of the police, municipal council employees and volunteer groups did not prove to be efficient as the waves would carry more plastic leaving the beach polluted each day.

The causes for this newfound garbage are still being investigated. While voicing concerns from the onset and advocating for Environmental Impact Assessments to be made mandatory, The Pearl Protectors also conducted a beach cleanup in the area to help prevent the waste from being deposited back in the marine environment.

While beach cleanups are not the solutions to the plastic crisis at hand, they certainly assist in assessing the magnitude of the problem and to maintain a clean coastal area which is imperative for recreation, tourism and five endangered species of sea turtles who visit the Mount Lavinia beach to nest. Additionally, this encourages volunteerism and youth engagement which The Pearl Protectors believe are vital to bringing about change at all levels.

Going forward, The Pearl Protectors have plans to continue their efforts in building an unstoppable current towards a plastic-free Sri Lanka and hope it would create ripples of inspiration for every citizen to make a difference.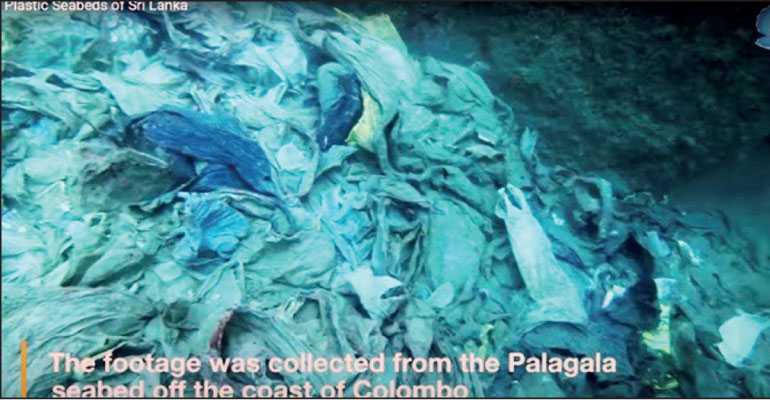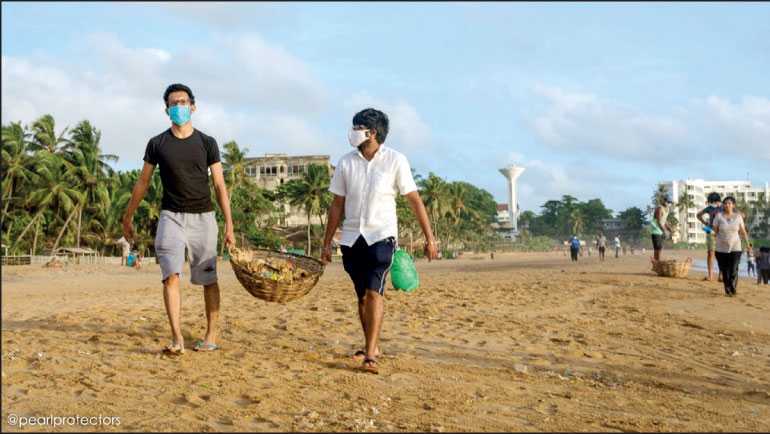 Volunteers at the Mount Lavinia Beach Cleanup
---