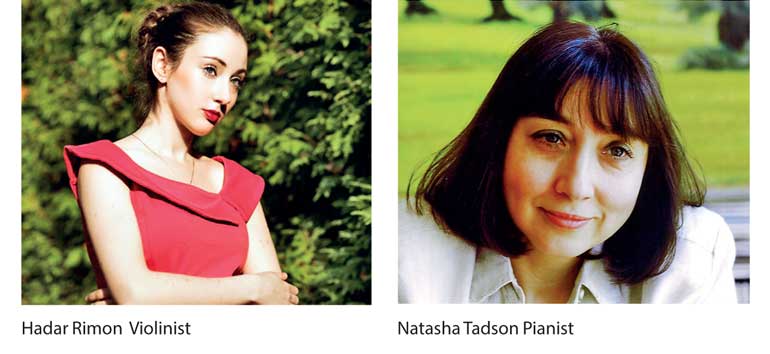 Virtuosic violinist Hadar Rimon and pianist Natasha Tadson featured soloists
Earle de Fonseka Chamber Music Concert Series on 3 April
Virtuosi in Concert, sponsored by People's Bank, with the Symphony Orchestra of Sri Lanka on 7 April
A spectacular treat awaits classical music aficionados this April as exquisite works for piano and violin by Bach, Strauss, Beethoven, Grieg, Tchaikovsky, Saint-Saens and Zisapel will be performed by Israeli violinist Hadar Rimon and her mother, pianist Natasha Tadson. As part of the Dr. Earle de Fonseka Chamber Music Concert series, the Lionel Wendt will play host to the two performers on 3 April, while they will join the Symphony Orchestra of Sri Lanka at Virtuosi in Concert on 7 April at the Ladies College Hall under the baton of Dushyanthi Perera.

Designed to showcase the many moods and voices of the violin in intimate dialogue with piano, Hadar takes centerstage at the Chamber Music Concert with some of the most important sonatas written for this enthralling string instrument. The most unusual and progressive of Bach's six sonatas for violin and harpsichord in C Minor BWV 1017, the sublimely tender G Major Sonata by Beethoven, his tenth and final violin sonata and Richard Strauss' highly demanding yet brilliantly evocative Violin Sonata in E Flat Major which was his swansong in chamber music prior to turning to symphonic poems. The two performers add two shorter works into the program; one by Israeli composer Yehuda Zisapel's 'Song Without Words 13' and Saint-Saens's extremely popular concert showpiece, Introduction and Rondo Capriccioso, an infectiously energetic display of violin prowess, originally written for fabled violinist Pablo de Sarasate.

The award winning Hadar Rimon who has performed to critical acclaim at recitals and chamber music concerts in her home country of India and extensively in Europe, holds double Bacherlor's and Master's degrees from the Buchmann-Mehta School of Music of Tel-Aviv University and Zurich University of the Arts. A Concertmaster with the Haifa Symphony Orchestra and teaching violin at the KfarSaba Music Conservatory, Hadar will perform the interminably amazing and challenging composition of Pyotr Ilyich Tchaikovsky's Violin Concerto in D Major Opus 35 – a favourite of the violin concerti repertoire at Virtuosi in Concert – on 7 April. It will also feature a composition by France's most famed composer, Camille Saint-Saens' Bacchanale from his 1877 opera 'Samson et Delila' and a brief but meaningful composition by Sri Lankan Kalum Nishyantha, who composed, Happy Birthday SOSL to commemorate the SOSL's 60th anniversary.

Russian born Natasha, a graduate from the Gnessin School of Music in Moscow has seen her extraordinary pianistic achievements garner accolades from all over the world and perform at some of the most hallowed concert halls including Carnegie Hall. As a soloist, she has performed with celebrated orchestras – Santa-Cecilia Orchestra in Rome, Royal Philharmonic Orchestra, Bournemouth Symphony Orchestra, Birmingham Symphony Orchestra, Berlin Radio Orchestra, Munich Radio Orchestra and Stuttgart Radio Orchestra to name a few. Natasha Tadson is to perform Norwegian composer Edvard Greig's Piano Concerto in A Minor Opus 16 – considered one of the most popular of all piano concertos.

'Virtuosi in Concert' is sponsored by People's Bank. Airline travel for Hadar and Natasha is sponsored by Vallibel Finance. The two concerts are supported by Creative Partner JWT and Electronic Media Sponsors Yes FM, TV1 and Legends 96.6.

Tickets and Box plan now at the Lionel Wendt Theatre.