---
Encapsulating 50 years of the work of Anoma Wijewardene, the monograph 'Anoma' which was launched at the iconic award-winning Central Saint Martins, University of Arts London on International Women's Day, made its Colombo debut in September this year. The Colombo launch, in collaboration with Colombo No 7 Gin, Shangri-La Colombo, AOD Colombo and The Residences at One Galle Face heralded a distinguished gathering including collectors from both Sri Lanka and abroad.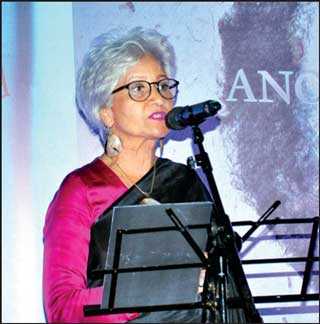 Anoma Wijewardene


Anoma, who was the only Sri Lankan solo artist to be invited and show at the European Cultural Council, during the 58th Venice Biennale 2019, has amassed international recognition for her works spanning five decades. It was 70 years ago that the '43 Group which included George Keyt, Justine Deraniyagala, Ivan Peiris and George Claessen were invited to this 'Olympics' of Art. Her work was featured on the cover of British Vogue 1974 and she exhibited in 2016 at Sotheby's Hong Kong Gallery.

An alumna of the powerful 'Oxbridge' of the Arts, Central Saint Martins which in recognition of her illustrious creative career partnered her at the Monograph's London launch. Anoma's fellow alumni include Alexander McQueen, Stella McCartney, Pierce Brosnan, Sir James Dyson and Sri Lanka's Finance Minister Mangala Samaraweera. Anoma's work has focused upon the most crucial issues of our time. For the past 18 years her solo exhibitions have centred around climate emergency and coexistence, diversity and unity.

She announced that her next chapter will focus on supporting women in art through a foundation. Even in 2019, the great art institutions of the world carry very few works by women. A portion of the sales from this book will support and mentor women who aspire to a career in art. This process has informally begun, and the first woman to benefit from this initiative had her debut exhibition last weekend.

The book, printed in Singapore, includes 200 images, alongside five essays and contributions from several renowned writers. It also documents the process with images from her sketchbooks, collectors' details, a biography and chronology. It is edited by Richard Simon who has also contributed an essay and is designed in London by the award winning Micha Weidmann Studio which consults for the Tate Gallery and the Royal Academy of Art. Art direction is by the formidable Chris Sanderson of The Future Laboratory whose clients include Google, BMW and BBC.

Princeton's Professor Emeritus Gananath Obeyesekere, the gallerist Jana Manuelpillai of The Noble Sage Collection London, Art Writer Rosalyn d'Mello from New Delhi, and former Head of Central Saint Martins, University of Arts London Professor Emerita Jane Rapley have penned essays. Further contributions include those by Ramya Chamalie Jirasinghe, Ameena Hussein, Ranjini Obeyesekere and Radhika Coomaraswamy.

'Anoma' is available at Barefoot Bookshop, Galle Road Colombo 3 and Urban Island, Dharmapala Mawatha, Colombo 7 from 10 September.