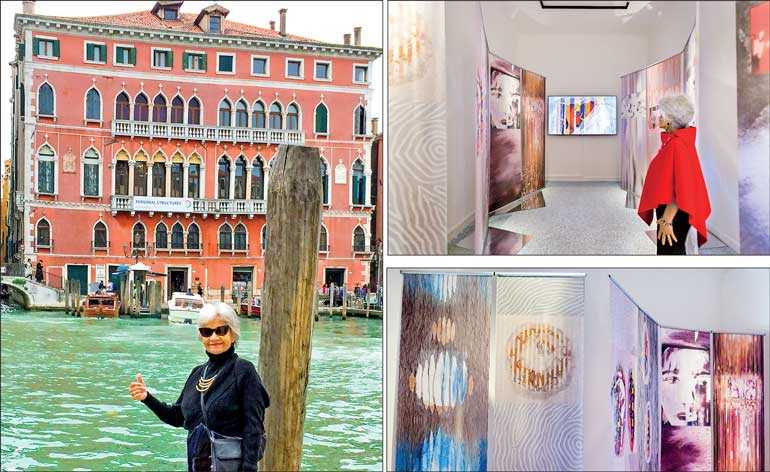 ---
Contributing a powerful conversation from Sri Lanka on the need for harmony and healing, Anoma's multisensory installation 'Kintsugi' on diversity and coexistence is showing from May to November at the European Cultural Centre, Palazzo Bembo, Canale Grande during the 58th Venice Biennale.

Focusing on the need for unity in diversity in our highly polarised world, Anoma Wijewardene showcases her 'Kintsugi' installation at the European Cultural Centre's Personal Structures: Identities – a collateral exhibition of the iconic Venice Biennale. Incorporating the poetry of Romesh Gunesekera, the music of Sharon Smith and the scent of Cinnamon, the work is an appeal to hearts and minds, through all the senses as well as the intellect.

Along with the curators of the exhibition the thousands of viewers frequenting the biennale will find this message of embracing differences and the beauty of reconstruction to be incredibly meaningful; especially coming from a Sri Lanka fresh from the aftermath of the Easter tragedy. Anoma Wijewardene gave an interview, discussing how she hoped the installation would present a positive and healing outlook from Sri Lanka in the face of the current disharmony, and misguided religious fervour; and what it means to be showing her work at the art world's most coveted global platform. Following are excerpts:
Q: How do you feel about being the first Sri Lankan solo artist to show during the Venice Art Biennale?
I have been told that the last time any Sri Lankan had shown at the Biennale was when our art legends of the 43 Group participated in it, at the official Arsenale, in 1955. So, you can imagine how humbled I am to be showing, even at a collateral exhibition during the Biennale in 2019; Forbes has called it the Olympics of Art, and I feel honoured to have been invited to exhibit at whatever level, on such an immense platform, especially since quite fortuitously we were able to contribute a really powerful story from where we are standing today – a story which is apposite and which resonates with everyone across the world right now. So, it's really within this context that an invitation to a single Sri Lankan artist from a Venice Biennale collateral exhibition curating team becomes significant to me, and I believe also to the many people who supported this venture.
Q: Why do you think the European Cultural Centre found your message relevant for their exhibition during the Biennale?
Personal Structures: Identities, the theme of the ECC show is about recognising that this tendency to divide rather than unite forces us to look closely at our identity, our differences and our similarities. I believe the world is fragmented; and we are all yearning for healing whether it is in Colombo, Jaffna, Christchurch, Paris or Venice. So, the message of finding healing, celebrating the very idea of diversity is something that has relevance to everyone in the world, today more than ever. The beauty is in the difference, inviting us to cherish our cultural commonalities and embrace our diversity. I think this message from Sri Lanka was particularly relevant coming after the Easter tragedy that shook everyone across the world. I hope 'Kintsugi' sat in a context of global relevance and a viewpoint from Sri Lanka which was important for the Biennale. The Biennale's overall theme – 'May You Live In Interesting

Times' – underpins the fact that the whole exposition encompasses comment on the turbulent world we now live in.
Q: What is the story of Kintsugi?
I began working on deconstructed and reconstructed paintings strangely, and coincidentally at a time when we were trying to comprehend the growing religious intolerance back in 2014. It was fuelled perhaps by my anxiety at the turn of events following so closely the end of a long conflict and the seeming lack of adequate reconciliation. I read about the ancient Japanese restoration form 'Kintsugi' – where broken fragments are fused with gold enamel, highlighting the breakage rather than disguising it – and found it to be a remarkable approach.
I felt that perhaps we tend to disguise wounds and failures which means we also hardly confront the lessons that lead to the healing. Kintsugi subtly questions 'how we find beauty in our differences? How does diversity make our experience richer?' through multimedia and sensory immersion with a video installation, and a book. The installation included laser cut mesh panels to imply fragility and impermanence, with mirrors to suggest self-reflection and awareness.

The art was created between 2014 and 2019 as a response to the normalisation of unconscionable intolerance, hatred and bigotry across the world. My work reflects on the universality of man and our common humanity in the face of conflict, misguided religious fervour and human insecurity and invites us to accept the teachings of all religions which emphasises tolerance and the acceptance of the stewardship we share of our fragile and fractured planet along with care for our fellow human being.
Q: What was the significance of the poetry, video and the music that you incorporated?
Writer and poet Romesh Gunesekera's poetry was crafted using shards and fragments, in a parallel process, of separation and renewal, to the art. I hoped the visual ideas like isolation, conflict, displacement, as well as reconciliation, healing and harmony, were expressed even more profoundly through the words. Sharon Smith – the music editor and composer based in Los Angeles composed the music especially for the art, using tones and music genres from several cultures which amplified the emotive aspect.

Everything about the process has been daunting and a huge challenge to be frank but I was so fortunate to have these collaborators who so perfectly understood the idea of linking and weaving apparently disparate elements. They, and the many others who collaborated, passionately believed in the multidimensional multi sensual idea. It took five years! Finally, for Venice, I incorporated an olfactory element by introducing the scent of cinnamon – a fragrance evoking Ceylon and the spices which must have traversed the Silk Route to the City State of Venice since ancient times.
Q: You mentioned that many supported Kintsugi. Who are they?
The John Keells Foundation and Cinnamon Life, Ceylon Tea, the National Lotteries Board, AOD, Etihad Airways and a few amazing individuals partnered with me. They were so incredibly generous and progressive in their thinking to understand the importance of a Sri Lankan presence, however small, at this prestigious six month exposure, which is like an Expo, where 500,000 visitors are expected to view the ECC Palazzos admission free exhibitions, in a small city which hosts 25 million visitors a year. I am deeply indebted to them for believing in my work and understanding its message."
Q: So Anoma, what's next?
My monograph was launched in London earlier this year and sharing it with Sri Lanka is what's next. I'm also very keen to share something of Kintsugi with Sri Lanka, because it's so relevant to us right now. I hope it will spark some timely conversations on finding unity within our incredible diversity. Embracing and celebrating our differences and appreciating that it is our very diversity that makes us strong and unique. Perhaps art, which appeals to the heart as well as the mind, is the place where change can happen in a powerful way. Perhaps I am being naive but I hope Art can play a role in healing our society and finding a way to a much longed for harmony and peaceful coexistence.