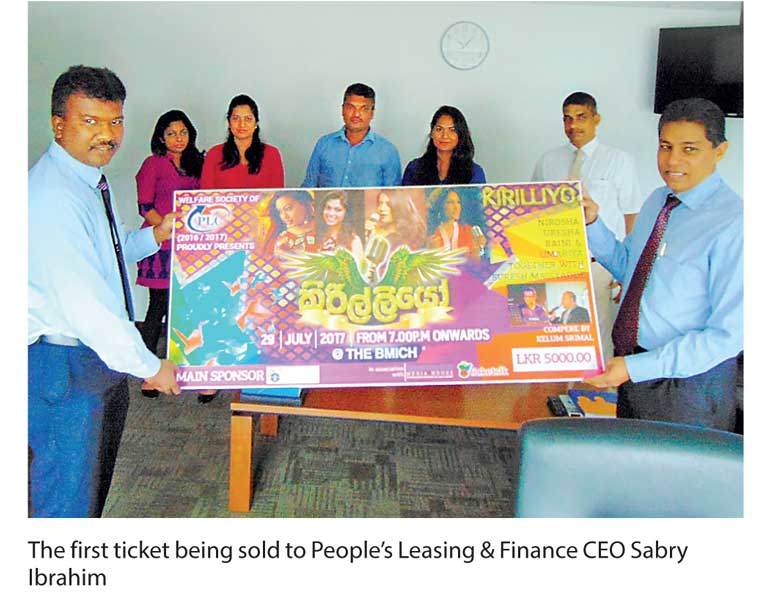 People's Leasing Sports & Welfare Society is organising an indoor musical show, 'Kirilliyo' featuring eminent female vocal artists, Nirosha Virajini, Uresha Ravihari, Umariya Sinhawansha and Raini Charuka together with Suresh Maliyadda at the BMICH, Colombo on 29 July.

This musical event will be the first of its kind in the Sri Lankan musical industry; as the extremely talented and beautiful female vocal artists will perform live on one grand stage. The whole event will be compered by Kelum Sreemal.

'PLC Sports & Welfare Society 2016/17', is an association formed with the main objective of promoting interaction amongst employees of People's Leasing & Finance PLC Group while creating and improving intellectual, cultural and high spirited working environment. The Society organises an array of activities every year including several fund raising projects.

Funds raised from the projects organised by the Society as above are solely dedicated for the betterment of the community and the employees. They have actively participated in events like flood relief activities, blood donations, constructing houses for the needy, assisting financially for medical treatments, etc. Accordingly, the main fund raising project being organised for this year is an indoor musical event, 'Kirilliyo'.