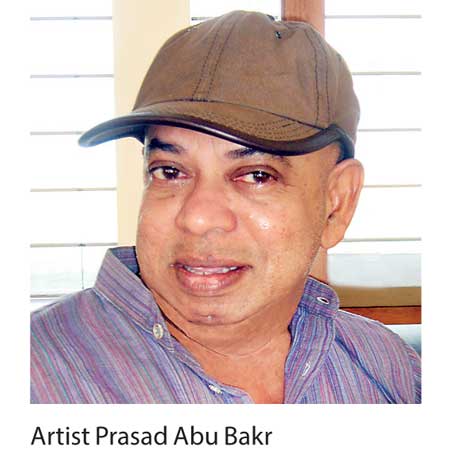 Nawa Kalakaruwo 2017 organised by the George Keyt Foundation – an annual exhibition opened to newcomers to the 'Artists arena' where many renowned artists of today gained recognition through their participation in this annual event in the years gone by. This year's event of 'Nawa Kalakaruwo' held for the 21st consecutive year had some notable work by 33 artists who participated.

Amongst these participants was a name which raised many eyebrows when they saw his work – Prasad Abu Bakr, who is a notable journalist over the years made his appearance at this year's 'Nawa Kalakaruwo' to many art lovers and critics surprise.

However this is not the first appearance that the scribe is making in the field of arts. "I actually worked in many aspects of art long before I won recognition as a journalist," said Prasad who had a very successful exhibition in 2015 organised by the Alliance Francaise De Kotte and sponsored by the Pegasus Reef Hotel under the title 'ABU Collection'. According to ABU he began his artistic journey in the early seventies when he was barely 16 year old under the direction Mrs. Cora Abraham who had her own art school Melbourne Art Classes. "I was never able to participate in any major art exhibitions at the time, other than in the annual students' exhibition held by the school," said ABU stating that he was privileged to be the only student at the time to be given a scholarship at MAC as Abraham recognised his talent and guided him through to reach the level he has reached today both artistically and socially.

Prasad's career in the arts started as a designer for Batik wall hangings and dress fashion in 1971 and he worked at many batik factories and took part in many overseas batik promotional fairs during that period until in 1982 he found employment in the middle east as window dresser to a well-established perfumery and fashion house – It was not until 1986 that Prasad actually made his major public appearance as a fashion designer presenting his collections at many fashion shows in Colombo – the young explorer in vivid fields who worked as an interior designer during the refurbishment of 'The Royal Oceanic Hotel' (The Beach today) owned by the Jetwing group, later ABU had a break to work with the National Design Center as an external designer to an ILO funded design development programme in 1989. This also led Prasad to work as an external designer with the Department of Small Industries and later as a consultant to the National Craft Council.

Prasad's onset to the field of journalism in 1997 – the year he also had his first ever one man exhibition of paintings at the Lionel Wendt Gallery – began as a graphic artist appointed to design the artwork for the first ever Sunday Observer Magazine which was a weekly supplement of the main broadsheet weekly the Sunday Observer. As he perfected the supplements artwork aspects and his keen interest and contribution to the paper as a writer and photographer was taken notice and he was subsequently appointed the editor of the magazine where he continued and developed into becoming a writer over the years.

"So my recent emerging as an artist is nothing new," says Prasad stating that he has already exhibited at four major one man events since 1997 solo art exhibition at the Lionel Wendt, two solo photography exhibitions titled 'Discovering Sri Lanka' in 2001 and another in 2005 both at the Lionel Wendt and his last solo painting exhibition titled 'ABU Collection 2015' at the Alliance Francaise De Kotte auditorium in 2015.

His recent work has taken a turn towards mixing both his passions towards photography and painting and moulding them in fusion to produce a series of unusual imagery that has won the hearts of many art lovers and critics alike – 'Nawa Kalakaruwo' was an eye opener to him because this is the first time he has had the opportunity of showing his work besides other artists collectively – "I have been invited to participate in two more major group exhibitions due this year and I am looking forward to them" said Prasad stating that he is proud that he has quietly retraced his steps back to discovering the artist in him and working in an environment where he belong most!