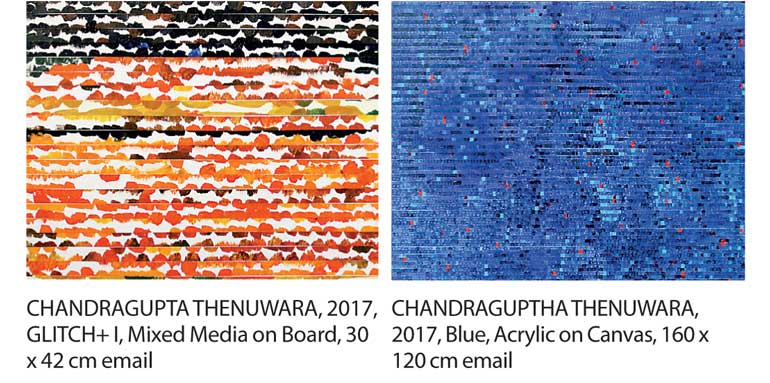 From 23 July to 13 August
Every year since 1997 ChandragupthaThenuwara presents an exhibition on 23 July to commemorate Black July, the anti-Tamil riots that took place in 1983 killing people and destroying homes in the thousands. As a fellow activist artist, Ai Wei Wei states, "If anything, art is… about morals, about our belief in humanity. Without that, there is simply no art." Thenuwara has consistently made it his purpose as an artist and activist to bring to light the core political environment of the country through his work.

As acting President of the Arts Council and Senior Lecturer at the University of Kelaniya, the customary deterrents have not intimidated him. It is often assumed that conceptual art can slip under the radar during times of heavy censorship and interrogations of more obvious or widespread activism, however what remains intact with Thenuwara's consistency is a witty and well executed form of criticism that the has succeeded to present a documentation of the countries burning issues over the past decades. Thenuwara's exhibitions have in fact created an archive of political and social violations during the war and post-war.

In 2016 Thenuwara presented an exhibition titled 'Glitch'. The purpose of the works was to bring to light the shortcomings of the newly elected Government. In his 2017 exhibition, that previews on 22 July and will open to the public on 23 July, the artist emphasises on the concept of excess. Specifically the excess prevalent in taxes, ministers in parliament, religious extremism, protests, etc. The exhibition features paintings and installation in a similar style to his 2016 exhibition. This time the paintings are bright and bold, predominantly with the colours blue, green, red and yellow; to symbolise the powers that are most engaged in the governance and communication of politics in the country. The colours themselves are not solid; instead they are pixelated or merged with haptic brushstrokes on linear tape in an effort to resemble a television that is not transmitting its image.

'Glitch +' will be open to the public daily until 13 August at Saskia Fernando Gallery, No. 41 Horton Place, Colombo 7.