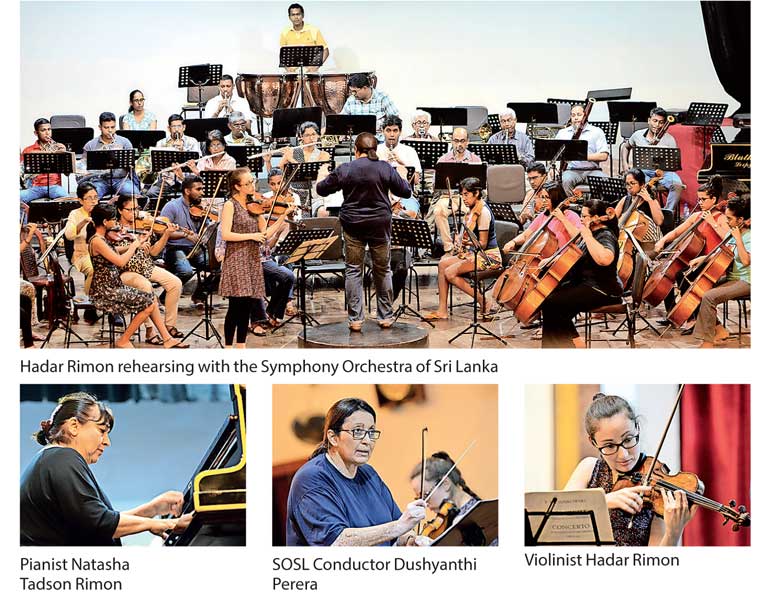 If you have come to expect sublime lyricism and melody from Tchaikovsky, his violin concerto will certainly not disappoint. One of the most popular pieces of music ever written, Tchaikovsky's Violin Concerto is nevertheless described as the "most fiendishly difficult of all violin concertos." This work is not just about display, however, but interlaces passages of rare and delicate beauty with what can only be called a daring high-wire act for the performer.

Here to perform this iconic work with the Symphony Orchestra of Sri Lanka (SOSL) is captivating Israeli violinist, Hadar Rimon, one of the featured artists at Virtuosi in Concert on 7 April, at the Ladies' College Hall.

A distinguished graduate of the Buchmann-Mehta School of Music in Tel-Aviv, as well as of Zurich University of the Arts, Hadar Rimon has enchanted audiences all over Europe as well as in Israel. An award winner at many competitions of international significance, Hadar performs regularly in recitals and chamber music concerts in Israel and abroad with her mother, pianist Natasha Tadson.

Music lovers will be pleased to note that Virtuosi in Concert will feature not only the Tchaikovsky violin concerto, but also Grieg's hugely popular piano concerto, performed by Natasha Tadson. A work abounding in "temperament, passion and tenderness," the piano concerto was an instant success and is Grieg's most enduring masterpiece.

Born in the former Soviet Union, Natasha Tadson is the winner of numerous major international competitions. Her successful debut in Carnegie Hall was followed by an invitation to the coveted Marlboro Music Festival and she has since performed extensively in Israel and abroad.

Virtuosi in Concert, sponsored by the People's Bank, will feature both Hadar and Natasha, performing with the SOSL, under the baton of resident conductor Dushyanthi Perera.

Following are excerpts of an interview with Hadar and Natasha:

Hadar:
Q: The other day, you performed in Sri Lanka for the first time. How did you feel about the performance and the audience response?
A: Both my mom and I, had the most wonderful time performing in Lionel Wendt Theatre on Tuesday. It was a true joy to perform for such a warm and welcoming audience. We are looking forward to our concert on 7 April, performing, together with the Symphony Orchestra of Sri Lanka, the Tchaikovsky Violin Concerto and the Grieg Piano Concerto. Coming to Sri Lanka for the first time, has been so far a fantastic experience, and we hope to come back and perform here again soon.
Q: What is the secret to the special bond you share with your mother, with whom you perform so regularly?
A: I have been playing, practicing and performing with my mother since I was four years old. Over the years we have become colleagues and equal partners in our duo; we enjoy working together, learning new pieces and performing together. Playing with my mom is one of the things I am most grateful for in my life, she is my greatest inspiration and she is the best musician I know. My mom is the person who has influenced me the most as a musician, since I have started playing the violin and until today; she is the musical figure I trust most. When we play together many times it feels like we are one person, we share a special connection between us and with the music we play. I am extremely grateful for the opportunity to play with such a brilliant pianist and musician and I consider it a great privilege.
Q: The Tchaikovsky violin concerto has been described by Nicola Benedetti as "most fiendishly difficult" ….."but a guaranteed crowd pleaser". Do you agree?
A: Yes, of course I agree. Tchaikovsky Concerto is one of the most beautiful pieces written for violin.

It has such a wide range of melodic and lyrical material combined with extremely technically challenging and virtuosic playing. The music is exciting and moving every step of the way, which makes it relatable and enjoyable for the audience. It is true it is very difficult but also very rewarding to perform.
Q: You are performing on a Giovanni Battista Guadagnini violin on loan from Yehuda Zisapel's private collection. How does it feel to play such a special instrument?
A: This violin is my dream violin. I am so lucky to have had the opportunity to play on it for the past few years and extremely grateful to Mr. Zisapel for his incredible help. This instrument from 1756 is a work of art, and I fell in love with it the first moment I tried it. Falling in love with an instrument is very similar to falling in love with a person; it can be amazing but it still doesn't always happen. For me this violin is my best friend, I am honoured to share my life with it for as long as possible and to be a small and brief part of its rich history.

We have a special bond; it is very close to my heart.
Q: Currently you are the Concertmaster of the Haifa Symphony Orchestra. What is the most exciting experience you have had in that role?
A: I started working as Concertmaster of the Haifa Symphony Orchestra almost three years ago. I find the work of principal player of the orchestra to be very challenging, exciting, and rewarding. Even in this rather short period of time, I can already mention quite a few pieces which left a mark: one of them is Mahler Symphony no.3, and most recently I have had the pleasure of performing Scheherazade by Rimsky-Korsakov which has a beautiful solo for the principal player. I also enjoy when we play operas, such as Carmen, and I'm already looking forward to the beginning of next season when we will perform my favourite Opera, Tchaikovsky's Evgeny Onegin.

Natasha:
Q: You have travelled to many countries and cities over your many years of playing at concerts and recitals. Of all the concerts you have performed which has been the most special?
A: It is difficult to answer, because for me every concert is special. Every time I perform it is always different, always a special and exciting experience. If to mention just one, I think I would choose a concert I performed many years ago as soloist with the Israel Philharmonic Orchestra conducted by Michael Tilson-Thomas. What was especially exciting about it was that it was meant to be performed by famous pianist Alex Visenberg who cancelled his performance five days before the concert.

I remember the phone call from my piano teacher who had accepted the concerts on my behalf, telling me I have two days to prepare Rachmaninoff Concerto no.3 before the first rehearsal.

I don't remember much after that though. I had played it once a few years back as I was studying it, but not since, up to the moment I put down the phone of course. I practiced for five days non-stop, played four concerts, and I will remember it forever.
Q: This is your first concert with the Symphony Orchestra of Sri Lanka. What has been your experience so far?
A: Coming to Colombo and rehearsing with the Symphony Orchestra of Sri Lanka, has been absolutely lovely. It has been a great joy to rehearse with the orchestra and I am sure it will be a great joy to perform together on Saturday. I was so happy to see in the orchestra such energetic, enthusiastic, and professional players. The conductor of the orchestra, Maestro Dushyanthi Perera, is a fantastic person and a fantastic musician; she does wonders with the orchestra. Both my daughter and I would also like to thank Sharmini Wettimuny from the orchestra's organisation, for all her help, as well as for making us feel at home and welcoming us like family. I am looking forward to perform with the orchestra the Grieg Piano Concerto on Saturday and hopefully to future performances together.
Q: What has been your impression of your stay in Colombo?
A: I am so happy to have come here to this beautiful place. I have met some of the nicest people I have ever met in my life. Both my daughter and I have been feeling so loved and welcomed here every single moment. We are truly grateful for the invitation to perform here. Colombo seems lovely and interesting and we hope to do more sight-seeing on our free days to learn more about its unique beauty and history.
Q: You and Hadar enjoyed a successful chamber recital at the Lionel Wendt on Tuesday. How did you feel about that concert?
A: I really enjoyed performing our recital on Tuesday. There was a fantastic atmosphere in the hall and for us it was one of those rare moments when you could really feel the good energy of the audience helping you perform. We are very grateful to the audience who came to listen to us perform and welcomed us with such warmth and great energy.
Q: The first time you performed the Grieg Piano concerto was at the age of 18 with the Israel Philharmonic Orchestra. How do you feel performing this concerto once again, on 7 April with the Symphony Orchestra of Sri Lanka?
A: It is true I performed the Grieg Piano Concerto for the first time when I was 18 together with the Israel Philharmonic Orchestra. It was the first time I had ever played it and also the first time I had ever performed with the Israel Philharmonic Orchestra. I had played this concerto many times after that, mostly when I was younger, and now I am having a wonderful time returning to this piece many years later and to share this experience with the wonderful players of the Symphony Orchestra of Sri Lanka. It is a pleasure to perform together with musicians who share my love and passion for music.
Q: You have taught many successful pianists. How much does teaching help you as a performer?
A: I would have liked to say a great deal, but usually what helps most is to practice by yourself. Nevertheless, over time, teaching in general gives you a different perspective, as you get involved in someone else's musical growth and you get to help them develop as musicians.

Pix by

Shehan Gunasekara