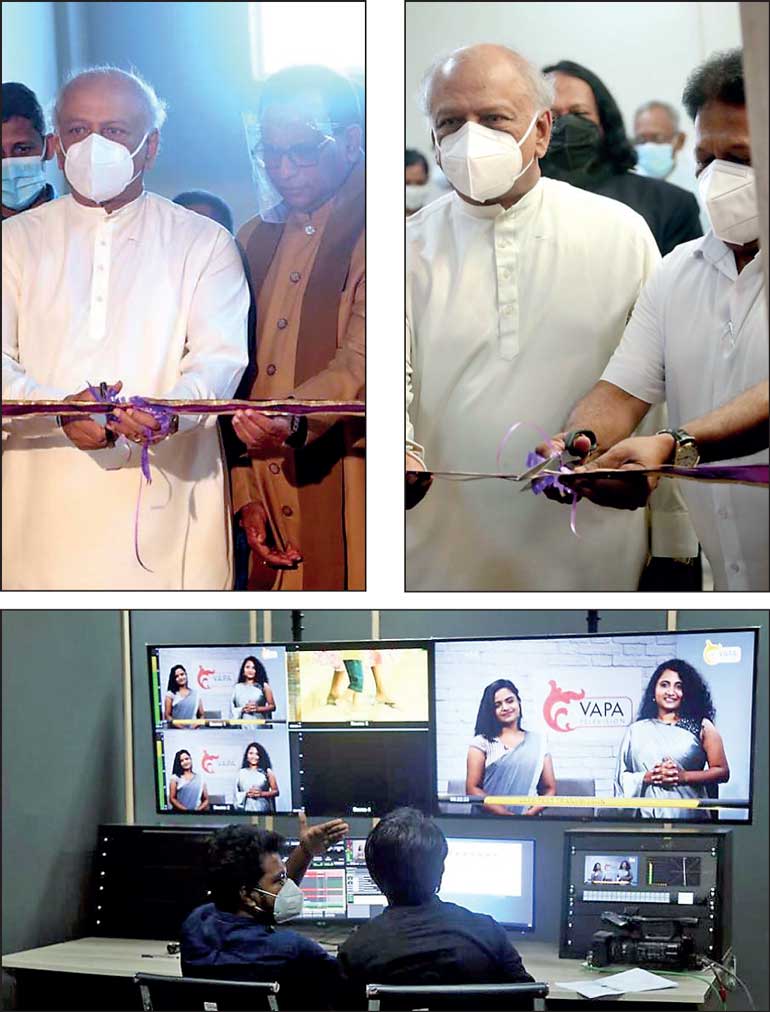 ---
By Harsha Udayakantha Peiris

'VAPA Television', the first-ever television channel by a Sri Lankan university, commenced operations on 2 February. It was launched by the University of the Visual and Performing Arts (UVPA) of Sri Lanka.

Television broadcasts of the channel commenced at the newly built studio complex of the university at a special function held under the patronage of Education Minister Dinesh Gunawardena and Information and Mass Media Minister Dullas Alahapperuma. This latest addition to the country's new media tele-channels is the 27th local television channel presented to the Sri Lankan audience. Aiming fine art education as the main objective, the channel is also focused on entertainment to popularise the highest quality aesthetic taste of the public.

VAPA Television will conduct transmissions on PEOTV Channel Number 123 daily from 6 a.m. to 10:30 p.m. with an early morning spiritual and mindful music session to start the day afresh.

VAPA Television was launched as a State university owned television channel initially, offering a wider range of educational and high-quality entertaining programs in all three languages of Sinhalese, Tamil and English.

The mission of VAPA Television is to facilitate development of human and aesthetic potential of the university students and academics via education, utilising the achievements of modern telecommunication and information technology to create a national and global educational and entertainment network for children, youth and adults of all ages and enhance aesthetic values of humanity and to open new opportunities for university students and academics of the University of the Visual and Performing Arts (UVPA).

Minister Gunawardena said that it was a commendable step established to take the Sri Lankan authenticity and cultural heritage to the outer world. He said that the use of new technology by the local university community has started to create new visionary courses towards successful modernisation and development of education in Sri Lanka.

Minister Alahapperuma said that it was important that the university had identified its audience well ahead so that challenges in the field of TV broadcasting could be strategically and effectively addressed.

"It is clear that the University of the Visual and Performing Arts of Sri Lanka owns a multiple scope and a large area of aesthetic space in Sri Lanka and is an able arm to effectively cater to the target audience of the channel utilising the most accurate media literacy practiced by a modern university. Therefore, it is hoped that the VAPA Television will cater to what is being requested by an exclusive audience who has a dire need for aesthetic delight but whose voice has not yet been, properly identified, heard or addressed by most of the popular TV, radio or other new media channels of Sri Lanka," he said.

VAPA Television will also offer priority to students and alumni of the university to telecast their performances through the TV channel.

VAPA Television creator, the University of the Visual and Performing Arts Vice Chancellor Snr. Professor (Dr). Rohana P. Mahaliyanaarachchi said that the Vision of the TV channel was to share the high value, knowledge and experience in visual and performing arts to the Sri Lanka audience.

"VAPA Television is themed as the 'Heaven of Television Art'. It is not a television channel owned only by this university but also a channel for the whole State-owned universities of Sri Lanka. And, it is a channel for a wider audience who desires aesthetic ecstasy. To make a sensitive and responsible citizen, guidance in accurate aesthetic delight is essential and our university is confident that the audience will have credibility on us fulfilling this vacuum along a worthy course of journey.

"We also hope to soon start a reality program through this TV channel connecting all State-owned universities to open a new avenue showcasing to the world, the talents and potentials of the youth in the Sri Lankan university," Mahaliyanaarachchi added.