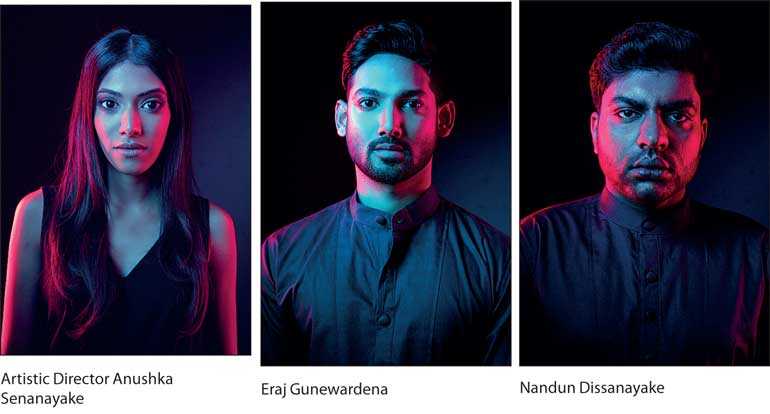 By Shailendree Wickrama Adittiya

Set in 1648, 'Guards at the Taj' by Rajiv Joseph takes place in Agra, India. The story revolves around two guards, their friendship, and the choices they make when faced with extreme circumstances. Bringing the play to Colombo on 21 to 23 February at the Lionel Wendt Theatre is Theatre Junction, with Anushka Senanayake as artistic director. Original music for the play will be by Natasha Senanayake and the play will feature vocals by Ridma Weerawardena.

Describing the play, Anushka said that, as a story, it explores our notions of power and resistance, of beauty and friendship, and the price we are willing to pay to preserve and protect these things. "Rajiv Joseph has cleverly used humour to venture into sensitive and difficult areas of the human experience," she added.

Anushka Senanayake is the founding artistic director of Theatre Junkies, a theatre company based in Colombo that aims to create contemporary multi-disciplinary art, theatre, and performances. Anushka has gained directing, assistant directing, and performance experience in Sri Lanka, Europe, and the United States of America, and internationally, she has directed work in various theatres and has had her work featured in various festivals.

Through Theatre Junction, Anushka has directed productions like Cinderella, Next to Normal, and The Last Five Years. She has also directed the world premieres of a number of original theatre work.

What interested her in Guards at the Taj and why was it chosen as her next production? "I chose this piece because of the questions it asks. I feel that the questions are urgent, the themes are relevant, and the discussions are necessary," Anushka responded, adding that it is a dark piece but it is also a heartbreakingly funny piece.

"I respect Rajiv Joseph's work and this is the second play written by him that I am directing. I directed his play Gruesome Playground Injuries in Dublin, which I believe was also the premiere production of this particular play in Ireland. I'm thrilled to be working on another one of his plays," she commented.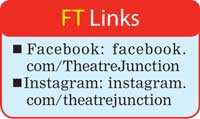 While the play is set centuries ago, the script is in modern or contemporary language. This, Anushka said, is an interesting choice by the playwright to make the piece more accessible to the audience.

"Rajiv Joseph's choice to bridge the two worlds, that of 1648 Agra and today, through the language was one that I chose to honour through the realisation of the design elements of the production," she explained, adding that she has worked with the actors and designers to create a piece that pays tribute to the traditional within a contemporary framework.

The cast consists of Eraj Gunewardena and Nandun Dissanayake. Nandun is a 26-year-old lawyer by profession, actor by choice, and performer at all times. In Guards at the Taj, Nandun plays Humayan, an imperial guard.

"I love his internal conflict: what he actually wants to be versus the kind of man he wants to be perceived as being. It's so simple and yet complicated. He's such a unique everyman. The audience will relate, I'm sure of it," Nandun said of his character.

While he didn't go into detail about it, Nandun said there was a particular section in a scene he found challenging but that the overall experience of working on the production has been adventurous.

"It's beautiful, imaginative, and utterly relevant to our crazy times," Nandun said, when asked why the play was of importance to him.

Acting alongside Nandun is Eraj, a 28-year-old lawyer by profession who plays the role of Barbur in the play. He described the character as a very mischievous young adult. "He is an idealist. He questions what's before him and is a dreamer who's way ahead of his time," Eraj added.

When asked of the significance of this particular production, Eraj said the play discusses the price of beauty, freedom, duty, and friendship and explores a number of themes which are relatable to today's society such as patriarchy, communism, capitalism, religion, democracy, and political hierarchy. "The play is important to me because these themes which existed hundreds of years ago are still the tools that are used as modes of oppression today," he explained.

As for any part of the performance that he may have found challenging, Eraj said he always chooses plays that would challenge him as an actor and is very specific when it comes to the roles offered to him. "My biggest challenge as an actor when taking on a role is to find myself in that role and to explore the parameters of the character," he added.

Talking about the this particular role, Eraj said the biggest challenge for both actors was playing into the honesty of the characters and letting the audience connect with the piece. "We need to be able to hold the audience for the entire duration of the play. I think that would be the biggest challenge for me," he said, adding, "If we are able to do that, then we would be doing justice to this amazingly beautiful piece and our director."

Eraj has worked with Nandun on and off for the past 10 years and they are very close friends. "I think the fact that we are close weirdly adds to the juxtaposition in the two characters," he said.

This is Eraj's third time working with Anushka and he described the experience as nothing but amazing. He has always liked working with Anushka and said he has always thought a performance is an end result of the vision of the director and the actors are only the painters of the piece. "Anushka has a clear and clever view as to where she needs the play to go," he added.

Talking about her experience working on the production, Anushka said it has been extremely rewarding for her to collaborate with artists whose work she respects and admires. "I'm so grateful to Eraj and Nandun, the two actors, who are working hard to bring these two characters to life," she said, adding "They both bring a great sense of focus and passion to every rehearsal. They are also able to take my direction quickly and effortlessly and work with me to discover the best ways to communicate this story." The music director, Natasha, is Anushka's sister and is responsible for the sound design. She has composed gripping music to bring the world to life and Anushka said she could not be happier to have Ridma Weerawardena featured as the vocalist on this score.

"Collaborating with Natasha and Ridma to create the sound design was a lot of fun and I'm excited for the audience to hear this work," she said.

Anushka added that, "It has also been great to collaborate with Marlon Jesudason once again on the set and lighting design for this piece. After working together over a few productions, Marlon is more than used to my strange ideas and odd design requests! He is always able to find the most practical ways to achieve these."

While the Theatre Junction's production of Guards at the Taj is bound to captivate audiences on the three days it will be performed on, Theatre Junction has a lot more planned for 2020. "We have a number of exciting projects and plans for the rest of this year and look forward to announcing those plans soon through our social media pages on Instagram and Facebook," Anushka said.