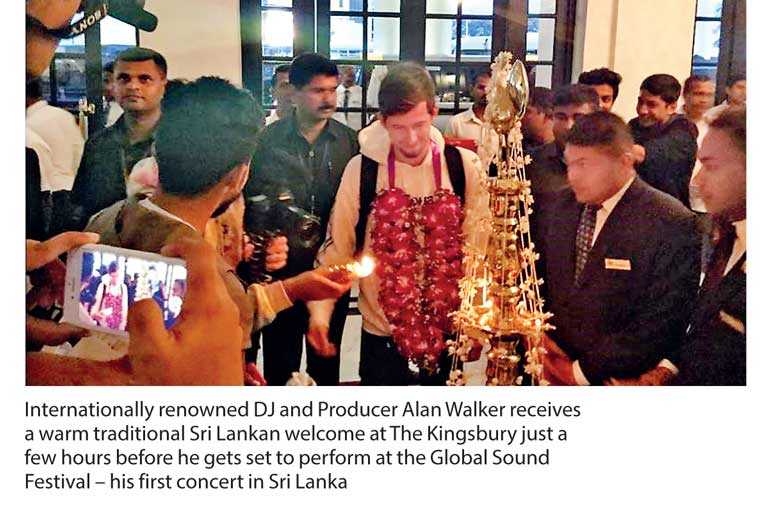 British-Norwegian artist, DJ and Producer Alan Walker arrived at the Kingsbury Hotel, the official hospitality partner for the Global Sound Festival, hours before his first concert in Sri Lanka. The enigmatic young DJ is widely known for his masked performances and arrived at the hotel on Sunday afternoon (16 September) and was greeted with a traditional warm Sri Lankan welcome. A special dance act was performed for him, to one of his tracks.

Allan Walker began his career by learning to produce music from Youtube tutorials from his family home. After refining his talent, he built his initial fan base through the online gaming community by encouraging other gamers to use his music for free in their gaming videos. As a result, his music started to increase in popularity and over time he garnered a large following around the world. Since then, he has become one of the world's most streamed artists and has performed alongside global music superstars Rihanna and Justin Bieber on their world tours in 2016 and 2017 respectively.

The young artist is currently in the middle of an international tour where he ended his Asian leg by performing in Sri Lanka at The Royal College Sports Complex. His subsequent tour will see him visit the United States and Europe. The Kingsbury thanks Walker for choosing to stay at The Kingsbury and wishes him the best for all his future endeavours.

The Kingsbury Hotel is located in the heart of Colombo featuring stunning views of Sri Lanka's iconic Galle Face Green. The hotel boasts a collection of varied cuisine from its outlets – The Kings, Yue Chuan, Harbour Court, Honey Beach Club, The Gourmet Station, The Grill and The Ocean. Since its inception, The Kingsbury has consistently catered to the diverse needs of customers. As the newest offering, the award winning Singaporean dining and entertainment brand CÉ LA VI takes entertainment and nightlife to a new pinnacle. The Kingsbury has earned global accolades including Regional Winner Luxury Business Hotel in South Asia and Best Luxury Business Hotel in Sri Lanka.

For further information, please contact Imara de Chickera, Director Communications on +94 773-457-958 or email Imara@thekingsburyhotel.com.