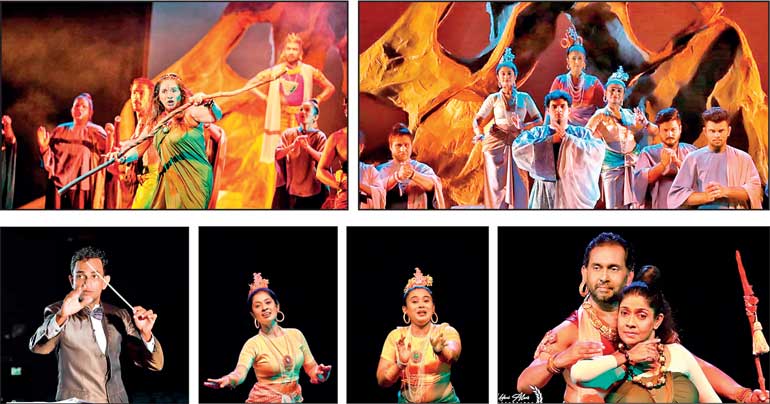 ---
Sagara Wijesinghe's Tharana Sigiri Opera will be staged on Friday 12 May at 3.30 p.m. and 7 p.m. at Maradana Elphinstone Theatre.

Why is Tharana Sigiri Opera important to Sri Lankan Audience? In general, bringing an opera to the audience is a task that takes a lot of work, time, and money. The work of composing music for Tharana Sigiri Opera was carried out for 2 years. It took another 2 years to train the artisans. An opera is born at the end of such a huge effort.

How is the Tharana Sigiri Opera created? I was composing music to Sigiri graffiti poems. While singing the creations, an idea that came to mind is that it is possible to create an opera. Because of the experiences I chose as a keyboard player in Dr. Premasiri Kemadasa's Agni Opera orchestra.

What is the plot summary of Tharana Sigiri Opera? It was our aim to bring the historical truth of Sigiriya and our identity that we have missed without investigation. Accordingly, the story of Tarana Sigiri Opera spans from the era of King Dhatusena to the 13th century. The prologue to this opera is the arrival of tourists to Sigiri who are intrigued by reading the graffiti on the Sigiriya mirror wall. The main theme of the Sigiri Opera is the story of King Kasyapa wandering in Sigiriya in search of his life's roots. In the next number, Prince Mugalan fights with King Kasyapa, who is shocked after revealing his past. Giri Aduru ( Character of Sigiri Rock ) and others invite Kasyapa's mother to intervene to prevent King Kasyapa's decision. Ranganatha emerges from the top of the rock and appears before Kasyapa. King Kashyapa, engaged in an intense emotional battle between motherly love, brotherly love, and country love, is attacked by enemies at an uncertain moment. The opera closes with the fifth act with a touching farewell presentation of King Kasyapa, a son of Sri Lankan royalty blessed with solar bloodline and royal birth to King Dhatusena, an artist of astonishing imagination.

Who are the stakeholders and stakeholders involved in making Tharana Sigiri Opera a reality on stage? Sunil Thilakaratne as Kasyapa in Tarana Sigiri Opera, Nihari Wickramarachchi as Kasyapa's mother Ranganatha, Abhishek Weerasinghe as Parjanya, Lord of Rains, Niluka Tishari as Vijjulatava, Chanaka Thisera as Agni Dev, Gamini Suriyaarachchi as Giri Aduru, Chamila Kodikara as Sigiri Apsaravi, Jayanath Bandara as King Dhatusena, Asanka Perera as Giri Aduru group, Dilanjana Heshan, Sampath Marambage, Nishantha Bhadrasila, Malith Jayasankha and Hirunika Rajapaksa as Agni group, Indika Prageeth Ranasinghe, Deepika Kumari, Nuvan Perera, Chandani Warushakone, Anuru Sumananjali, Dinidi Imalka, Shenon Kavinda, Poornima Delpachitra, Ruchini Wijesundara, Amila Wickramarachchi, Kumari Liyanage are artists and craftspeople who act as Sigiri tourists and Yakkha tribe.

Tharana Sigiri Opera is directed, produced, composed and orchestrated by Sagara Wijesinghe. The script or libretto of the opera is done by Ajith Krishantha Seram.

The Choreography by Mr. Nilan Maligaspa and the set design is by Palitha Lokupothagama in this opera. Stage Management by Ajanta Alahakon. Stage Management Support by Tissa Liyangama. Light designs by Mr. Ajith Rohana. Costume Designs by Ms. Sweenitha Perera and Costume Artistic Arrangement by Ms. Diana Sriwardena. Make - up and props by Chamara Anudath Rajapaksha. Concert master of Tharana Sigiri Opera by Dilshan Malitha Manaranga. Indunath Nandasinghe, Manoj Hasanka Wijewardena, Jitendra Vidyapathy, Naveen Fernando, Hemanga Samaraweera, Neranjan Karasinghe, Jude Fernando, Tilak Tantrige, Ananda Premasiri, P.G. Dharmasiri, Rochana Ramanayake, Chamara Lakmal, Kasun Sanjay, Prasad Maxwell, Uditha Ruwan Wijeratne, Sanjay R. Gamlath, Suranga Sabaragamuwa and many other musicians will participate as Orchestra members.