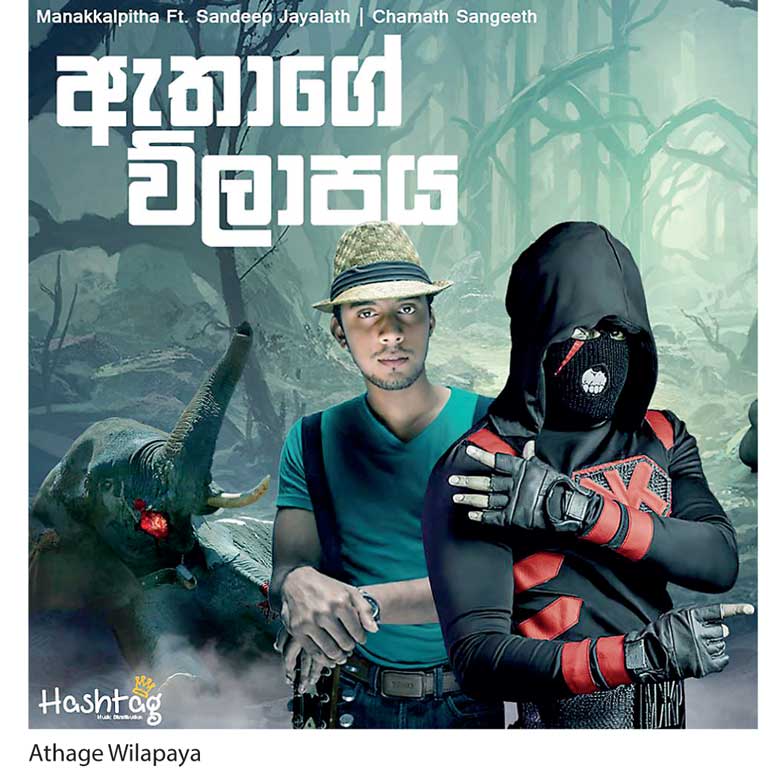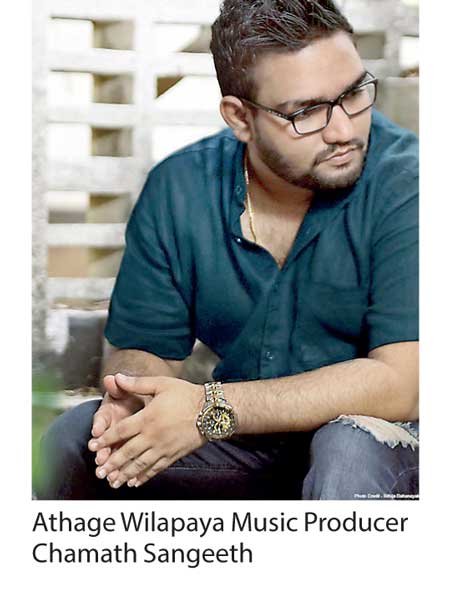 Tribute to the Galgamuwa Tusker
Decline of elephant population by over 50% 1,464 elephants killed within the last 12 years
Approximately 200 slaughtered by villagers and poachers every year
By Shannon Jaywardena

With the aim of raising awareness on elephant massacre that takes place in the country on a daily basis, a composition titled 'Athage Wilapaya' was released last week by Music Producer Chamath Sangeeth.

The song is sung by Sandeep Jayalath featuring Manakkalpitha and has reached over 158,000 views on YouTube since its release. The artist said that this song was not produced based on a commercial purpose to earn through any source of media but to convey an emotional message to the world through music about this disaster as well as to stand up against these kinds of cruel actions.

Music Producer Chamath Sangeeth said: "The song is especially dedicated to the Sri Lankan iconic 'Galgamuwa Tusker' who was recently killed for its tusks. The song expresses the feelings of the magnificent creature and is to make aware to all of human kind about the disaster on the sacred elephants happening at present, through the art of music."

'Athage Wilapaya' which is themed on the death of the Galgamuwa Tusker thus created great mindfulness on the subjects of illegal ivory hauling and the killing of elephants in the country. The Galgamuwa Tusker was an iconic elephant as it was well known for its unique curvature tusks. Often having travelled between Galgamuwa and Kala Wewa the tusker had survived many previous gun shots as well.

However suspicion arose when the villagers realised that they had not spotted the tusker for quite some time. Two suspects were arrested on 24 November by the police in Nikawewa for having in procession a pair of elephant's tusks that were similar to those of the Galgamuwa Tusker and ivory organic gemstones. While their intention had been to sell the items for two million rupees, the magnificent tusker suffered a brutal death.

In Sri Lanka, elephants have been domesticated and used for various purposes for over thousands of years. These powerful beasts have been used for transportation of people on their back, carrying, hauling and lifting logs and other heavy objects like stones used for construction purposes. In addition, these majestic animals have been used for religious and cultural as well as other ceremonial occasions. Hence this human-elephant relationship dates back to a period of over 5,000 years. Ancient Sinhalese kings of Sri Lanka used captive elephants even to wage war.

Nonetheless at present elephants are being massacred in numbers for illegal ivory and organic gem stones believed to exist inside the tusks of elephants. Since 1986 they have been listed as endangered species by the International Union for Conservation of Nature (IUCN) as its population has declined by over 50% over the last three generations.

In the early 19th century the elephant population was estimated at 12,000 to 14,000; in the early 20th century 10,000, in the year 2000 it reduced massively to 3,150 and today there are only 200-250 left in Sri Lanka, which is ranked as the seventh country with the highest elephant population out of the total 17. Although illegal ivory was banned in 1989 in most countries, illegal smuggling persists in many parts of Asia and elephants are searched for and hunted in vast numbers. These animals are shot, poisoned and electrocuted leading to the death of 1,464 elephants within the last 12 years. Statistics show that approximately 200 are killed by villagers every year.

An elephant's life span is said to be between 55-70 years but is cut short for many by villagers and poachers on a daily basis. During the armed conflict in Sri Lanka, elephants were maimed or killed by land mines. Between 1990 and 1994, a total of 261 wild elephants died either as a result of gunshot injuries, or were killed by poachers and landmines.

Today, given the rarity of tuskers in Sri Lanka, poaching for ivory is not a major threat. Nevertheless, some trade in ivory still goes on. Kandy has been identified as the centre for such illegal trade. The greatest threat to elephants comes from an expanding human population and its demand for land. During drought seasons many elephants damage agricultural land for food. Nearly 80 elephants were killed in north western Sri Lanka, 50 in south and east, and another 30 in other parts of the country, totalling 160 elephant deaths in 2006 alone.

An important cultural symbiosis has continued to exist between the elephant and humans for over 5,000 years, especially in Sri Lanka. Therefore it is vital that we maintain this bond and protect these elephants who are a huge part of our country's heritage.